Are you in the market for some new toys for your little one? Why not ditch the garish plastic toys and go wooden? There's so much to love about wooden toys! Not only are they absolutely beautiful to look at, but they're better for the environment, generally safer for your little one and they're durable so they can be handed down and enjoyed by the next generation.
Here's our pick of the best wooden treats to add to their toy chest…
Peppa Pig Wooden Family Home – RRP £29.99
Fans of the pre-school superstar, Peppa Pig, will love Character Options' beautiful, new toy collection that has a positive sustainability message behind it. Perfect for little hands, the Wooden Family Home is a fold out playset that comes complete with lots of furniture including a two-seater sofa and TV, a bath, oven, fridge, and beds (that double up as tables when flipped over) as well as a garden area. Suitable for children aged 2+, the two-storey house is beautifully painted as a replica from the TV series and the attention to detail is on point, so little ones will love to recreate their favourite Peppa moments and make new ones! The best part is that it's all made from environmentally responsible FSC wood!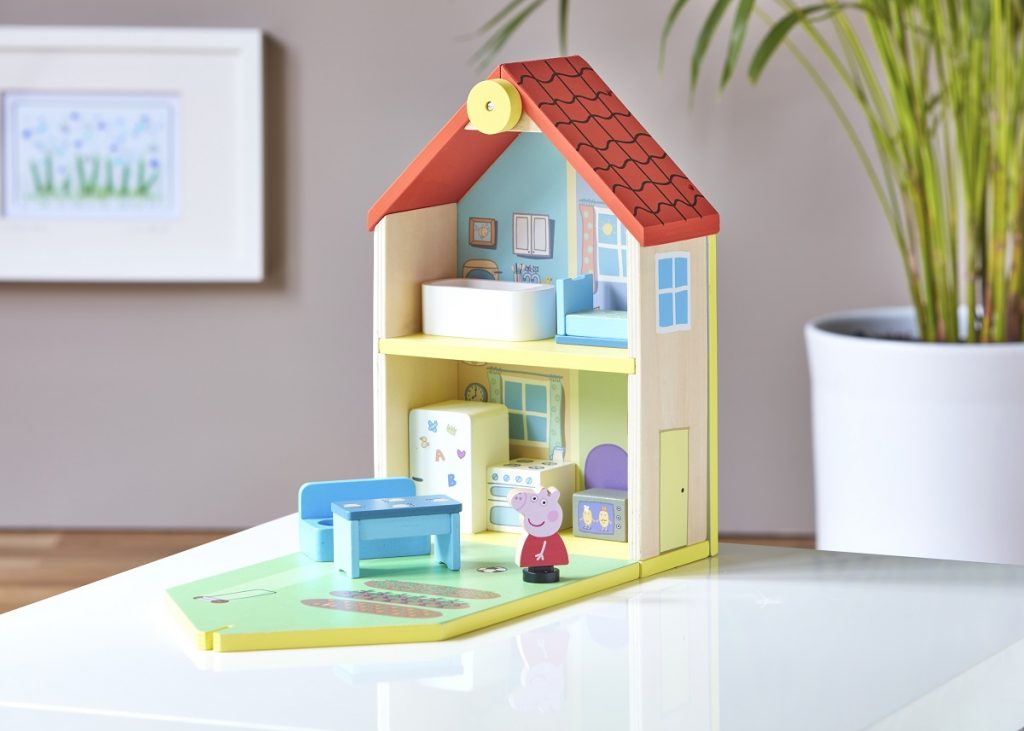 Wooden Art Easel – RRP £29.99
Know a little artist (or two)? Then look no further than Casdon's Wooden Art Easel! A gorgeous addition to any playroom, Casdon's Wooden Art Easel is double-sided with a chalkboard surface on one side and a magnetic, wipe clean whiteboard on the other. Children can use the chalk included to create their masterpieces or hang paper for colourful drawings using the attached clips to make sure their works of art stay in place. Not only does it encourage children to create and show off their artistic masterpieces, but it also helps with fine motor skills.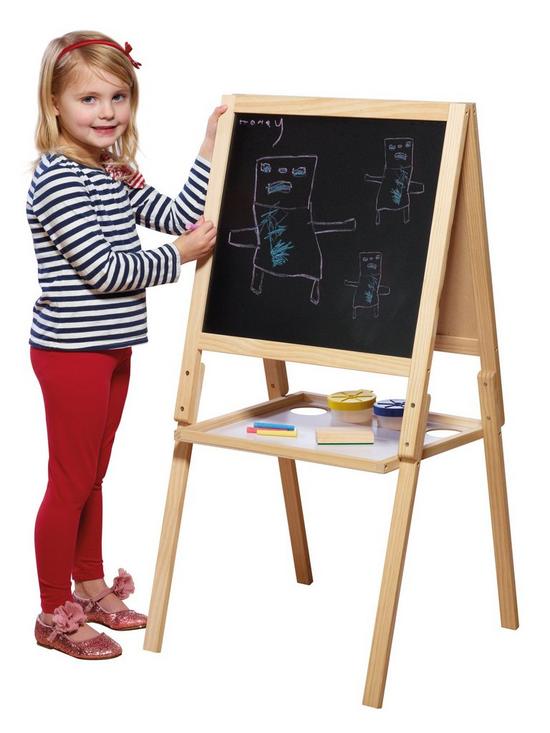 Wooden Farm Animal Skittles – RRP £15.99
When you can't go to the bowling alley, bring the bowling fun to you! Bowling is a fun family activity we have all missed here at UKMums.TV due to the current health crisis – the little ones love it too with the ramp! Suitable for children aged 3+, strike gold and surprise your little one with this adorable set of five animal skittles and two balls, that they will love to stand up and knock down over, and over again!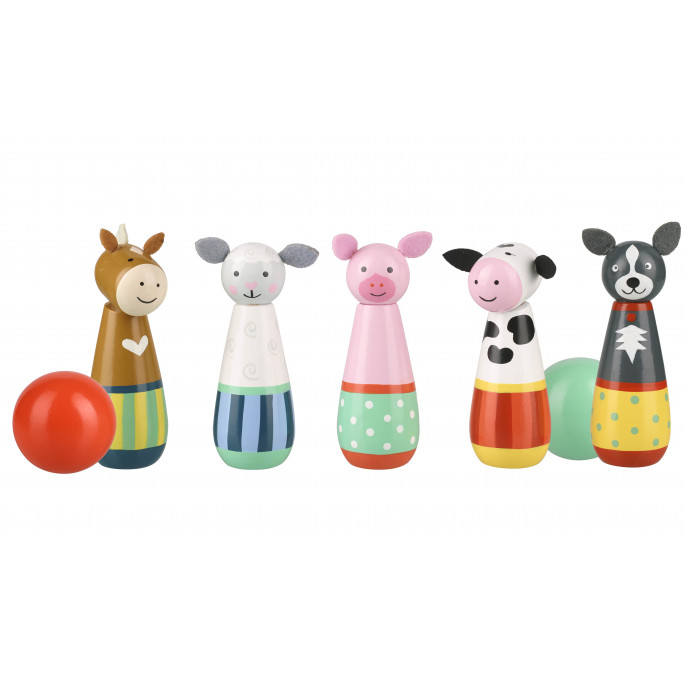 Personalised Wooden Pull Along Caterpillar – RRP £24
Children will have hours of adventure with this colourful wooden pull along caterpillar, that's not only lovely to look at, but can be personalised with their name for an extra special gift. Topped off with a bright red string, little ones will love pulling this cheeky caterpillar along behind them.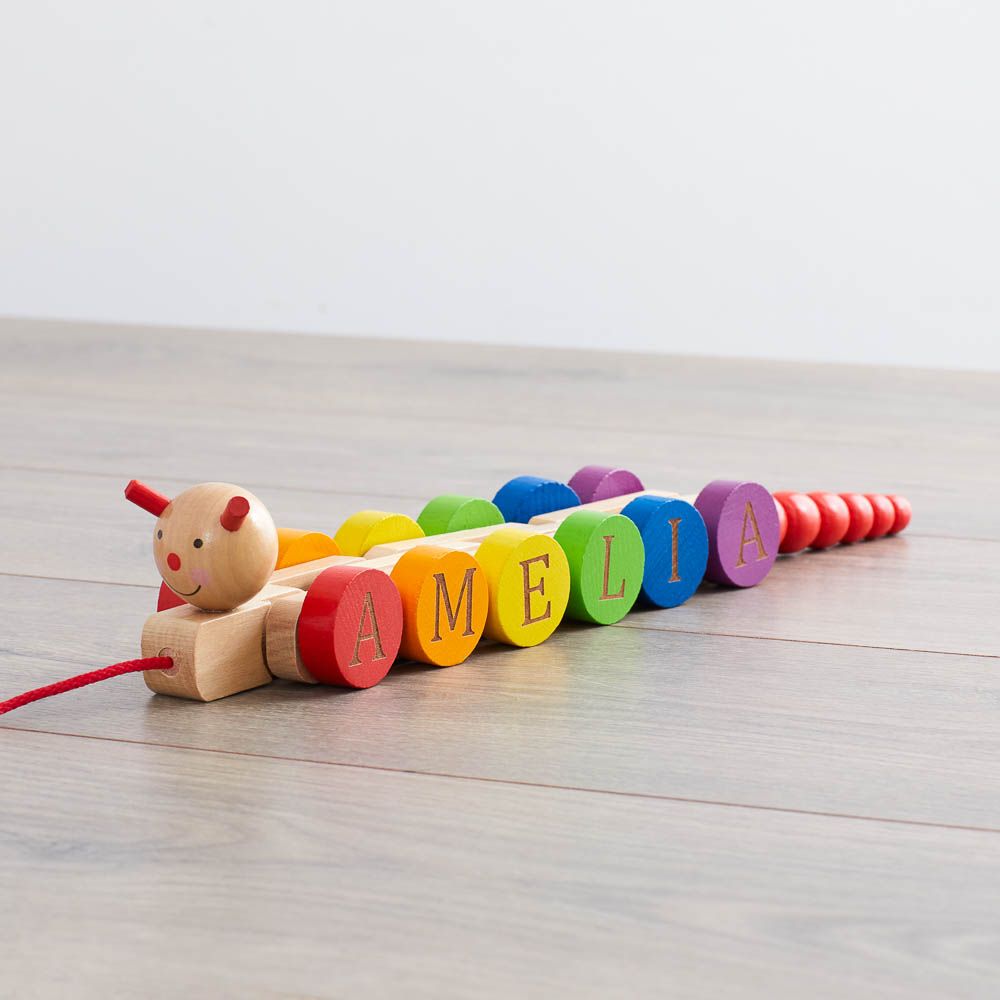 Wooden Plant Box – RRP £29
This super cute and sweet toy is made from plywood and beech with a child-safe, water-based lacquer that shows off the natural grain of the wood. It comes with a lidded box, a wooden knife and a chopping board as well as four different wooden vegetables that slice into halves. Not only is it great for imaginative play, but it teaches kids about the importance of healthy eating as well as helping to develop their hand-eye coordination and fine motor skills.
Wooden Stacking Pyramid – RRP £29.50
Toys are so much more fun when you get to choose the colours, right?! And you can do just that with Happy Little Folks' Wooden Stacking Pyramid that helps to develop their hand-eye coordination, fine motor skills and gets them familiar with the texture of wood, learning colours and counting. Whether you go for a pretty pastel vibe, a pop of colour, minimalist or monochrome, it will make a lovely addition to any toy shelfie. What's more, each stacker is made with sustainably sourced maple wood and non-toxic paints. Plus, they're CE certified and sanded to a smooth finish so are safe for children, especially those that like to chew and bite their toys!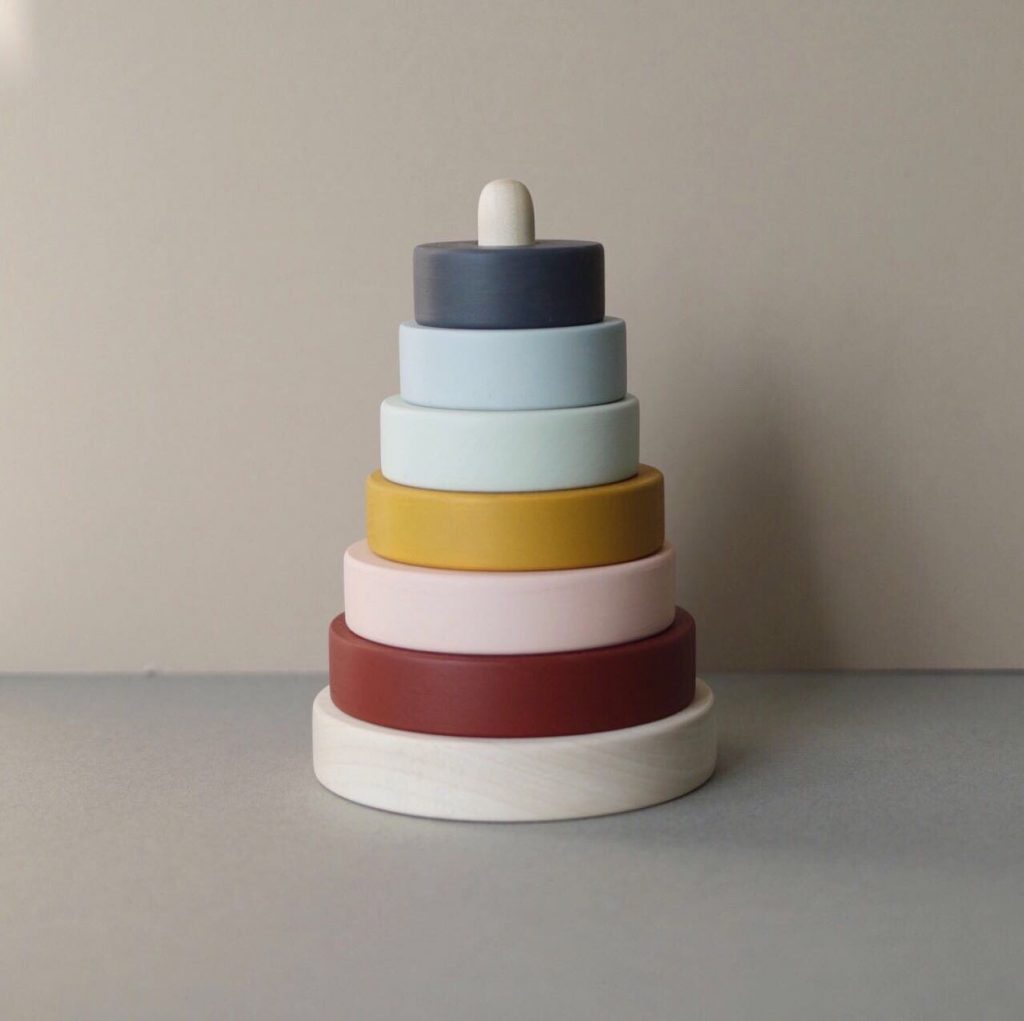 Does your little one have any wooden toys at home? If so, let us know what's in their collection by commenting down below!