This week Tonka Toys takeover the UKMums.TV site! So today we're sharing our top 5 Tonka Toys from the collection!
Tonka has been the world's favourite toy truck for many generations, having marked its 75th birthday last year. And Tonka is still rolling into the imaginations of children around the world to this day, with the Tonka toy collection now bigger and tougher than ever before.
But which Tonka toys are our favourites? Here is our (current) top five!
1. Tonka Steel Classics Fire Rescue Truck (RRP £29.99)
Get ready for firefighter duty and race to the rescue with this new Fire Rescue Truck!
Made with cold-rolled steel this big, powerful truck is built to last. Use the removable ladder to save the day – there's no task you can't handle! Aspiring firefighters aged 3 and up will love the realistic details and bright red colouring as they imagine racing down the street to the aid of those in need.
2. Other Steel Classics… (RRP from £26.99 to £69.99)
(Yes, we know it's a bit of a cheat, but when these toys from your own childhood have aged SO well that they can be passed down and enjoyed by the next generation, they've got to be in the top 5!)
Made with real steel, this awesome collection is built to last and withstand even the toughest of Tonka kids (aged 3+). The Tonka Classics range now includes nine vehicles: Mighty Dump Truck, Toughest Mighty Dump Truck, Tow Truck, Bulldozer, Mighty Excavator, Front Loader, Crane, Trencher and the Fire Rescue Truck.
3. Tonka Tough Hard Hat and Blocks Set (RRP £24.99)
Budding builders aged 12-months-plus can put on their Tonka helmet and get to work on the construction site, as they build with BIG blocks!
Perfect for inspiring imaginative play, the set comes with 25 colourful blocks, which are compatible with most other block systems. Take the playset out and about with the included bucket, then turn it over and use it as a building base and start stacking!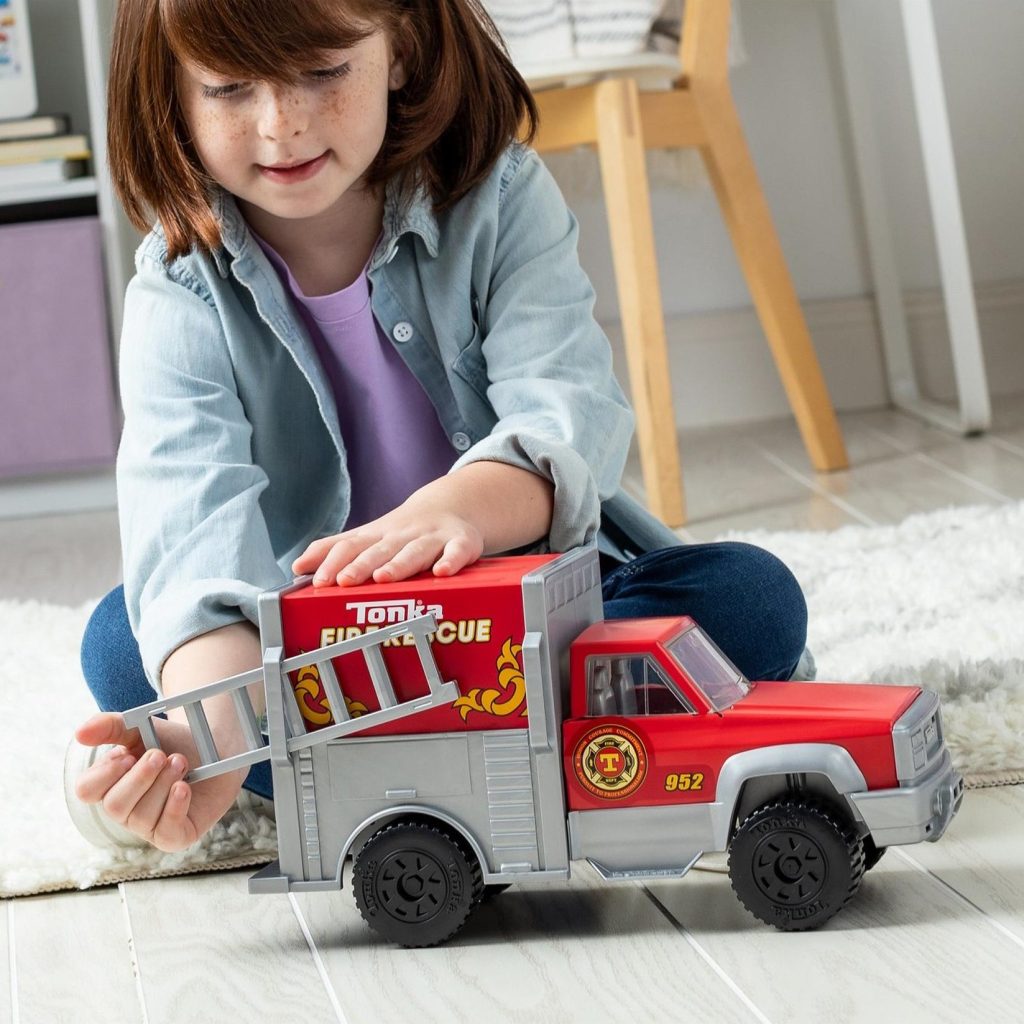 4. Tonka Monster Metal Movers (£6.99 single packs; £12.99 combo packs)
These trucks are ready to dominate the construction zone, serve the city, or tackle any emergency in town. There's a whole fleet of vehicles to collect with the Dump Truck, Front Loader, Cement Mixer, Garbage Truck, EMT Truck, and Fire Truck!
Combining the thrill of Monster Trucks with Tonka Tough styling, these brightly-coloured 3-inch trucks are double the size of other metal movers! Kids aged 3+ will love their Monster Grip tyres and the fact they can be played with both indoors and out.
5. Tonka Steel Classics Mighty Excavator (RRP £44.99)
Get ready to dig the mightiest of holes and trenches with the 75th anniversary Tonka Steel Classics Excavator! Made of cold-rolled steel, this excavator toy is TONKA TOUGH and powerful enough to tackle any job! Colourful and thoughtfully designed with realistic details, you'll feel like you're playing with a real-life excavator!
Get ready to dominate the jobsite with all its cool features. Kids can pinpoint their best digging location with the 360° rotating steel cab. It has a movable arm that provides a realistic scooping action, as well as a heavy-duty metal bucket to dig and haul loads like a pro! Plus it's also got real working treads to gain traction in any terrain!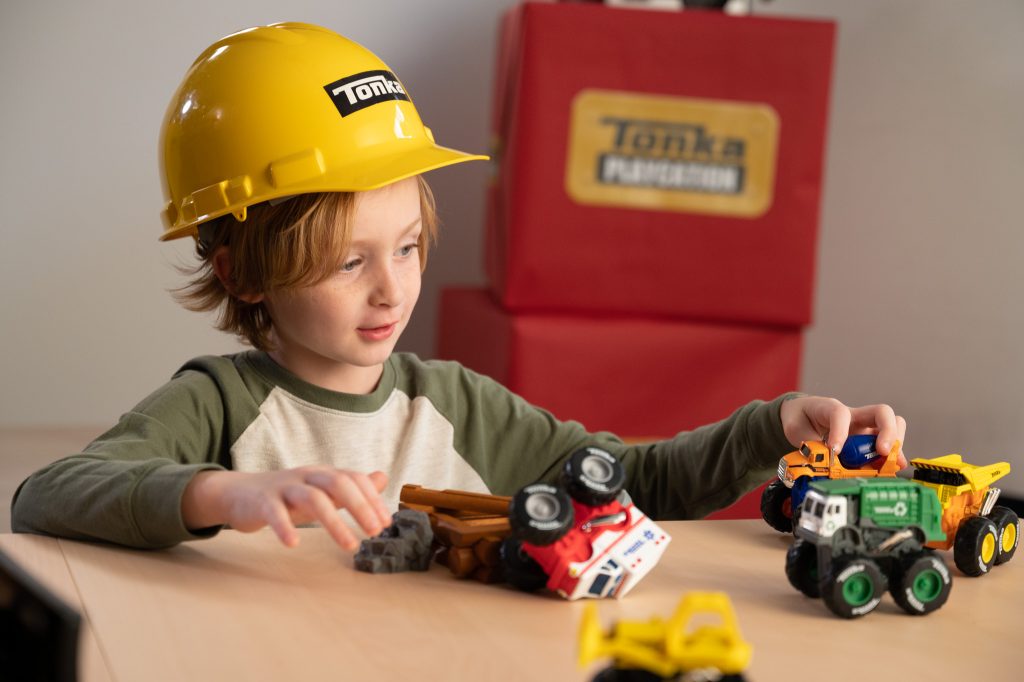 Shop The Tonka Toys Collection
Love the look of these Tonka tough toys? Head to Amazon to shop the collection.
For more #TonkaToys takeover fun, head back to the main hub page by clicking here.