With our sponsor week being all the new preschool TV show, Tinpo, we thought we would look deeper into the topic of creative problem solving which is what the storylines are all about.  With the help of renowned Child Psychologist and Founder of Fundamentally Children, Dr. Amanda Gummer we ask and give some handy tips that will help your kids think outside the box and why is the skill important for future development?
Tinpo encourages young children to think outside the box but it isn't just about having great ideas – it's about getting excited over ideas, about the joy of creation, and remaining curious. The series aims to inspire viewers to feel that anything is possible and that they, like Tinpo, have the capability to improve the world around them in fresh and inspiring ways. The aim is to have children aspire to achieve great things by partnering imagination and inspiration with persistence, optimism and a bit of "grit".
Dr. Amanda Gummer, is an expert in learning through play and has some real tips for us at home that will help children to think like Team Tinpo and look for solutions in the world around them: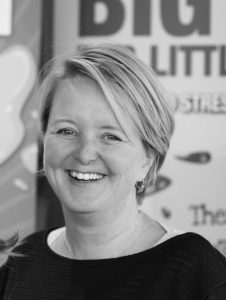 "If parents can resist the temptation to jump in and help or lead children's play, you'll find that they can be really creative and learn important lessons through trial and error. By leaving children to work things out for themselves (whilst still being on hand to keep them safe and help if they're really stuck) you will empower children and boost their confidence and decision making skills.
"It's also great to give children control of their creative play. Even when they ask you for help, try asking them 'what do you think?' Or 'what happens next?' Encouraging children to solve their own problems, with encouragement and support rather than solutions and doing it for them will help children become resourceful and resilient.
"Increasing children's independence is a win-win – they feel more confident which means they'll be more open to trying new things, and parents will spend less time 'doing' for their children.
"Inventing games whilst doing household chores is another trick – using timers to race against whilst tidying up or making squirt patterns on the floor with the soap before mopping all help children learn to contribute to the smooth running of the household and feel more grounded and secure as a result."
Of course watching programmers such as Tinpo is a great way to inspire them to be just like their favorite characters.  If team Tinpo can do it why can't they too.  So remember to tune in at 6.55am or 3.55 pm each week day on CBeebies where they have lots of new episodes to enjoy.