National Prosecco Day is here, and we couldn't be any happier! In honour of this amazing day celebrating the Italian fizz, we couldn't help but share a few of our favourite prosecco-based cocktail recipes with you lovely lot!
Be sure to let us know if you try any of these recipes out and share some pictures with us over on social media @UKMumstv!
Forenoon Fizz
Well that's breakfast sorted! You can substitute the champagne for Prosecco in this Hendrick's recipe for a lighter alternative.
Ingredients:
Spoon of orange marmalade
20ml lemon juice
5ml Cointreau
Champagne / Prosecco
Tiny triangle of toast to garnish
Method:
Pour the gin, Cointreau, lemon juice and marmalade into a cocktail shaker. Stir to dissolve the marmalade, add ice and shake. Strain into a cocktail flute and top up with the Prosecco. Garnish with the toast.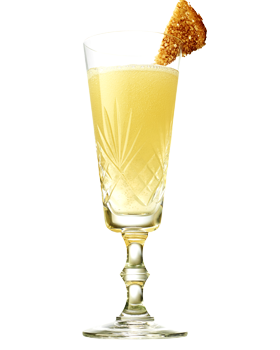 Passion fruit Martini
This showstopper cocktail is perfect for those with a sweet tooth! It's a blend of passion fruit (obvs), vanilla vodka, passoa, lime juice and sugar syrup. Top it with Prosecco for a special tipple.
Bakewell Fizz
Who needs cake when you can have gin, amaretto and Prosecco? Sounds like the dream combo, doesn't it?
Ingredients:
15ml Sipsmith sloe gin
15ml amaretto
Prosecco
Lemon twist and / or a maraschino cherry
Method:
Stir the sloe gin and amaretto over ice until well chilled
Strain into a chilled flute and top with chilled prosecco
Garnish with a lemon twist
Prosecco Margarita
This sweet and tart Prosecco Margarita is perfect for sipping with a spicy chilli con carne, tacos, sizzling fajitas, enchiladas – just anything Mexican! We know exactly what's on our menu tonight.
Lemon and Elderflower Fizz
This zesty cocktail is made up of a gin and sparkling Prosecco base and lemon sorbet and elderflower cordial mixers. Let the mix refresh you and awaken those tired eyes this Tuesday morning. Hey, it's 5 o'clock somewhere!  The Lemon and Elderflower is so easy to make, so why not get the girls over and make a day of it?
Watermelon Mint Cocktail or what we like to call summer in a glass!
Watermelon, Prosecco and fresh sprigs of mint make up these bad boys. Click here to try our new favourite, refreshing thirst quencher courtesy of 17 Apart.
G&Fizz Prosecco Cocktail
It doesn't get any more refreshing that mint and cucumber!
Ingredients:
Gin
Elderflower cordial
Fresh mint sprigs
Cucumber slices
Prosecco
Method:
Pour a dash of elderflower cordial and 20ml of gin into a glass and simply fill with cold Prosecco!  Then you can decorate with a sprig of fresh mint or slice of cucumber if you fancy!
With these, we can raise our glasses and toast to National Prosecco Day! What's your favourite prosecco-based cocktail?