Looking for gift ideas for Christmas? Then take a look at some of the wonderful toys and gifts on offer from Rainbow Designs, featuring some of the most loved characters such as, Peter Rabbit, Winnie the Pooh, Paddington Bear and of course, it just wouldn't be Christmas without The Snowman!
The Musical Snowman – £19.99
The nostalgia of Christmas is brought to life with Raymond Briggs' timeless classic, The Snowman, and this beautiful new Musical Snowman makes a wonderful Christmas gift. Perfect to snuggle up with at Christmas, this super soft Musical Snowman plays the gentle lullaby 'We're Walking in the Air', helping to soothe and comfort, sending little ones off to sleep with magical Christmas dreams!
Suitable from Birth
Available from: Amazon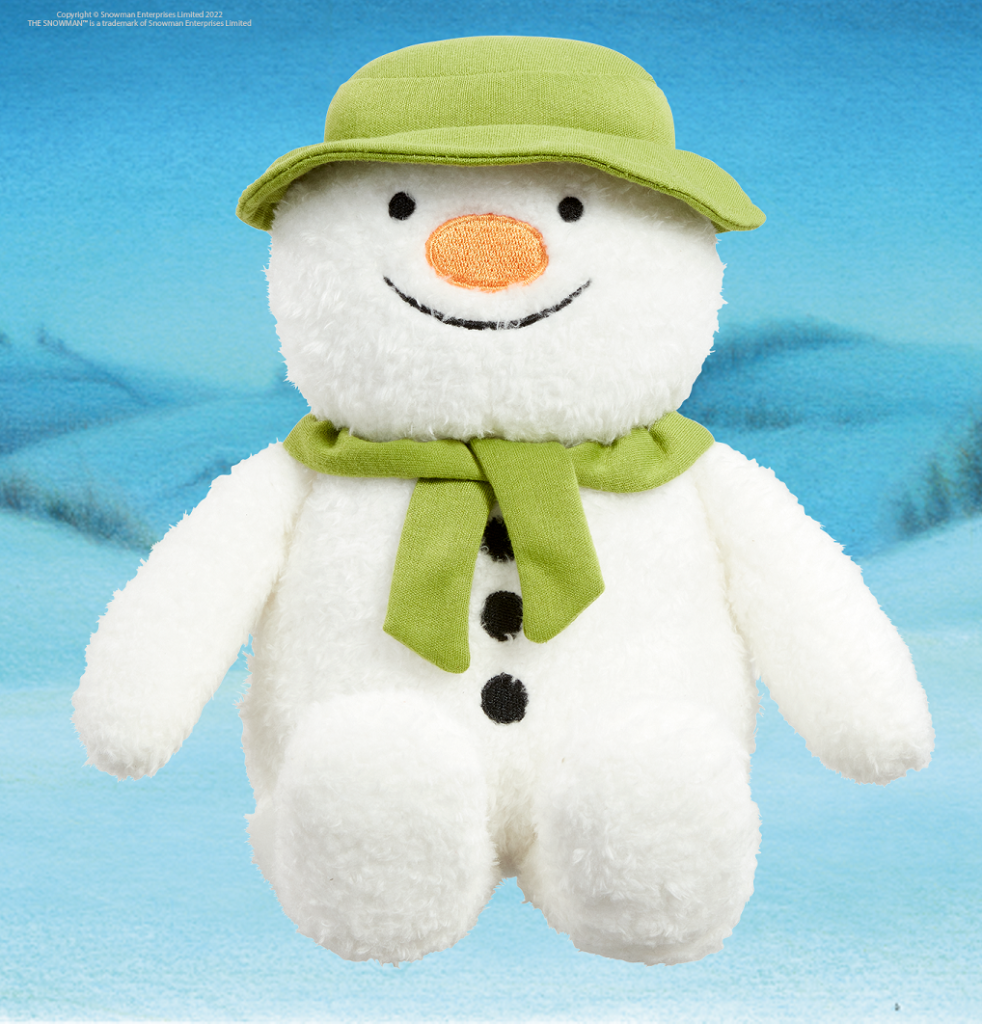 Paddington's Campervan, Bessie – £29.99
New this winter is Paddington's Campervan, Bessie! Vroom Vroom! It's time to take Paddington on an adventure and there's plenty of space inside for Paddington and any of his friends that want to come along for a picnic. Remove the roof to see and play inside the camper, and when it's time for refreshments, fold out the canopy and open Paddington's suitcase to reveal a cup of tea and marmalade sandwiches! Little ones will love hearing the 'Beep Beep' and 'Vroom Vroom' sounds when they press Bessie's grille, as well as Paddington's voice and fun music from the TV show.
For age 3 years and over
Available from: : Paddingtonbear.com, Selfridges, John Lewis & Partners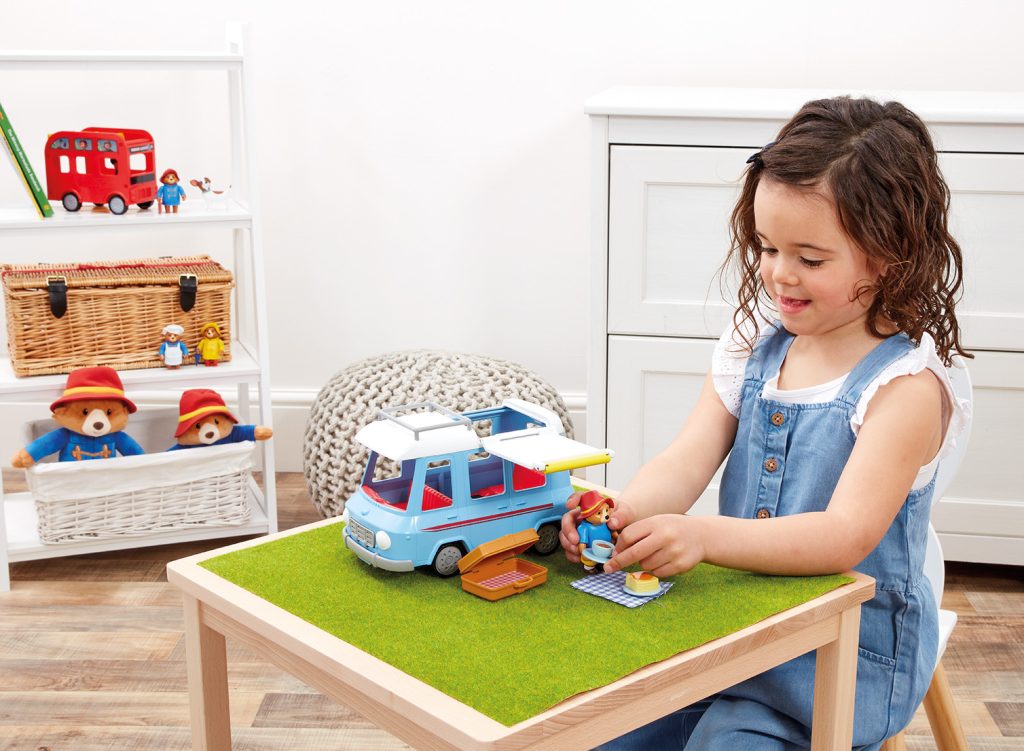 Paddington Football Set
It is football fever time again as the FIFA World Cup kicks off this week and now young sporty Paddington can join in too! Little ones will love putting Paddington and his friend Jonathon, through their paces with the new Paddington Football Set. Sporting their red and black football kit, Paddington and Jonathan love practising their football skills and dribble the football around the training cones, and then shooting into the goal – he shoots, he scores!
For age 3 years and over
Available from: Paddingtonbear.com, John Lewis & Partners, Selfridges & Booghe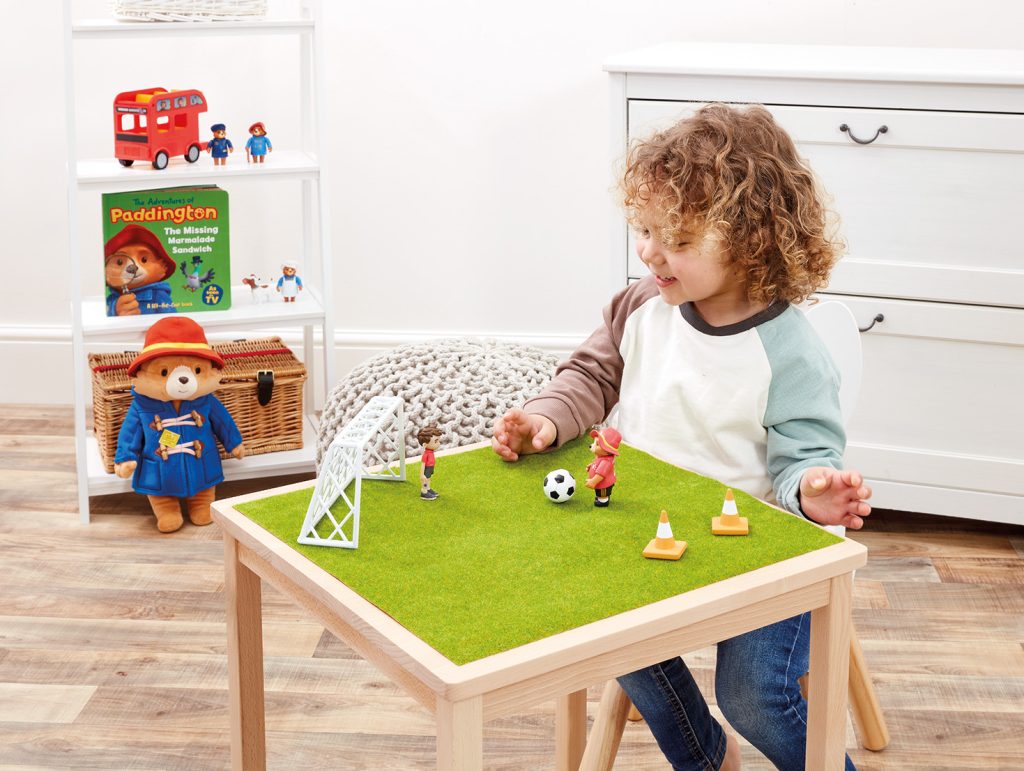 Playtime Peter Rabbit – £14.99
'Time to Play Peter!', this adorable Peter Rabbit soft toy from Rainbow Designs is ready to head out on adventures but he's also super soft, and loves a big squeezy cuddle! Beatrix Potter's Peter Rabbit, is one of the most-loved children's characters, and this 24cm lovable bunny, makes a wonderful playtime friend as well as super soft and cuddly night time companion.
Suitable from Birth
Available from: Booghe, BargainMax & Hamley's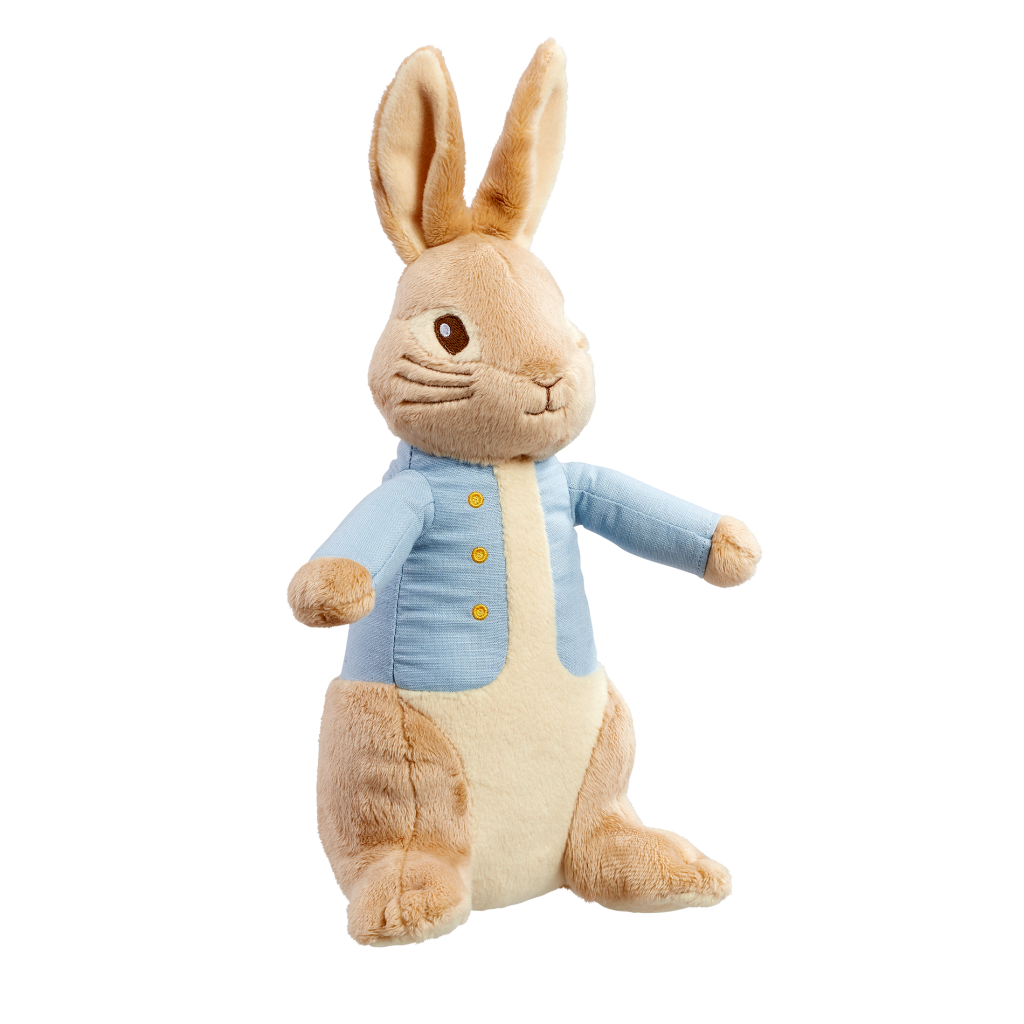 Peter Rabbit Wooden Pull Along – £24.99
Hop along little bunnies! It's play time with this bright and colourful new Peter Rabbit and Flopsy Bunny Wooden Pull Along Toy, created from sustainably sourced wood and featuring the beautiful illustrations of the mischievous Peter Rabbit and his sister Flopsy Bunny. Little ones will have plenty of fun taking this duo for a walk and watching to see if Peter and Flopsy can keep their balance too!
For age 3 years and over
Available from: John Lewis & Partners, Booghe, Hamley's, JoJo Mama Bebe & Selfridges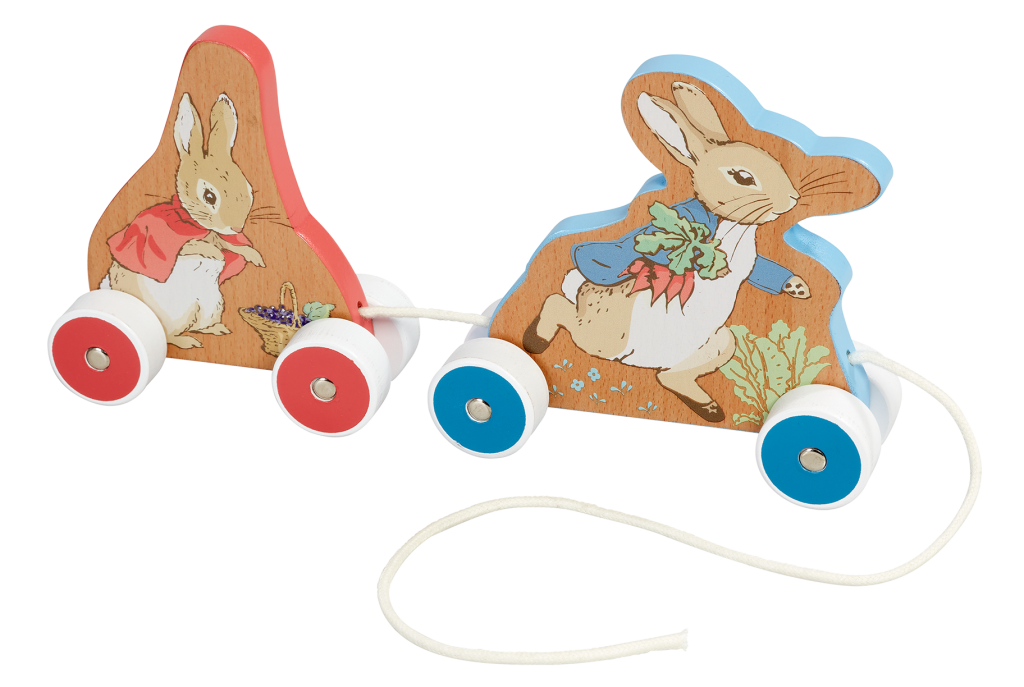 Cuddly Winnie the Pooh, Eeyore, Piglet and Tigger – £24.99 each
Winnie the Pooh's beloved friends, Eeyore, Piglet and Tigger have a special place in so many hearts, and these super soft and cuddly classic soft toys, inspired by A.A Milne's characters from the heart-warming stories, Tales from Hundred Acre Wood, make the ultimate playtime, story time and bedtime, snuggle companions for any little fan of Winnie the Pooh and his friends.
Suitable from Birth
Available from: John Lewis & Partners, Booghe, Waterstones, Very, Selfridges & BargainMax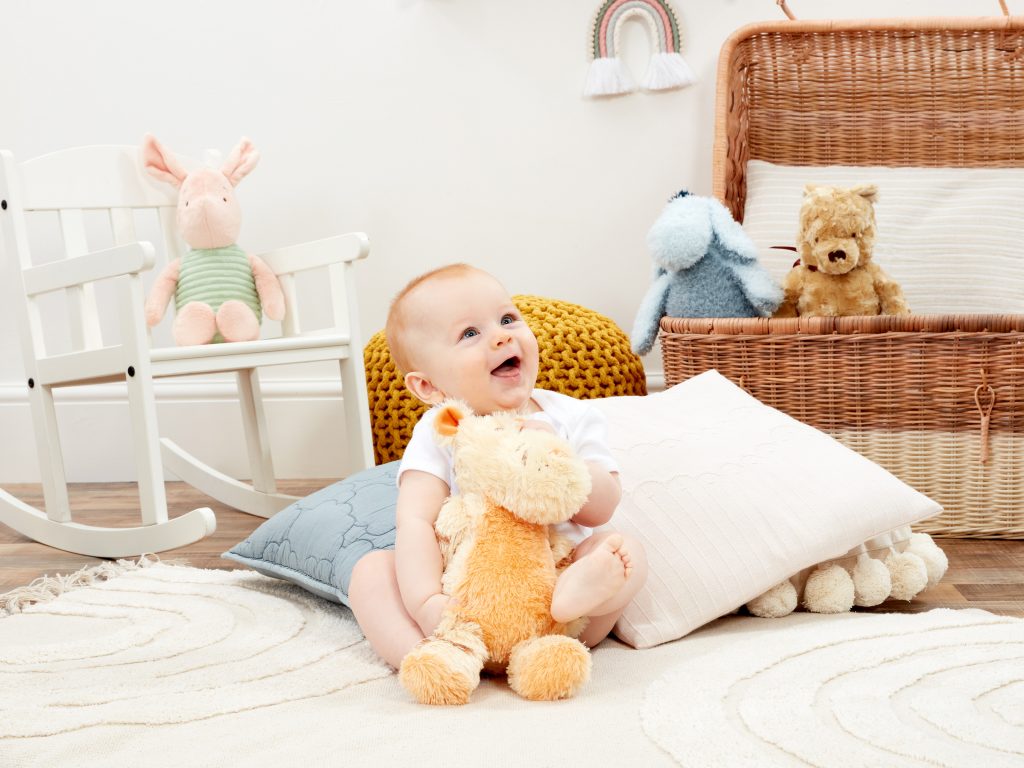 The Very Hungry Caterpillar Unfold and Discover – £15.99
Time for play and discovery with Eric Carle's The Very Hungry Caterpillar! This adorable, fabric Tiny and Very hungry Caterpillar Unfold and Discover Activity Toy features multiple textures, crinkles and activities and includes a baby-safe mirror, teether and high contrast colours for early visual stimulation, encouraging sensory play and helping to develop baby's early motor skills.
Suitable from Birth
Available from: John Lewis & Partners, Booghe, Waterstones & My 1st Years

Guess How Much I Love You Breakfast Set – £24.99
Add the fun factor to breakfast time with this adorable three-piece Guess How Much I Love You Breakfast Set featuring illustrations of the Nutbrown Hares from the Guess How Much I Love You Stories. Put a smile on their little face as they clear their plate to find the Nutbrown Hare waiting for them. We can't promise it won't get messy though! This colourful and durable mealtime set includes a Cup, a Bowl and a Plate with three clear sections, all of which are dishwasher safe, and presented in an illustrated display box.
Suitable for age 6 months and over
Available from: Hamley's and Next