As 1st June marks the beginning of Pride month; an annual, global celebration of diversity and identity in the LGBTQ+ community; we've put together a little round up of our favourite Pride gifts and rainbow themed products.
When Was the First Ever Pride?
Gay Pride commemorates the Stonewall riots, which began in the early hours of June 28 1969, after police raided the Stonewall Inn bar in New York City's Greenwich Village neighbourhood.
The first Pride parade was held the following year on the same day; on June 28 1970.
It was originally dubbed the Christopher Street Liberation Day March — named after the street on which Stonewall is located.
Over the last 52 years, Gay Pride has evolved and is a global phenomenon.
These days it typically involves a series of events, over the month of June, and is often crowned by a parade involving marchers and colourful floats from the LGBTQ+ community and its supporters.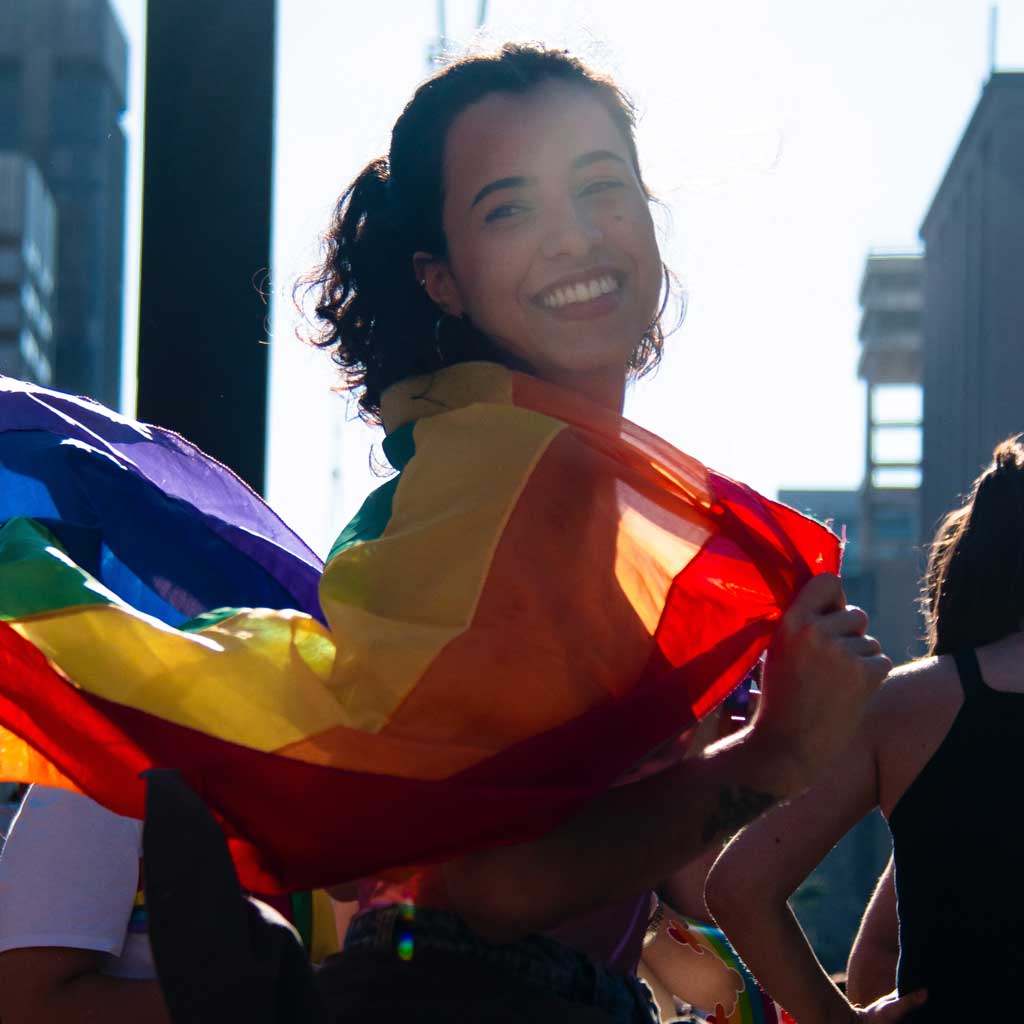 What Does The Rainbow Symbolise in Pride?
It is understood that in 1977, gay politician Harvey Milk commissioned Gilbert Baker to come up with a Pride flag.
Milk felt that queer people 'needed something that was positive, that celebrated our love.'
Gilbert Baker Designed the flag with each colour representing an aspect of the LGBT Movement.
Hot Pink -Sex
Red – Life
Orange – Healing
Yellow – Sunlight
Green – Nature
Turquoise – Magic & Art
Indigo – Serenity
Violet – Spirit
'What I liked about the rainbow
is that it fits all of us.
It's all the colors.
It represents all the genders.
It represents all the races.
It's the rainbow of humanity.'
– Gilbert Baker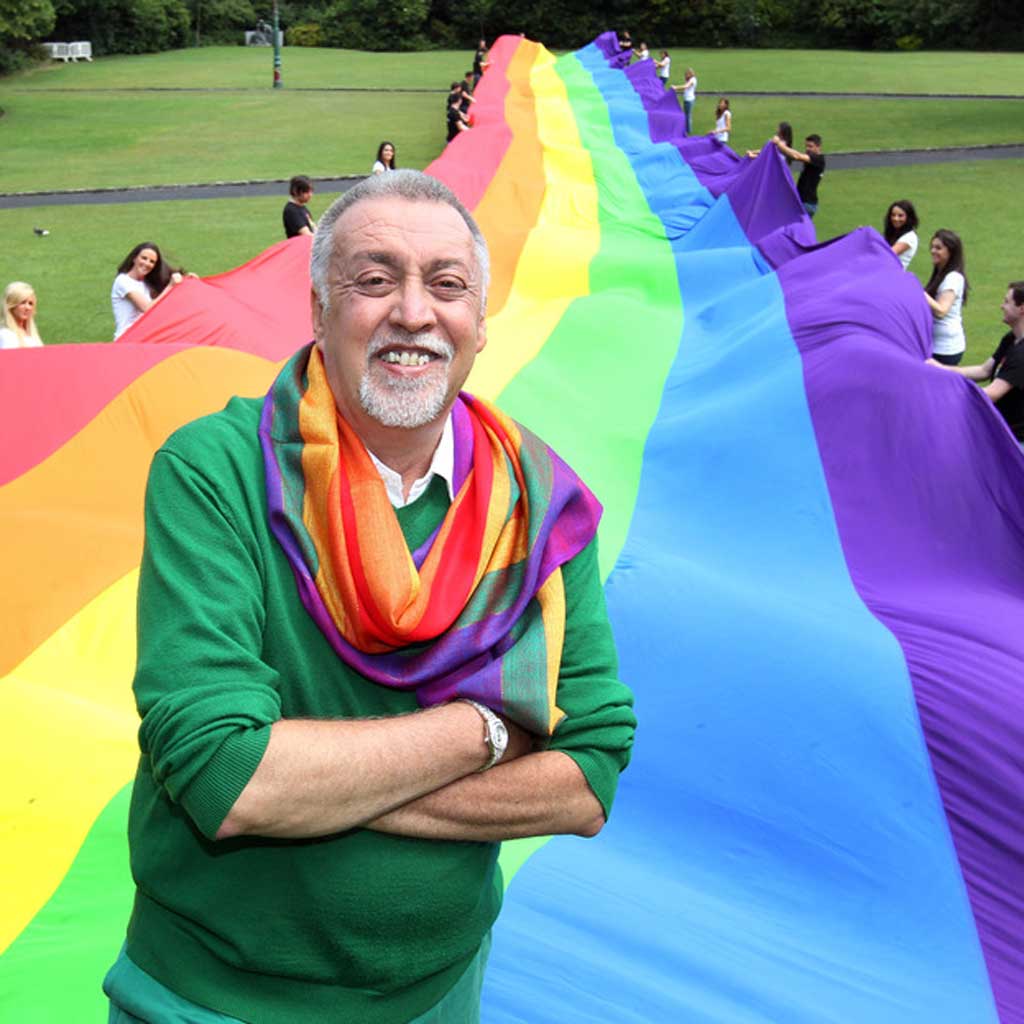 As demand for the flag increased – and due to the unavailability of hot-pink fabric – a version of the flag was created with seven stripes: red, orange, yellow, green, turquoise, blue, and violet.
Then in 1979 the flag was modified again, due to the fact that when hung vertically from the lamp posts on San Francisco's Market Street, the center stripe was obscured by the post itself.
The flag was altered again, to one with an even number of stripes.
The turquoise stripe was dropped to create the six stripe version of the flag we know today; red, orange, yellow, green, blue, and violet.
Some of our Fave Pride Gifts & Rainbow Themed Items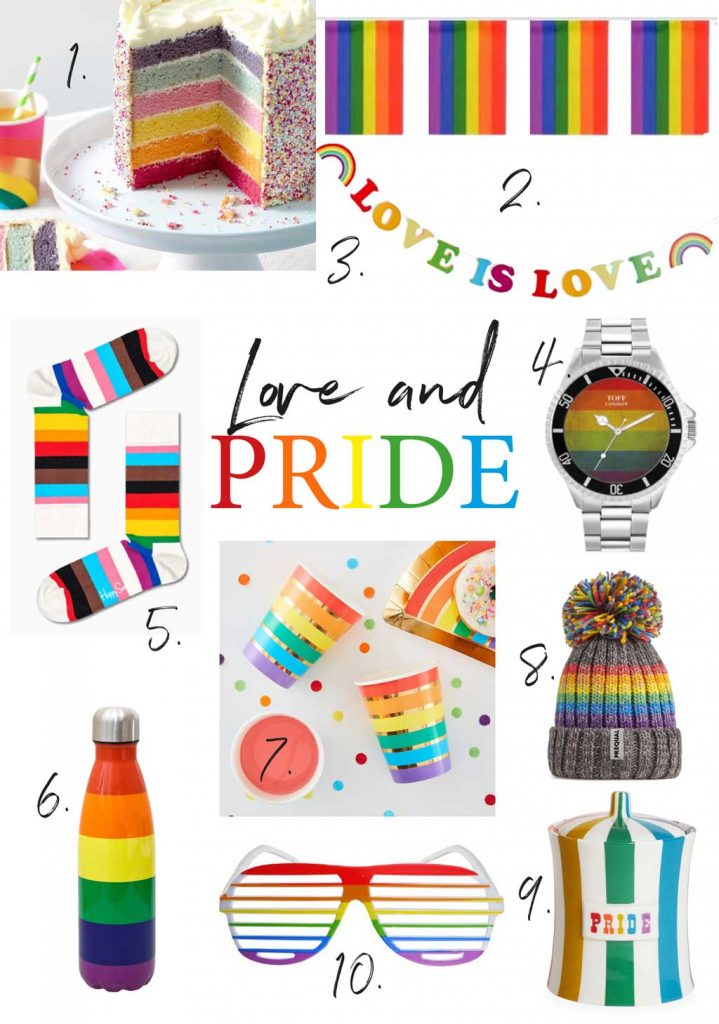 Rainbow Cake – Ocado – £31.50 | 2. Rainbow Cloth Flag Bunting – Party Packs – £10.75 | 3. Love Is Love Bunting – Gay Pride Shop – £6.00 | 4. Pride Rainbow Watch – Toff London – £99 | 5. Pride Rainbow Socks – Happy Socks – £11.95 | 6. Rainbow Bottle – Amazon – £17.99 | 7. Ginger Ray Rainbow Paper Cups – Sainsburys – £4.00 | 8. Gay Pride Rainbow Bobble Hat – Gay Pride Shop – £25 | 9. Vice Pride Canister – Jonathan Adler – £110.00 | 10. Rainbow Shutter Glasses – Joke Shop – £2.99