Speaking as a bit of a self-confessed shopaholic, a trip to the shopping centre sounds like a fun way to spend the day. But add kids into the equation and, well, things can become a little more challenging!
So, how do you keep kids engaged and entertained as you work your way around the shops?
Fear not! As part of the Character Options Shopping with Peppa takeover, which celebrates the arrival of Peppa's Shopping Centre Playset, we've got some great suggestions to make shopping a painless activity from which kids can learn important early skills.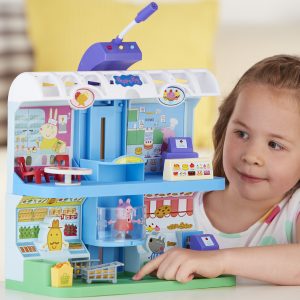 Colours
By giving young children their own special jobs, like finding four green apples, not only gives them a sense of responsibility which helps prevent the onset of boredom, it also helps teach them colour recognition!
Reading
Getting kids involved in the buying process can also help improve their reading ability. Ask your little ones to help find the "Milk" aisle when you go grocery shopping. Or give them a shopping list for them to collect their own items – there are plenty of tasty treats with tricky names to spell, like "doughnut"… now that's what we call great motivation for brushing up on your reading skills!
Nutrition
You can find an ingredients list and nutritional information on most grocery items nowadays and the trick to sticking to a healthy balanced diet often lies in studying these lists. For a child, these words and this format might be a little challenging, but start the learning young and you could help your child be healthier and happier for life! Start by teaching kids the traffic light system – helping to familiarise little ones not only with colours, but also teaching them to distinguish between a healthier choice from foods that we should be cutting down on!
Budgeting
Kids love pretending they're real grown-ups and part of being an adult is having your own money so that you can go to the shops and buy the things you need or want. Now we all know that children's minds are like sponges, so when you give them a few pennies to spend, they're going to want to go out and play adult – just like mummy and daddy! So next time you're heading to the shops, give your kids a little pocket money. It'll help keep them entertained and they'll learn a few important skills in the process!
If they want to spend their money in the toy store, ask them to first count how much they have to spend, and then, when they get to the store let them browse the shelves and help them to work out what items they can afford. There may be a few wobbles along the way (and perhaps the fruit and veg store may be a safer option!) but keep it fun and they will be practicing their number recognition and basic maths skills. Plus, they will be learning how to budget – an important life lesson!
Social skills
A shopping trip offers numerous opportunities for kids to learn how to behave appropriately in public. For instance, they'll be able to work on their communication with others, with plenty of opportunities to chat to store assistants. They will also learn basic social cues, like letting someone pass through a door first, standing to the right as you go up the elevator, or thanking someone who holds the door for them. They will hopefully also learn a few social rules too, like not eating all the treats in the trolley before you get to the cashier!
Planning and executing
Shopping can also help teach kids how to plan and execute a task. From writing a list to finding and buying those sought-after items, shopping can be a fun and educational exercise!
If you want to practice those skills from the comfort of your own home – a trial run so to speak – check out Peppa's Shopping Centre Playset. Kids will be able to join Peppa as she heads to the Ice Cream Parlour, the Pizzeria, the Cake Shop, the Toy Store, the Fruit and Veg Shop, and the Bakery, honing some of the same important skills playing with Peppa that they would on a real shopping trip. Thanks to all the fun interactive buttons, the real microphone, the working lift, and all the cool accessories, including a cash register, a shopping trolley, and bags of shopping, the new playset from Character Options has all the fun and learning possibilities of a real shopping trip – just without the stress and excessive spending!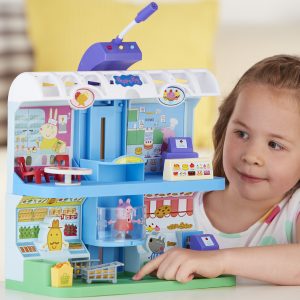 Plus, because Peppa's Shopping Centre is scaled for play with other Peppa Pig figures and playsets, kids can build their world of Peppa, helping to encourage creativity and storytelling. You can shop the full Peppa collection here.