It's September and we've got sourdough fever! It's safe to say we've all developed a further love for our kitchen and baking since lockdown (who else has still got flour coming out of their ears?). From weighing out the ingredients to kneading the dough and adding your favourite toppings, pizza-baking is not only a great way to use up your flour BUT a fun hands-on (and educational!) activity that the whole family are sure to enjoy, especially the little ones!
Sure, pizza is good but have you tried SOURDOUGH PIZZA?! Get into the Sourdough September spirit and be sure to give this recipe from Lakeland a go.
Makes 4 x 30cm (12" pizzas)
Ingredients
For the pizza bases
500g strong white flour, plus extra for flouring
10g salt
300g sourdough starter
250ml lukewarm water
Vegetable oil, for greasing
60g instant polenta or semolina
For the tomato sauce
2 tbsp olive oil
2 red onions, very finely chopped
2 x 400g cans or cartons chopped tomatoes
2 tsp Italian mixed dried herbs
Salt, pepper and a pinch of sugar
Dash of balsamic vinegar (optional)
For the toppings

400g grated mozzarella
Whatever you fancy!
Method
In a large mixing bowl, combine the flour, salt, sourdough starter and water. Bring together with your hand and use a dough scraper if you have one. Turn out onto a clean work surface and knead for 10-12 minutes, without adding extra flour. The dough may be sticky at first.
Continue kneading until the dough is very stretchy. To test it, you should be able to stretch the dough so that it's thin enough to see through.
Transfer the dough to a lightly oiled bowl. Cover with a damp tea towel and let it prove for 2½-3 hours – sourdough bread takes a lot longer to rise than normal yeast bread.
Meanwhile, make the tomato sauce. Heat the olive oil in a large frying pan and gently fry the onions for 5-6 minutes until very soft. Add the tomatoes and herbs. Simmer over a low heat for 15-20 minutes, until thickened and reduced. Season with salt, pepper and a pinch of sugar, and add a dash of balsamic vinegar if desired. Remove from the heat and cool.
Preheat the oven to 230°C/Gas 8.
Knock back your dough by turning it out onto a clean work surface and kneading it roughly for a few minutes. Portion into four equal parts, then stretch and shape into four flat discs about 30cm across. Sprinkle four baking sheets generously with instant polenta or semolina and place each pizza base onto a baking sheet – you may have to bake in batches.
Share the tomato sauce between the bases and spread out evenly. Add toppings of your choice, then sprinkle with the mozzarella. Bake for 6-8 minutes, or until golden and bubbling. Finish with Parmesan shavings and basil leaves.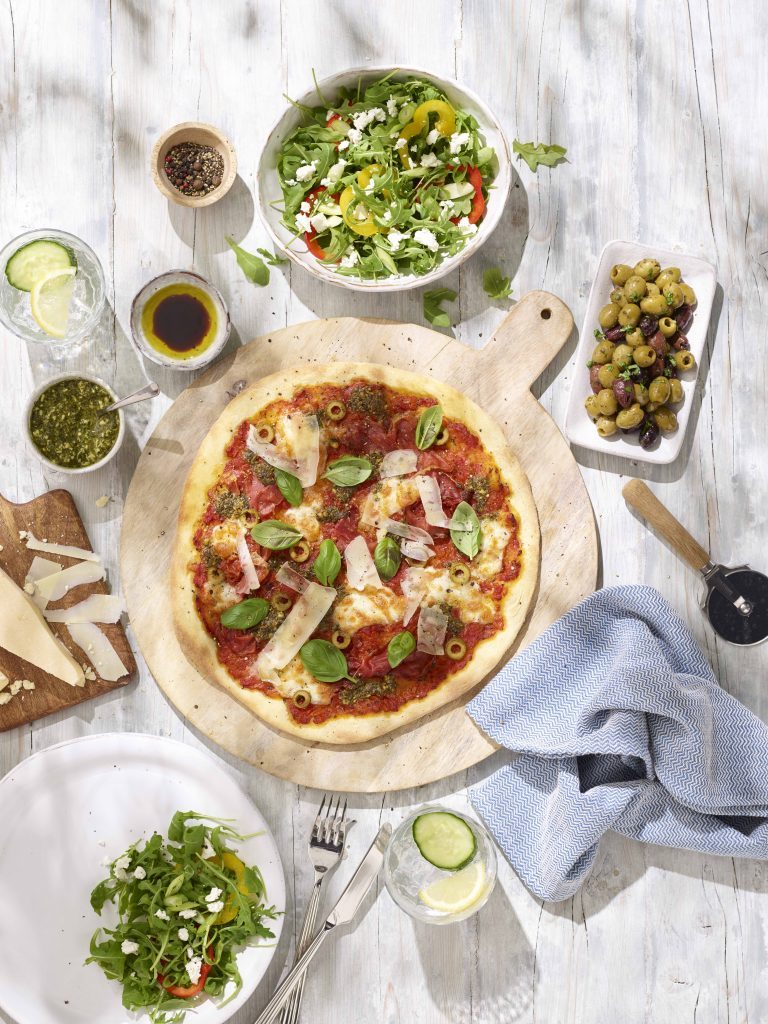 Will you be joining in with Sourdough September this year? If so, let us know by commenting down below! We'd love to see your Sourdough September bakes, so be sure to take some pictures and share them with us on social media!