[AD] This week we are celebrating the launch of Character Options' new toy collection ChuChu TV Peek & Play Surprise Eggs. Some of which, lucky for us, have landed in the UKMums.TV office to review. So without further ado, here's a sneaky peek of what's in the collection… Plus some recommendations from our trusted blogger mums too!
ChuChu TV Peek & Play Surprise Eggs – Single Pack – £2.99
Perfect for a non choccy alternative this Easter are the ChuChu TV Peek & Play Surprise Egg Single Packs. At just £2.99, these affordable eggs come in a colourful outer layer that pre-schoolers can peel off to find a smiling egg inside! Little ones turn over the egg to discover a letter that hints at which animal could be hiding within, then they crack open the shell to reveal the animal figurine. Not only are the eggs easy for little hands to grip, but they are easy to wipe down too.  They also help encourage letter recognition and colour matching making them a good resource for at home learning.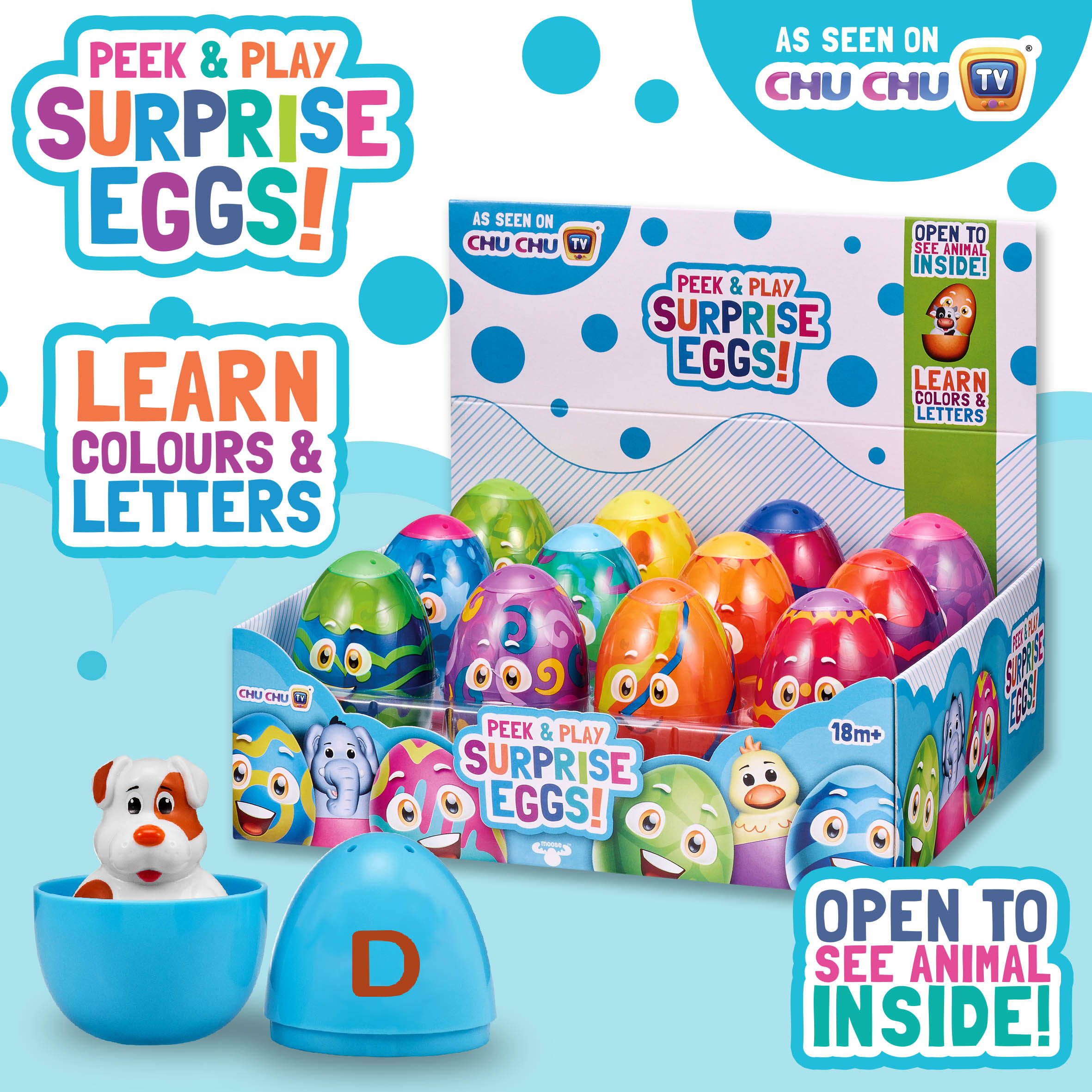 ChuChu TV Peek & Play Surprise Eggs – ABC Starter Set – £12.99
Alternatively, and as added value, reach for the ChuChu TV ABC Starter Set which includes five eggs with unique colours and animal figures inside. Your little one can begin to learn the alphabet with the Alligator, Bear, Cat, Dog and Elephant surprise eggs or why not play a game of colour matching?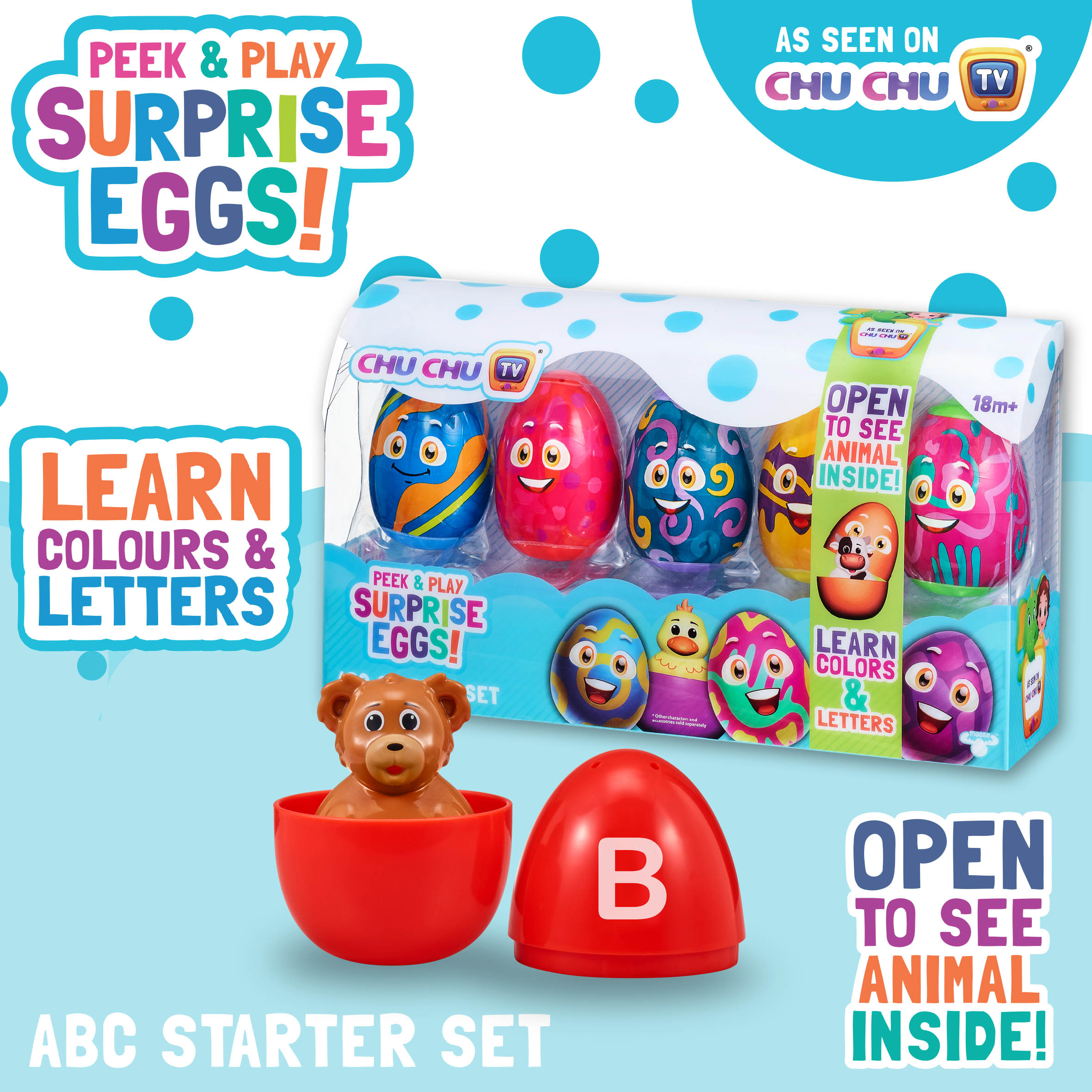 ChuChu TV Peek & Play Surprise Eggs – ChuChu TV Train – £14.99
All aboard! Hop on the Peek & Play Surprise Eggs ChuChu TV Train! With classic train play, the brightly-coloured steam engine has rolling wheels and pulls two additional cars that link together to form a long train, or can be easily unhooked for stand-alone play. Press the chimney to hear a variety of sound effects plus the iconic ChuChu TV song 'Johny Johny Yes Papa'. It comes with one exclusive Peek & Play Surprise Egg featuring Mr. Harlo, the elephant star from the ChuChu TV videos who acts as the train conductor.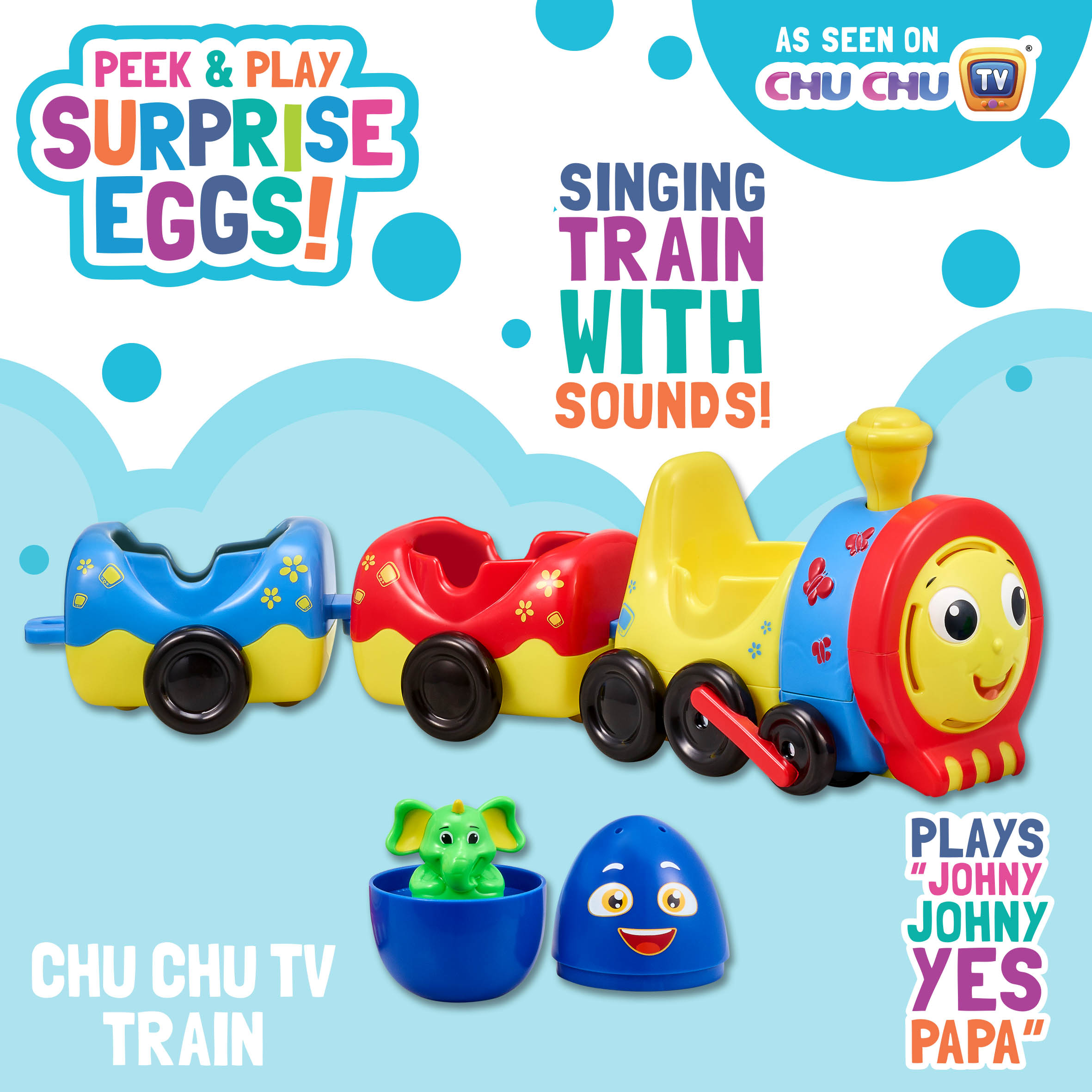 We sent some ABC Starter Sets and ChuChu TV trains to our blogging mums, and they loved them too.  Here are just a few comments from their reviews;
Rachel Bustin – "The ABC Starter Set includes 5 eggs with unique colours containing the animal figures inside. We are enjoying learning the alphabet with Alligator, Bear, Cat, Dog and the Elephant surprise eggs.Did you know that playing with the eggs can teach motor skills, letter recognition and colour matching? They are bright, bold and chunky – perfect for little hands."
The Coastal Mummy – "The train is brilliant for engaging your little ones mind as well as helping to improve dexterity and motor skills. It is compatible with the Chu Chu TV ABC surprise egg. These eggs open up to reveal an ABC character. A – Alligator, B – Bear, C – Cat, D – Dog and E – Elephant. The eggs fit perfectly in the train and its carriages. They help encourage letter recognition and colour matching as well as being the ideal size for small hands."
The ChuChu TV collection of toys can be purchased online at Amazon and Character Online. Alternatively you can try and win your own collection by entering our competition here.