Naturally, there are many pirate themed days out and activities to be had all over the British Isles. Here are some of our favourite things to do close to home or around the UK:
Simply set up a large wooden plank between two crates.  Underneath the crates, place a blue plastic table cloth (or similar). Get the kids to take turns "walking the plank" and avoiding the shark-infested waters. For younger children, place the plank across the "water" (without the use of the crates).
Set within the hundred acres surrounding Bowood House in Wiltshire is one of the most exciting adventure playgrounds we've ever seen and it includes an enormous pirate ship! Children can spend a full day out at Bowood, not only aboard Pirate Galleon 'Centaur', but also on trampolines, the Flying Fox, steep slides, flume tubes, a huge scramble net and the death slide – the latter sounding perfect for pirates!
Hunt for Woodland Treasure
Forget the high seas – there's plenty of pirate fun to be had among the high trees! Why not try this pirate-themed activity in the woods? Shiver me timbers! The trees be givin' up their treasure at this time o' year. How many golden doubloons and Pieces of Eight (well, bright yellow autumn leaves, berries and seeds) can you find?
During this interactive experience, visitors come face to face with smugglers, mermaids and real LIVE buccaneers! The story takes visitors back in time, 300 years, to the Golden Age of Piracy. Kids can meet the infamous Captain Calico Jack, who with the help of other legendary rogues, will act as a guide through the mystical caves and murky streets of 18th century Cornwall.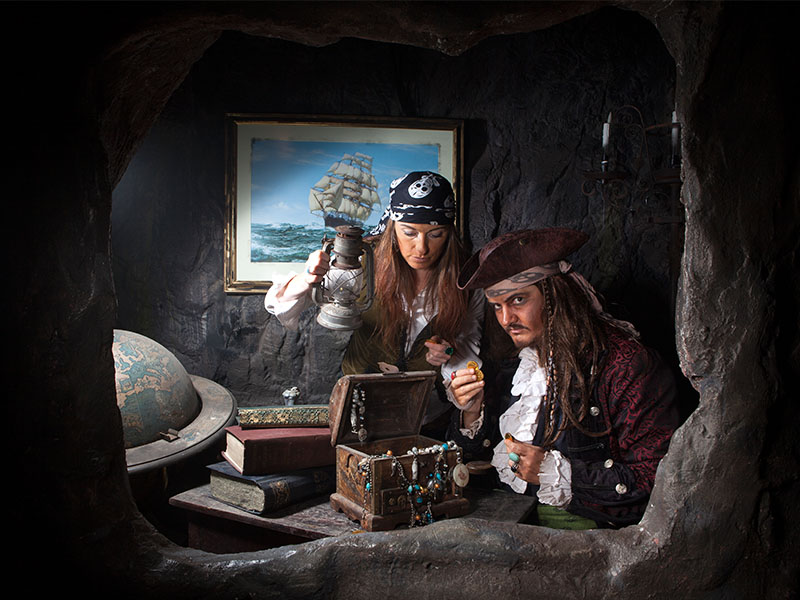 Will you be visiting one of these places this October half term? Let us know by commenting down below!