This week we've been introducing you to the Messi Training System from Flair. Based on professional training methods and equipment, and endorsed by football legend Lionel Messi, this is a training collection that is not to be missed by any budding footballer. You can read all about this fun and dynamic range of balls and accessories via the main takeover hub page.
But first, find out why you should be heading out to get your hands on the next issues of KiCK! and KiCK! Xtra…
A quick bit about KiCK! and KiCK! Xtra!
KiCK! is the UK's biggest-selling monthly football magazine for kids. Featuring all the biggest players and teams in the Premier League and beyond, with interviews, transfer rumours, and posters. It's also packed full of interactive quizzes, puzzles and competitions.
Meanwhile, KiCK! Xtra has even more great football content in the style of KiCK! With extra posters, extra puzzles and extra stars every month, all under one fun footy theme! There are also freebies aplenty — perfect for kids who need their footy fix!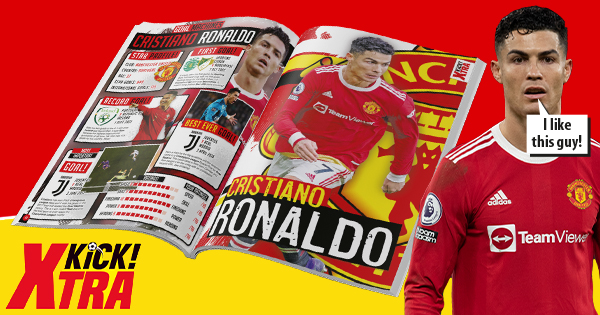 Not to be missed… here's what's coming up in KiCK! and KiCK! Xtra this March!
There's something extra special that'll be kicking off this month in KiCK! and KiCK! Xtra. If you've got a young football fan at home, be sure to head to your local Adsa, Sainsbury's, WHSmith or Tesco (all selected stores only) to pick up the latest issue. Here's why…
Flair and Tigerhead Toys have organised an unbelievable competition, offering one lucky football fan the chance to win a trip to meet Lionel Messi. The competition launches this month in KiCK! and KiCK! Xtra, where you can find out exactly what's up for grabs, including details on how to enter. The Meet Messi experience includes an all-expenses-paid trip to Paris or Barcelona, and the chance to meet the football legend himself — Lionel Messi! Pick up your copy of KiCK! 203 and KiCK! Xtra 70 to discover more!
Plus, look forward to the end of the season as KiCK! predicts all the winners and losers for the 2021-22 campaign. Inside the issue you'll also find ten epic posters, Premier League stars revealing their footy heroes and an interview with a top Women's Super League star! Keep your eye out for KiCK! Xtra, too, as they profile the game's biggest goal machines in another jam-packed issue!