This week on UKMUMS.TV we're celebrating Tonka – the world's favourite toy truck!
And, as part of the takeover we wanted to bring you an extra helping of Tonka fun, in the form of some cool activities. Be it weekend fun or after-school activities that you're after, we've got you covered!
Free, downloadable Tonka activity sheets:
These activity sheets are ideal for continuing the Tonka fun when the toys have been put away. They're sure to keep little Tonka fans busy and entertained and all you'll need is a printer, a pencil and a few colouring pencils or crayons. Simply click the links to download, print them off, and you're all set!
Take the Tonka Tough Wordsearch
Can you spot the five differences between the two images of the Tonka Trucks?
Have a go at colouring in your own Tonka Truck…will your kids stick to the classic yellow?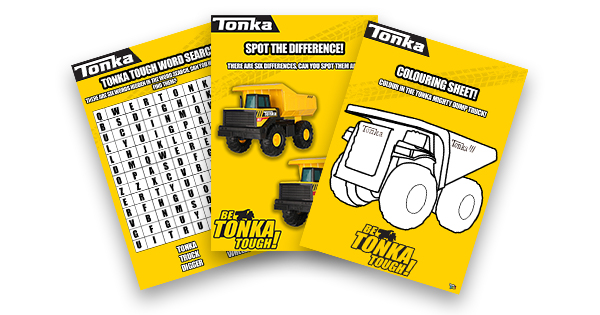 Make the most of your kids' sandpit play with Tonka!
When it comes to playtime with Tonka, the possibilities are endless! The toys are ideal for both inside and outdoor play… roll them along the carpet, the lawn, or even the table at your local restaurant (we suggest the smaller vehicle for this!). Basically, anything goes!
So, when you add a sandpit into the mix, it probably won't surprise you that this will present even more epic playtime possibilities with Tonka! Keep reading for some fun ideas to help you make the most of your kids' sandpit play with Tonka.
X Marks the spot!
Playtime is always more fun with an exciting storyline! So, get ready to get inventive. It's time to bury some treasure! If you've got a couple of pennies or 2 pence coins lying about, why not bury them in your child's sandpit. Then, get them to use their favourite Tonka trucks to uncover all the hidden booty!
If you're feeling really creative, you could always start the adventure with a treasure hunt that leads to your child's sandpit. Start with a clue that'll lead them to a location (e.g. "Time to chill, time to think, please go here for refreshingly cool drink"). When they get to this location they'll find their next clue, until they discover the sandpit from the last clue you give (e.g. "Build castles in me and pretend you're on the beach"). Then, it's time to get digging for the buried treasure!
Colour-Matching Tonka Time!
A fun way to use Tonka toys to support learning is to take items of different colours and place them in the sandpit and around the garden. Kids must collect the various items with their Tonka trucks, placing them in colour-coded piles. At the end, get them to practise their counting skills by telling you how many items of each colour there are.
If you love the look of the Tonka toy collection, you can shop the Tonka toy collection at John Lewis, Amazon, House Of Fraser, The Entertainer, Very and all good independent toy shops.
For more #TonkaToysUK takeover fun, head back to the main hub page by clicking here.