With stars such as Fearne Cotton, Jennifer Aniston and Jessica Biel reportedly taking up yoga, we're looking at the benefits of this ancient form of exercise and why you should join these celebs in giving it a go.
Yoga works on your strength, flexibility and breathing to boost physical and mental wellbeing. Many people take up yoga for its ability to help create balance and unity between the mind and body, but it also provides many physical benefits as well. Yoga helps with stress and anxiety, as well as improving overall fitness, your sense of calm and inner peace.
For mums-to-be, yoga helps by keeping the body strong and flexible, prepping you for childbirth. It helps to control weight gain and improves the flexibility of your joints, increases circulation and helps you find your centre of balance. Don't overdo it though; avoid abrupt movements, don't remain on your stomach for long after the first trimester, take special care when balancing and drink a lot of water to stay hydrated.
Once your little bundle of joy has arrived, yoga helps the body to recover from childbirth and to rebuild the strength it lost during pregnancy. Gentle stretches will ease tight shoulders and lower back pains after all the picking up of toys and rocking that you'll be doing. Yoga will also help the body to recover its shape, bring back tone and rebuild muscle. Mum-of-two, Fearne Cotton, proves that yoga can be done anywhere in the home as she shares regular snaps of herself in all sorts of different poses (and rooms) on Instagram and even gets her kids joining in too.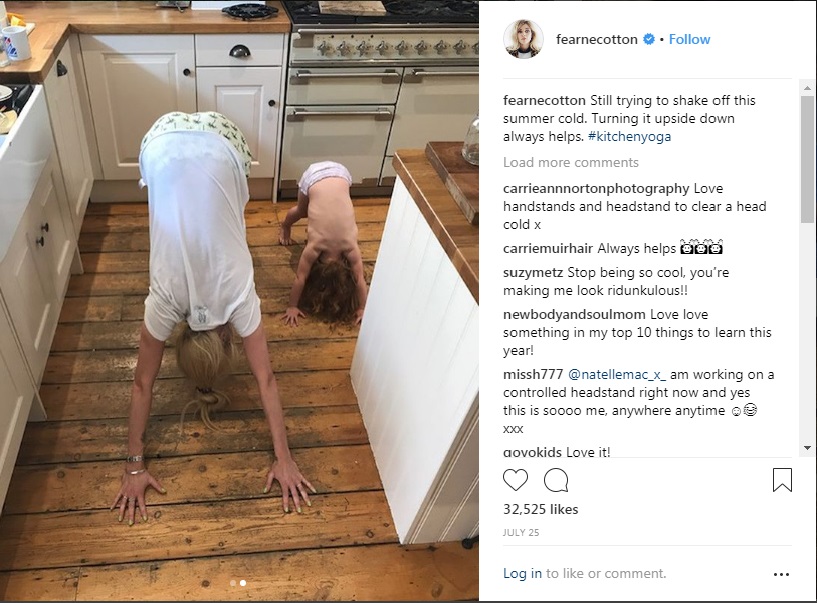 Image taken from Fearne Cotton's Instagram
It's not just about exercise though. Focusing on breathing and slowing the thoughts will teach your mind calming techniques which it can draw on later, when it needs to. Breathing techniques don't have to be fancy and after a while you may not even realise that you are using them although you will start to feel a bit calmer and things will start to seem a bit easier.
Slower breathing slows down the heart rate which calms both mum and baby which can have a huge beneficial effect. Once you learn these techniques, they will stay with you and continue to bring you benefits, particularly as life with your little one continues with all its changes and the juggling around with returning to work and the school holidays.
For more information take a look the main UK yoga associations listed below:
• British Wheel of Yoga (BWY), the Sport England-recognised governing body for yoga
• Independent Yoga Network
• Iyengar Yoga (UK)
• Yoga Alliance Professionals
Have you ever tried yoga? If so, let us know over on Facebook and Twitter.
Main image taken from Pexels.