The holidays are almost over and it's time to make sure you've got everything for the new school year. We thought we'd give you a hand with our handy 'back to school shopping list'.
From uniform essentials to stationery, here's a list of everything you'll need.
School Uniform Essentials
Winter coat
Shirts, polo-shirts or blouses
Trousers or shorts
Skirts or pinafore dresses
Cardigans and jumpers
Shoes
Socks/tights/underwear
School Tie (optional)
Blazer and cap (optional)
PE Kit – T-shirt, shorts/joggers, trainers/plimsolls, sports socks
Whilst there are lots of dedicated companies offering badged uniform, the supermarket options for school basics are unrivalled; both in terms of choice and quality.
Back to school shopping for uniforms couldn't be easier, as you can pick up some great quality basics, whilst doing your weekly shop.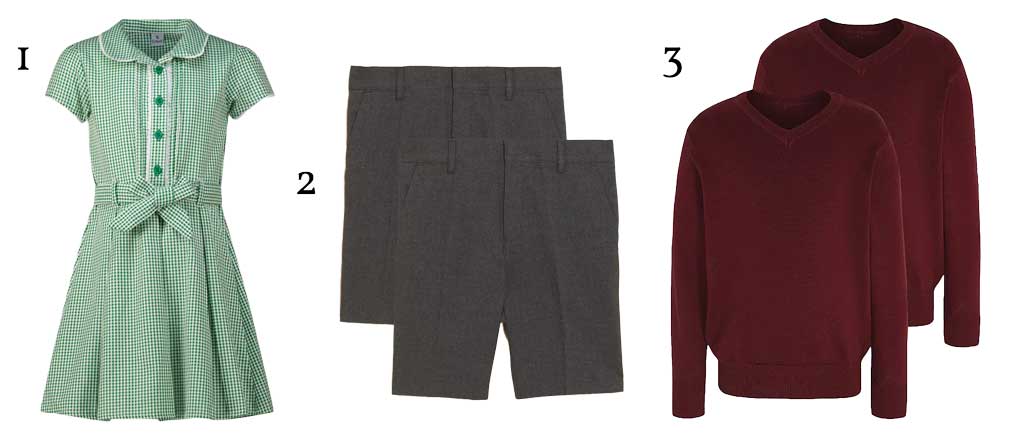 1.Gingham Classic School Dress from £5 – Tu Clothing at Sainsburys | 2. Boys' Slim Leg Plus Waist School Shorts 2 Pack from £8 – M&S | 3. V-Neck School Jumper 2 Pack from £6 – George at Asda
Back To School Stationery Essentials
Chances are, as a parent, you end up buying new stationery for your kids every new school year.
But there's something very satisfying about a brand new pencil case full of stationery! Here's a list of the most useful items.
Pencils
Ballpoint pens
Pencil case
Highlighters
Erasers
Pencil sharpener
Glue stick
Notebooks
Calculator
Ringbinder & folders
Hole-punch
Protractor set
Kits like the Helix and Bic kits (below) tick loads of boxes and offer real value for money.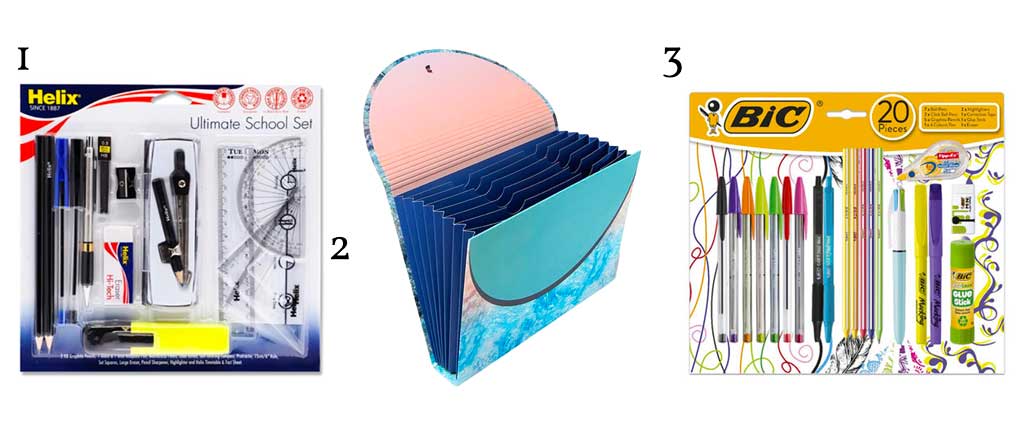 1.Helix Ultimate School Set £11.99 – Ryman | 2. Luna A4 Expanding File Wallet £10 – Paperchase | 3. Bic 20 Piece Stationery Set £8 – The Works
Rucksacks, Lunchboxes, PE Bags
Back to school shopping wouldn't be complete without a brand new school bag or lunch box!
Bento boxes are especially good for packed lunches. They do a brilliant job of dividing up sandwiches, salads, snacks and desserts; so there's no need for children to carry more than one container.
Food stays fresher for longer and there's no cross contamination (anyone who remembers banana scented sandwiches from having their lunch and fruit packed together in the same box, will especially appreciate this!).
Rucksacks are a great alternative to the old fashioned school satchel.
They combine style with practicality and come in a variety of shapes and colours; and the weight distribution is better than a single shoulder strap.
Replace traditional 'pump bags' with a smart boot bag.
They're roomy enough for all PE kit and you can ever get personalised versions.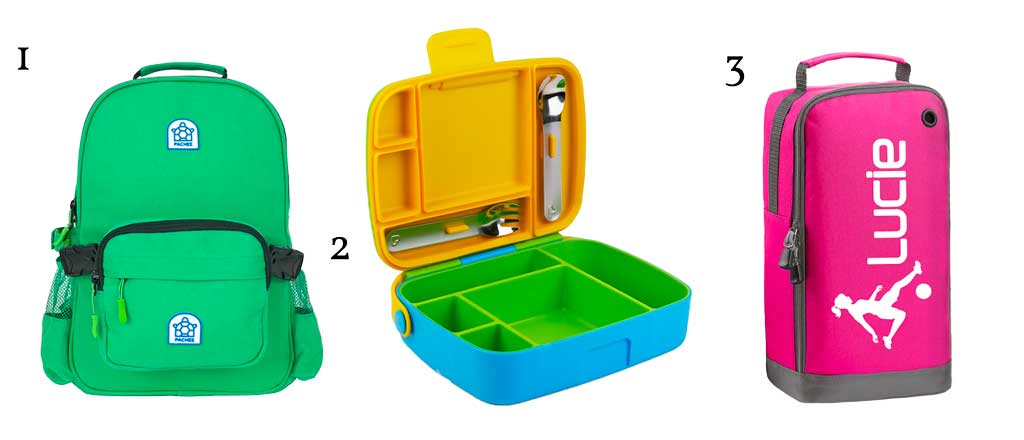 1.Beltbackpack- Original Green £35 – Pachee | 2. Munchkin Lunch Bento Box £21.50 – Kidly | 3. Children's Personalised Football Boot Bag from £5.95 – Beyondsome
Name Labels
Finally, you've spent a small fortune on kitting out your mini scholars for the new school year; just make sure all the items you've bought are labelled with their names!
You can buy traditional woven sew on name tapes or save yourself time and energy by using the stick on, machine washable name stickers!