Teksta came into popularity in the UK in 2013 with the award-winning Teksta robotic puppy.
As the years have gone on, so has Teksta and we've seen his technology and look evolve. What's more we've see many of his friends come and go. Take a look at the Teksta's of yesteryear below;
Teksta Voice Recognition Robotic
The 5th generation of the iconic Teksta Robotic Puppy had more functions than ever before. With multi-coloured LED eyes and realistic ear movements, add to this his super-sensitive voice control, applications and multiple command features, this pup was a kid's favourite companion.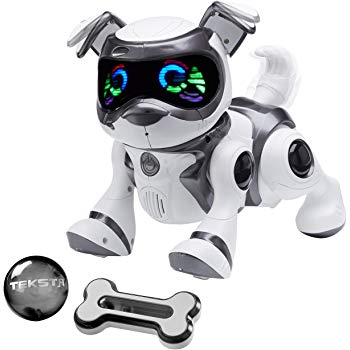 Teksta 360 Puppy and Teksta 360 Kitty
This beautifully compact version of the iconic robotic pet is the prefect 'take anywhere' pet. He still has the iconic 360 degree backflip, plus many interactive response features such as; light-up eyes, expressive ears, cute puppy sounds, walking and sitting, plus more! These 360's are the perfect kid's companion. There's even an interactive free app, to help care for your favourite pet.