Looking for the best balm for sensitive skin? Or maybe an ultra pampering gift box, full of goodies to treat a friend (or for yourself!).
We've put together a little round up of all our the great things we've stumbled across recently and wanted to share with you all.
From kid's tech and babywear, to skincare and toys – these are our favourite products for April!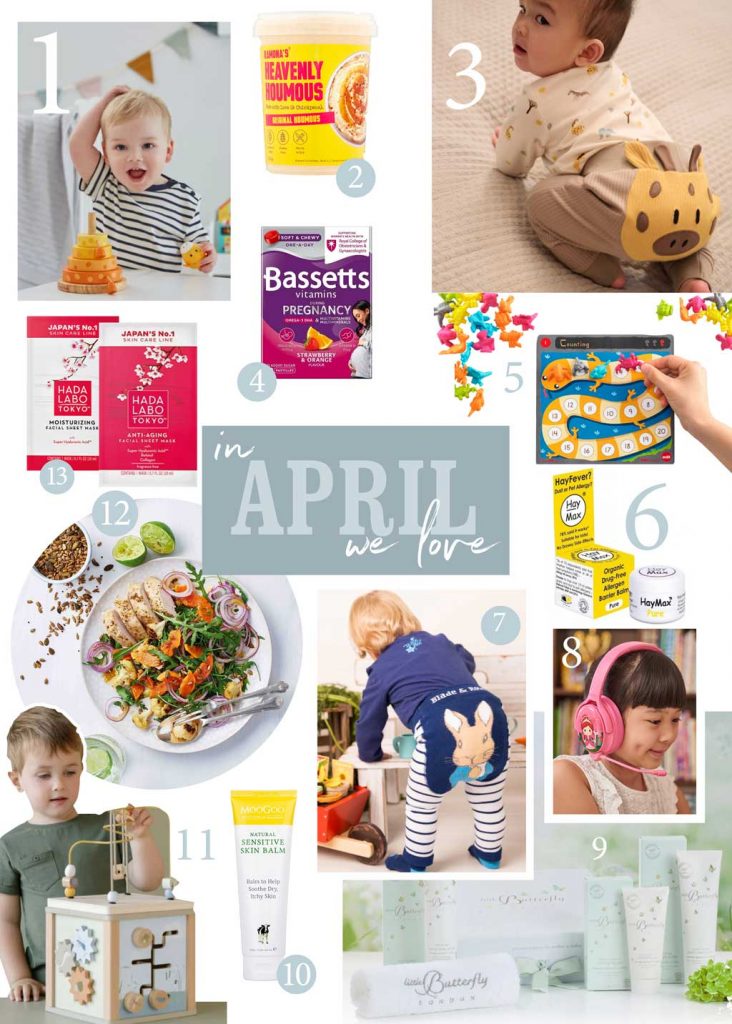 1. JoJo Maman Bebe – Wooden Giraffe Stacker (£16), 2. Ramona's Kitchen – Ramona's Houmous (£3), 3. Mori – Safari Giraffe Ribbed Joggers (RRP £22), 4. Bassetts – Bassetts Vitamins During Pregnancy Strawberry & Orange Flavour – 30 Pastilles – (RRP £14), 5. EDX Monster Counters Activity Set (RRP £27.99), 6. HayMax – Barrier Balm 5ml (RRP £7.49), 7. Blade & Rose Peter Rabbit Navy Stripe Leggings (RRP £10), 8. BuddyPhones (RRP £29.99), 9. Little Butterfly The Pamper Gift Box – (RRP £85), 10. Moo Goo – Sensitive Skin Balm 120g (RRP £12.50), 11. JoJo Maman Bebe – Little Dutch Little Goose Activity Cube (£36), 12. Munchy Seeds – Just Add' (RRP £3.50.), 'Just Snack' (RRP £1.09) and 'Just Bake' ( RRP from £5.99) Also available to purchase from Ocado, Amazon and Co-Op, 13. Hada Labo Tokyo Face Sheet Masks (RRP £2.99 each)