At UKMUMS.TV, we're dreaming not only of a white Christmas, but also of finding a big box of chocolates under the tree, on Christmas morning! After all, chocolate and Christmas go hand-in-hand as far as we're concerned! And we know that we're not alone! Selection boxes are big business at this time of year… but with so many selection boxes to pick from, we wanted to give you a full rundown of our favourites!
Green & Blacks Organic Tasting Collection (RRP £12.99)
Christmas is a time for indulgence, so if ever there was a time to treat yourself to a premium selection of chocolate, this is it! Introducing the G&B Tasting Collection – a selection of 24 miniature bars of chocolate. From milk chocolate to white and dark chocolate, all the way through to the delectable flavours of butterscotch, ginger, hazelnut, sea salt and more, this collection lets you explore the range of G&B's flavours!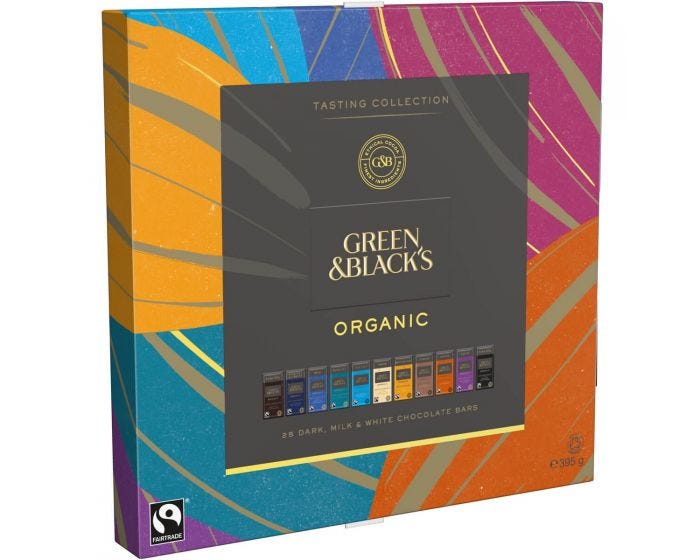 Cadbury Medium Santa Selection Box (RRP £2.00)
Nothing says I love you like a Cadbury selection box. In fact, Cadbury selection boxes have long been a staple part of Christmas gifting in the UK. And now you can pick from small selections that start at just £1, to larger selections! But we love this medium box, which includes the following: Fudge, Wispa, Dairy Milk Little Bar, Double Decker, Treat-Size Buttons and a Crunchie! Nom!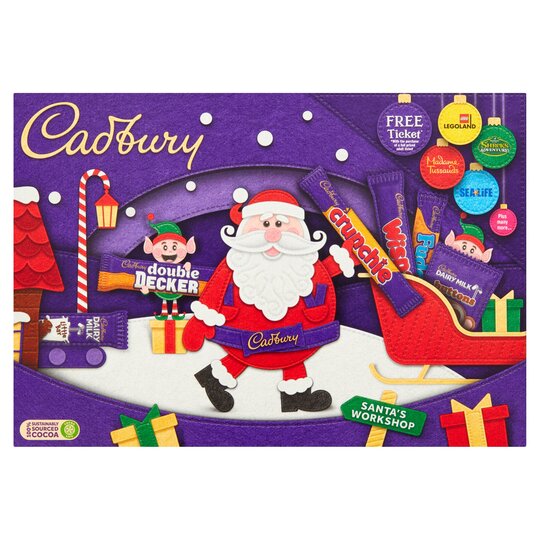 Galaxy Smooth Milk Chocolate Large Christmas Selection Box (RRP £3.00)
We know we'd be inviting complaints if we presented an option from Cadbury and not Galaxy. So for all those who sit on the "Galaxy is superior to Cadbury" side of the fence… this one is for you! This incredible selection includes: Galaxy Caramel, Galaxy Smooth Milk, Galaxy Ripple, Galaxy Cookie Crumble and Galaxy Salted Caramel.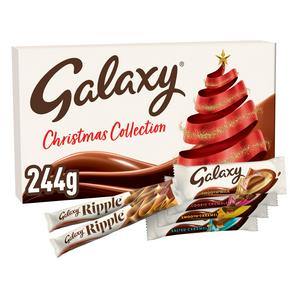 M&S Colin the Caterpillar Selection Box (RRP £5.00)
For a supermarket character that has become an icon of celebrations, look no further than Colin the Caterpillar™. Who hasn't had a Colin the Caterpillar cake for their birthday?! And now the celebrations can continue with Colin into the holidays with the Colin the Caterpillar Selection Box, which comes six different treats and festive stickers inside. Included is one giant Colin chocolate face, milk chocolate lollipops, a bag of mini Colin faces and more!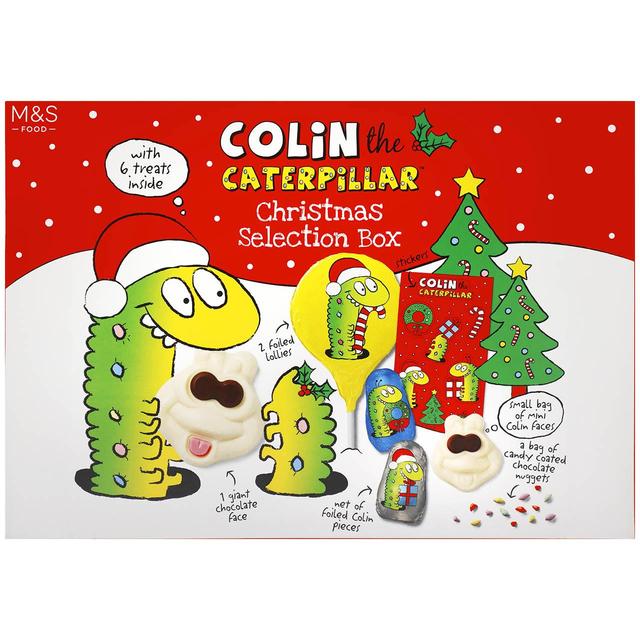 International World Chocolate Bar Selection Box (RRP £14.99)
For a more cosmopolitan selection boxes, that'll make you feel like you're travelling the world with every mouthful, there's the International World Chocolate Bar Selection Box! This selection of the most popular world chocolates includes a Violet Crumble from Australia (think crunchie but bigger!), a Cadbury Black Forest from New Zealand, Cadbury's Dream from Australia, a crunchy peanut butter 5th Avenue bar from America, the almighty Peppermint Crisp from South Africa, and Reese's Nutrageous and Hershey's Cookies 'n' Crème from the USA!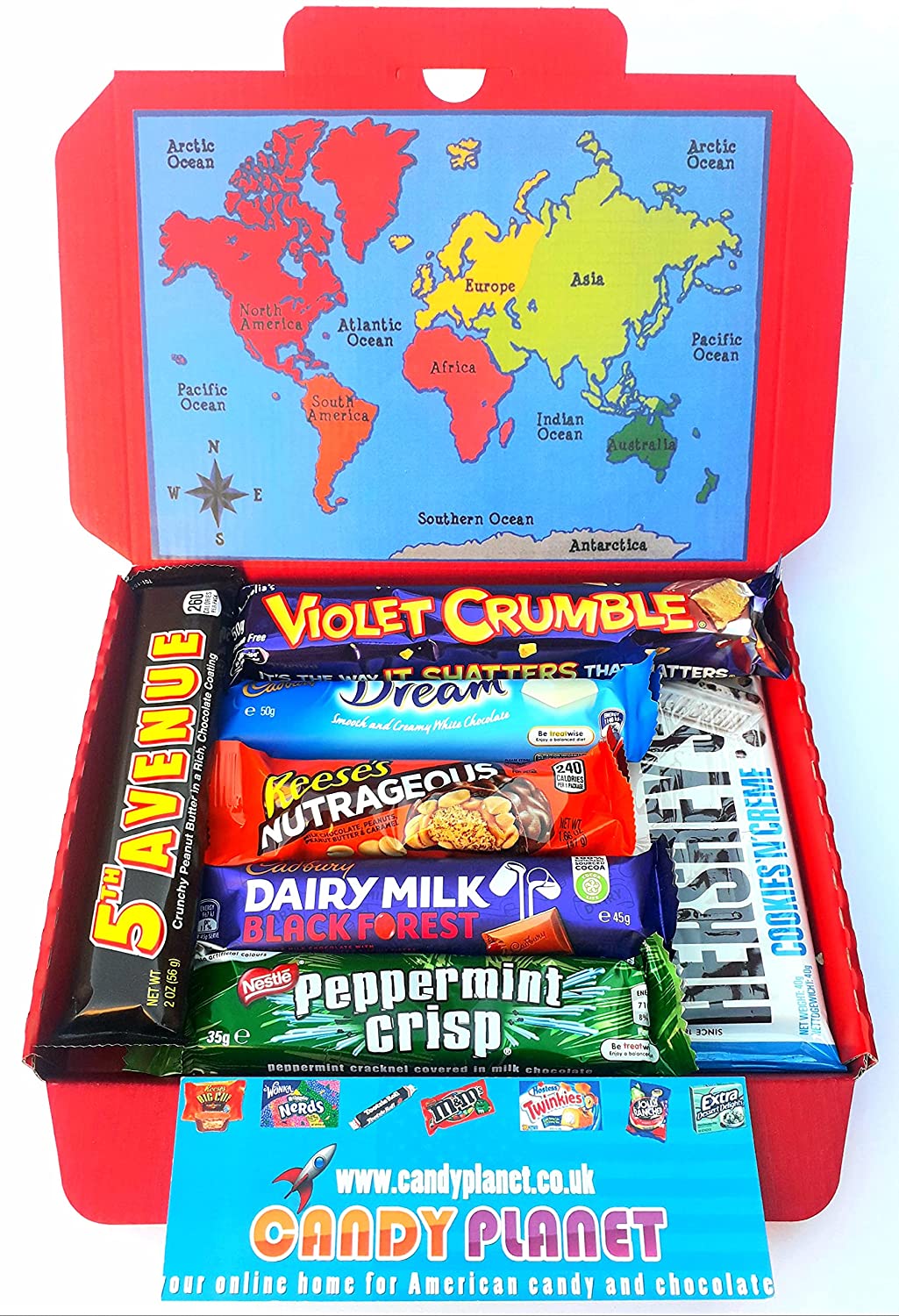 HARIBO Sweet Medley (RRP E4.00)
More of a sweet fiend than a chocolate fan? This one has your name on it! The HARIBO Sweet Medley includes all your favourites: Jelly Babies, Jelly Beans, Tangfastics, Starmix, Supermix and Giant Strawbs!