This week, we're enjoying a fortnight of creative play with Character Toys, in our latest UKMUMS.TV takeover.
So far, we've shared some of our favourite items in the Character Toys creative play collection. If you missed it, you'll find our product write-up on the creative hub. We've also shared some fabulous videos from our influencer families, which show just how much fun these creative gifts can be! And it's fair to say that the Character Toys creative collection offers an exciting mix of creative play experiences, which are not just limited to more traditional arts and crafts.
One such product that encourages creativity in a less traditional sense is the Cra-Z-Art Shimmer 'n Sparkle 6-in-1 Real Massaging Foot Spa (RRP £29.99). Presenting children with all the tools and inspiration required to enjoy the ultimate pampered pedicure experience at home, the 6-in-1 Massaging Foot Spa is a special kind of creative play product!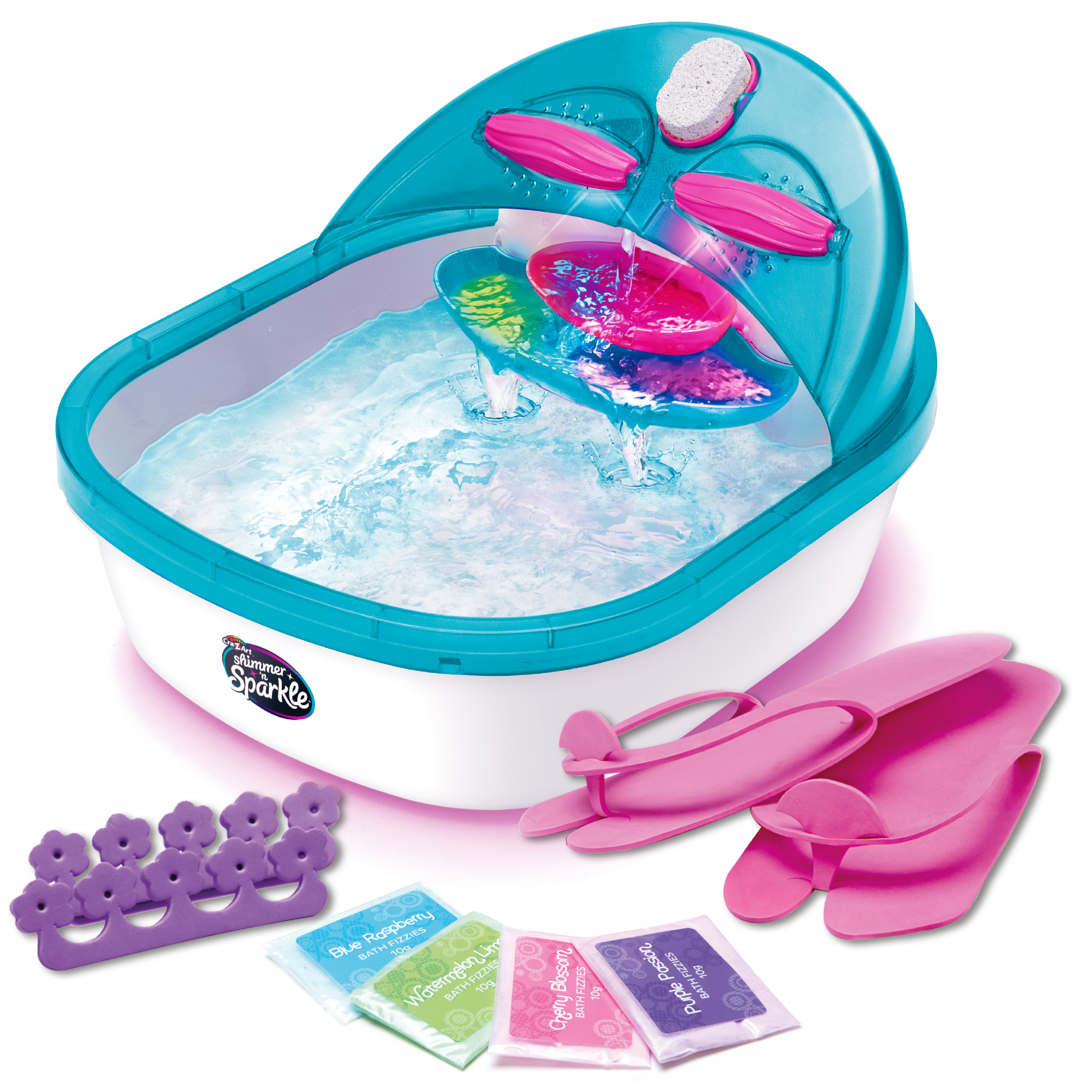 Families can design their very own spa day with this fabulous set! The Foot Spa contains 6 spa-mazing features: massaging foot rollers, skin smoothing butter, cascading waterfall, relaxing bubbling action, colour-changing lights and scented pedi-soak (there are 4 packs included with each set), as well as spa slippers. Also included are toe separators and instructions.
If you'd love to create a fun spa day experience for your kids and their friends, kids would no doubt love designing their tailor-made foot spa treatment with the 6-in-1 Real Massaging Foot Spa. But if you need some extra inspiration for hosting a spa day party at home, here are some of our best ideas:
Prepare your salon
Kids will appreciate any little touches, like rolled towels, flowers, cucumber slices and "spa slippers" and, thanks to their vivid imaginations, there is no need to spend a fortune – if anything at all. Use items that you already have where possible and their imaginations will fill in the gaps!
Serve refreshments
Lemonade or cold water will add to the experience for little girls! Little spa girls can sip on their beverage as they sit back and relax with their friends.
Create a relaxing ambience
When you go to a spa, you expect to hear tranquil music and you'll no doubt be treated to relaxing scents. So, be sure to play calming music and if you're able to safely burn a candle or a wax melt – the kids will no doubt love these touches!
Make your own DIY face masks
Face masks don't have to come from the shop. There are plenty of simple and gentle face masks that you can create at home. A favourite for many is a simple combination of avocado, oatmeal and honey, but there are lots of DIY mask recipes that can be found online!
Don't forget the Shimmer 'n Sparkle 6-in-1 Real Massaging Foot Spa!
If you love the sound of the 6-in-1 Foot Spa, head to Smyths Toys to buy yours before your all-important spa day. And why not follow up with a lovely coat of nail polish for each of your little spa guests?
Et voila! Enjoy!