From intense itching to red and scaly skin, eczema looks sore and can lead to an unhappy child. So, in aid of National Eczema Week (17th – 25th September) we've put together some tips on how you can help your little one to combat eczema.
Moisturise
For skin that is dry and cracked, stocking up on moisturiser is an obvious one but with so many different potions and lotions available it is a minefield trying to find one that will do just the trick. Suitable for babies from day one,
Oilatum Junior Cream
(RRP £9.50) forms a protective layer that soothes, softens and rehydrates the skin and is clinically tested to reduce itching for eight hours.
The AVEENO® Baby Soothing Relief Emollient Cream (RRP £8.50) is another intensely moisturising cream that will help to combat the symptoms of eczema including dryness and irritation. It's unscented and contains colloidal oatmeal which is gentle on the skin and helps to restore the skin's natural barrier, preventing water loss.
Change up their pyjamas
Eczema can impact on your child's sleep due to the itching, so to make bedtime that little bit more comfortable for them make sure that their bedroom is kept cool as getting all hot and sweaty will only make their eczema worse. Dress them in cotton pyjamas rather than nylon or woollen ones to avoid irritation.
Buy a cuddly companion
According to Great Ormond Street Hospital, eczema affects at least one in five children across the UK. Eczema can have emotional impacts on young children, with some feeling embarrassed about the condition and others not being able to participate in everyday activities comfortably. Eczema can knock your child's confidence and self-esteem and as mums we hate to see our little one in distress. To bring comfort and a sense of reassurance to your child, why not buy them a soft toy that they can hug and talk to. We LOVE the Winnie the Pooh super soft Snuggletime collection that features the silly old Pooh bear, Tigger and Eeyore. Your little one is sure to pick a favourite from the trio and the soft toys will act as a distraction from all of that itching! You can find these in selected Tesco stores for £12.99.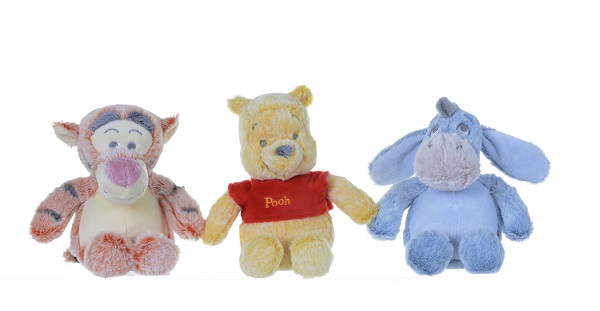 Consider altering their diet
According to the National Eczema Society, food is thought to be a cause of eczema in around 30% of young children (babies and children under the age of five) and is the main trigger for only about 10% of young children. Foods that cause most reactions in young children are eggs, cow's milk, fish and peanuts just to name a few, so you may find dietary changes useful in helping to prevent eczema.
What are your tips for tackling eczema? Let us know over on Facebook and Twitter.
Image taken from invitehealthblog.