Yesterday, you'll have seen we shared a tasty fish and chips recipe with you ahead of National Fish and Chip Day, which is today (!!!) but we didn't want our vegan readers to feel left out, so this one is just for you! Why not pop out to the shops today and gather all the ingredients you need for a lovely 'tofish and chips' dinner tonight.
Recipe courtesy of The Tofoo Co.
Serves 4 | Prep time – 20 minutes | Cooking time – 35 minutes
Ingredients:                                                                                                                           
280g Naked Tofoo
3 tbsp olive oil
300g peas
3 tbsp vegan crème fraiche
800g potatoes such as King Edward
1 tbsp plain seasoned flour
100g self-rising flour
1 tsp dried seaweed, crumbled (optional)
100ml vegan ale
Oil for deep frying
Method:
Preheat the oven to 200°C/180Fan Gas 6. Drain the Tofoo and pat dry.
Peel the potatoes and cut into chips, bring a large pan of lightly salted water to the boil and cook the cut potato for 5 minutes, drain well then toss with the olive oil. Spread out onto a non-stick baking tray and cook in the oven for 30 minutes, turning half way through cooking time.
While the chips are cooking, cook the peas in a pan of boiling water for 5 minutes, drain and tip into a food processor with the crème fraiche, blitz until well combined. Heat gently.
Cut the Tofoo into four slabs and dust in the seasoned flour. Blitz the self-rising flour with the seaweed and add the ale, blitz again until you have a smooth creamy batter.
Heat about 8cm oil in a pan to 180°C. Take a piece of tofu and dip in the batter to coat evenly, carefully lower into the hot fat and cook for 2 to 3 minutes, until golden and crispy. Repeat with the other three pieces.
Serve cooked Tofish with chips and a spoon full of peas, garnish with lemon wedges.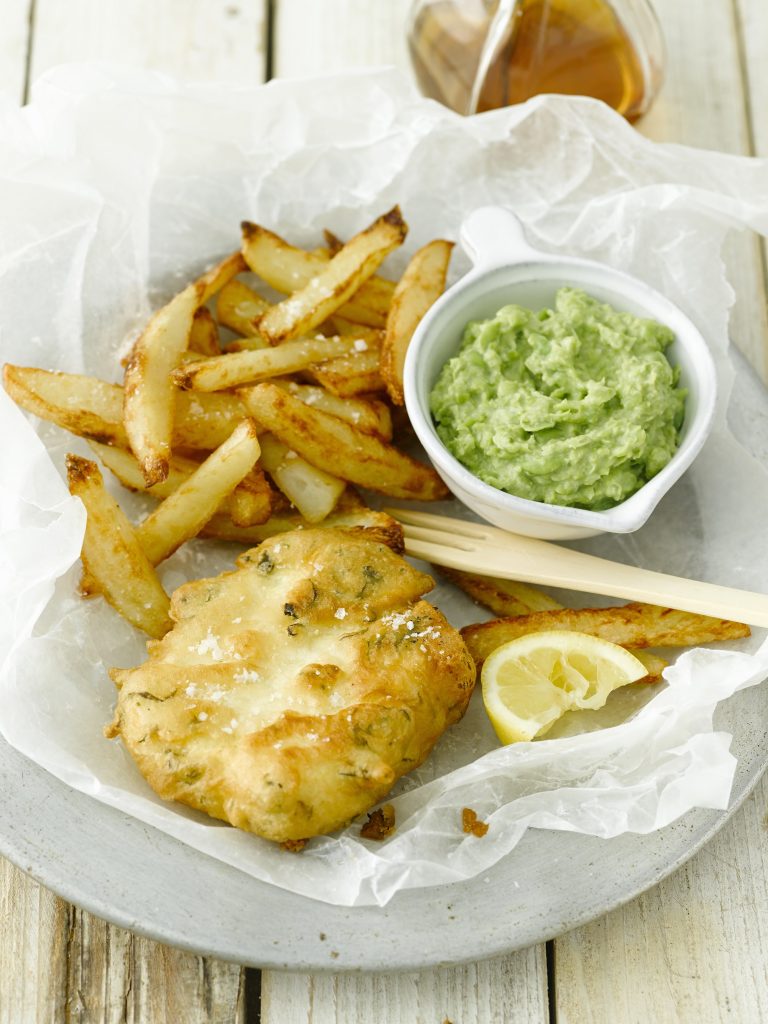 Comment down below if you give this recipe a go and be sure to share your pictures with us over on Facebook and Twitter @UKMumstv.