Main image as seen on Pexels by Element5 Digital
When we're making waves at pool parties and basking in the sun on the beach, our first thought, and quite rightly so, doesn't turn to the damage that the sun, chlorine and salt water is doing to our hair. With many of us wanting lighter and brighter hair for summer too, we reach for the at-home bleach kits and risk it, which too is extremely damaging for our locks. Sometimes we just need to give our hair a little tender loving care, and these top seven hair masks will do just the job.
Unwined by HASK Brut Rosé Deep Conditioner – RRP £3.99
Bath time just got even more boozy! If, like us, you love bubble baths and can often be found with a glass of Rosé in one hand and a book in the another, then you will love Unwined by HASK Brut Rosé Inspired Deep Conditioner. For colour-treated strands, look no further as this deep conditioner combines wine, rose and watermelon extracts which all work in harmony to strengthen and soften hair, deliver hydration and maintain vibrancy.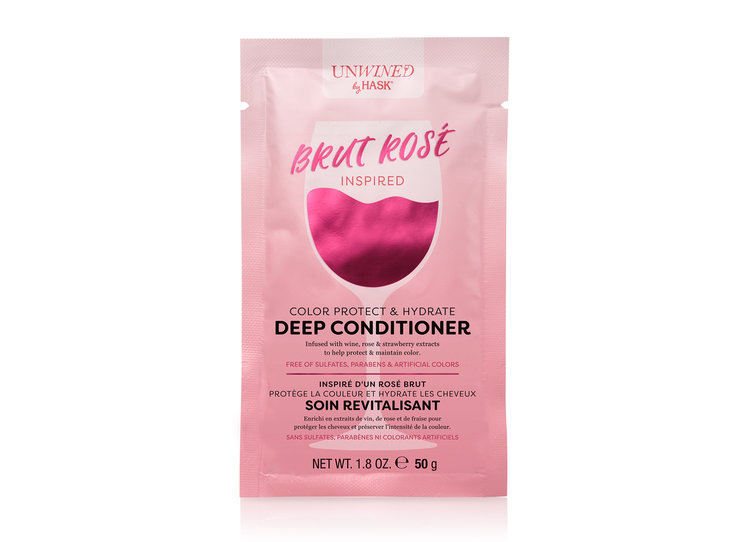 MONAT Super Moisture Masque –RRP £42
Too much exposure to salt water and chlorine can strip your hair of its natural oils as well as dehydrate it, leaving it feeling dull, dry and drab, which is a total buzzkill. Enter, MONAT's Super Moisture Masque. This intensely nourishing treatment is infused with natural oils and vitamins and minerals to promote a healthy and lustrous shine and replenish dry and damaged hair. MONAT's luxuriously rich and super creamy formula demands just five minutes of your time and works to improve hair hydration and elasticity, combating brittle and weak strands. Long story short, this will rescue any over processed and bleached hair and put it back into recovery!
Lush H'suan Wen Hua – from £15
Lush H'Suan Wen Hua is a vegan-friendly conditioner full of protein-rich and extremely nourishing ingredients to revive hair and improve its condition. The formula contains fresh bananas and avocados which are both rich in oils to deeply moisturise and soften the hair. It also contains fresh bay leaf and watercress infusion and cinnamon leaf oil to stimulate the scalp. You'll never want to shop just for bath bombs again at Lush!
Tropic Hair Feast Deep Conditioning Treatment – RRP £18
For silky smooth hair with a gorgeous scent, use Tropic Hair Feast this summer. With hero ingredients of plant proteins, murumuru butter and keratin, Tropic Hair Feast can be incorporated into your morning or evening routine as a daily treatment or intensive conditioner when left on for at least 10 minutes.
Bleach London Reincarnation Mask – RRP £7.50 for 200ml
Got bleached or coloured hair? Then this mighty mask will resurrect even the most stressed-out strands. Enriched with sunflower seed extract and micro wheat proteins, it not only hydrates and boosts elasticity, but improves strength and enhances colour vibrancy. Leave it on for 10-20 minutes for it to work its magic.
Aussie 3 Minute Miracle Beach Mate Deep Treatment – RRP £4.99 for 250ml
Been beached out and below the waves? Then this rich restorative, with Australian Balm Mint, is just the stuff to counter the stress and help put back the silkiness. In just three little minutes, it brings life and control back to sun scorched tresses for a purse-friendly price.
Banana Truly Nourishing Hair Mask – RRP £12
We are going totally bananas for this hair mask! It features a delicious blend of Community Trade natural origin-ingredients including organic banana puree from Ecuador and Brazil nut oil from Peru. Use this treatment once-a-week for hair that feels intensely nourished, looks less frizzy and instantly shinier.
What's your favourite hair care product? Let us know by commenting below.