This week, we're joined by Sarah Campus, founder of LDN MUMS FITNESS on UKMUMS.TV!  LDN MUMS FITNESS is the innovative platform for mums, created by mums, offering nutrition, exercise and lifestyle training whenever and whenever you are! Thanks to the new on-demand platform that's just launched, mums and expectant mums can now access an intensive log of advice and support as well as new exercises added every day. This membership-based service is especially targeted towards those who are pregnant or post-natal through different programmes which can be made bespoke to each client's needs. The platform also offers group sessions.
The service is spear-headed by founder, Sarah Campus, a highly qualified PT who specialises in Pregnancy and Postpartum Fitness and Nutrition, who is on a mission to educate and support those wanting to stay on top of their fitness, health and wellbeing throughout the different stages of their motherhood journey. And, this week, she's offering UKMUMS.TV readers some of her top tips for keeping fit whilst pregnant/postpartum.
Here are her six top tips:
1: COUNT STEPS
Have you ever heard the saying, what gets measured gets done? I considered myself an active person working out 5-6 times a week, but when I started tracking my steps, I'd be less than 5k some days. As a nation we have been less active in the last year so start here. Aim for up to 8k a day on average, and if possible 10k. Work up to it, set challenges, listen to podcasts & make it a focus.⁠
2: 1 SESSION A WEEK
Don't do too much too soon. Start off with 1 thing a week to ensure consistency. 1 run, 1 exercise session, 1 meditation…1 thing consistently done each week & soon it'll be something you absolutely will not consider missing.⁠
3: DRINK WATER
After tracking my water intake, I found my average was 1.5 litres a day. 2L is ideal (extra to compensate for caffeine). Hydration is essential for your mood, energy, skin, digestion, focus & much more. Focus on ensuring you are drinking enough…sounds simple but so many of us don't.⁠
4. CREATE TIME AND SPACE
Write it down. Show commitment and it's more likely to get done. Pop it in your diary or make a confirmed booking. If you are working out on-demand @ home, you can still do this by writing your class time in your diary. But make sure you create your own little workout space to get your head into the zone.⁠
5. FIND OUT WHAT YOU ENJOY
Life is too short not to do what you enjoy! Exercise is not the stereotypical pounding a treadmill in an intimidating gym anymore! There is SO much choice. Sociable? Try group exercise! Stressed? Try meditation. Competitive? Sign up for a challenge on LDN MUMS FITNESS On-Demand. The world of exercise has developed so much & there's something for ALL. Experiment online & find your groove.⁠
6. DON'T OVERTHINK
Short + sweet. JUST START. GET GOING. You CAN do it. You can do anything you put your mind to.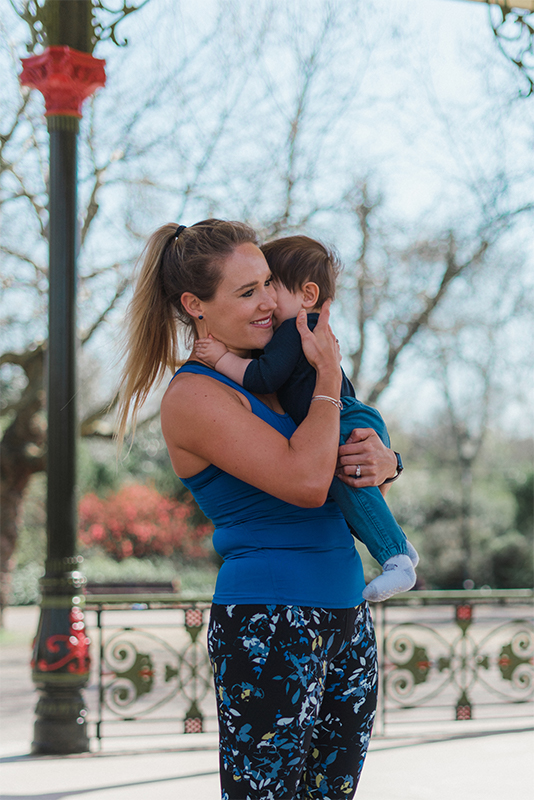 You might be wondering why it's important to retain your fitness during pregnancy. Among other reasons, Sarah explained to us that keeping fit whilst pregnant can have the following benefits:
Exercise encourages the body to release endorphins (happy hormones) that will boost your mood and energy levels
It'll help reduce back pain, constipation, bloating and swelling
Exercise will also help you sleep better
Keeping fit will prevent excess weight gain
It'll also promote muscle tone, strength, endurance
It'll help with labour
You'll be helping to keep your pelvic floor strong
We also asked Sarah about the benefits of exercising during the postpartum period. Here's what she said:
It will help restore muscle strength – core and pelvic floor
Exercise encourages the body to release endorphins (happy hormones) that will boost your mood and energy levels
The benefits of exercise are holistic benefits – helping to improve both physical and mental wellbeing
Keeping fit will encourage better nutrition intake
It will help improve cardiovascular fitness
Exercise will also boost metabolism to help weight control and reduce water retention