Baked with a sprinkle of cinnamon, nutmeg and ground ginger, nothing screams warmth and festivity quite like these spiced maple cupcakes do. For this recipe our resident food writer, Ellie from Ellie's Kitchen UK has drawn inspiration from several vegan blogs to bring you these scrumptious and rather seasonal cupcakes. Over to you Ellie…
Ingredients – makes 12 cupcakes
240ml almond milk
1 tsp cider vinegar
210g self-raising flour
240g golden caster sugar
1/2 tsp baking powder
1/2 tsp bicarbonate of soda
1 tsp ground ginger
1 tsp ground cinnamon
1/2 tsp ground nutmeg – or leave this out if you aren't keen, it can be quite a key flavour!
60g melted coconut oil
For the frosting
600g icing sugar
200g dairy free butter
4-6 tbsp good quality maple syrup
1 or two drops light brown vegan friendly food colouring (optional)
Method
Preheat the oven to 180°C and line your cupcake tin with the cases.
Start by making your vegan 'buttermilk' – whisk together the almond milk and cider vinegar then set this mix aside; it will take about ten minutes to curdle – this is what you want!
Combine all of the dry ingredients in a big bowl.
Add the melted coconut oil to the buttermilk and then pour it into the dry ingredients, stirring to combine thoroughly.

TIP:If the batter is a little thick add a splash of almond milk to thin it out.

Divide the batter evenly into your cupcake cases – I like to use an ice-cream scoop to get the same amount of mix in each case!
Bake the cakes for 20-25 minutes, until golden and cooked through. TIP: I found that vegan batter takes a little longer to cook through than regular cake mix does, so don't be worried if your cakes need longer than you would expect, but do keep an eye on them!
Take the cakes out once done and leave to cool while you make your maple frosting.
For the frosting, combine all of the ingredients. I like to do this in a stand mixer with a balloon whisk attachment and I like to really WHISK the mix. This will give you a light, fluffy frosting. TIP:taste your frosting; if it needs more maple add a little at a time, adding more icing sugar to thicken the mix if needed.
Pipe your cakes however you like (I use disposable piping bags from Lakeland with Wilton piping tips inserted) – serve with a drizzle of additional maple syrup and enjoy!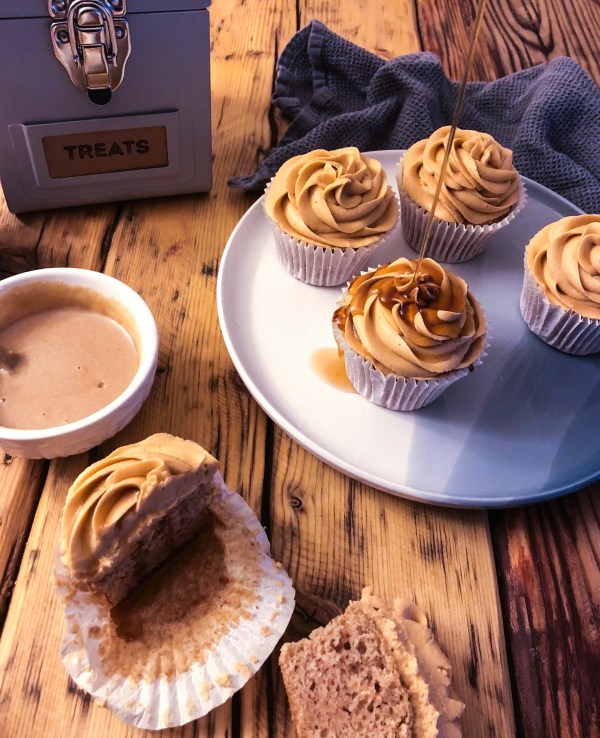 Like this recipe? Click here to view more from Ellie's Kitchen UK.