[AD] This week is all about Kid K'Nex, the colourful range of construction toys for 3-5 year olds that feature rods and connector pieces. Developed specifically for little hands, the Kid K'Nex parts are large, soft and chunky, allowing for lots of imaginative and creative play!
Building toys go down a storm with children of all ages and genders, and there's a massive range to choose from, but here are just some of our favourites from the Kid K'Nex range for hours and hours of fun!
Kid K'Nex Safari Mates Building Set – RRP £12.99
A must for little animal lovers, teach little ones the basic concepts of building and the art of creating with this cute playtime set. A great starter set, it comes with 21 large, brightly coloured parts and pieces including a whipping tail and foam mane which is exclusive to Kid K'Nex sets. Plus, the set comes with five building ideas for you and your pre-schooler to bring to life. Sure to fire up your little one's imagination, the Safari Mates Building Set aids the growth of key developmental abilities like fine motor skills, hand-eye coordination and dexterity.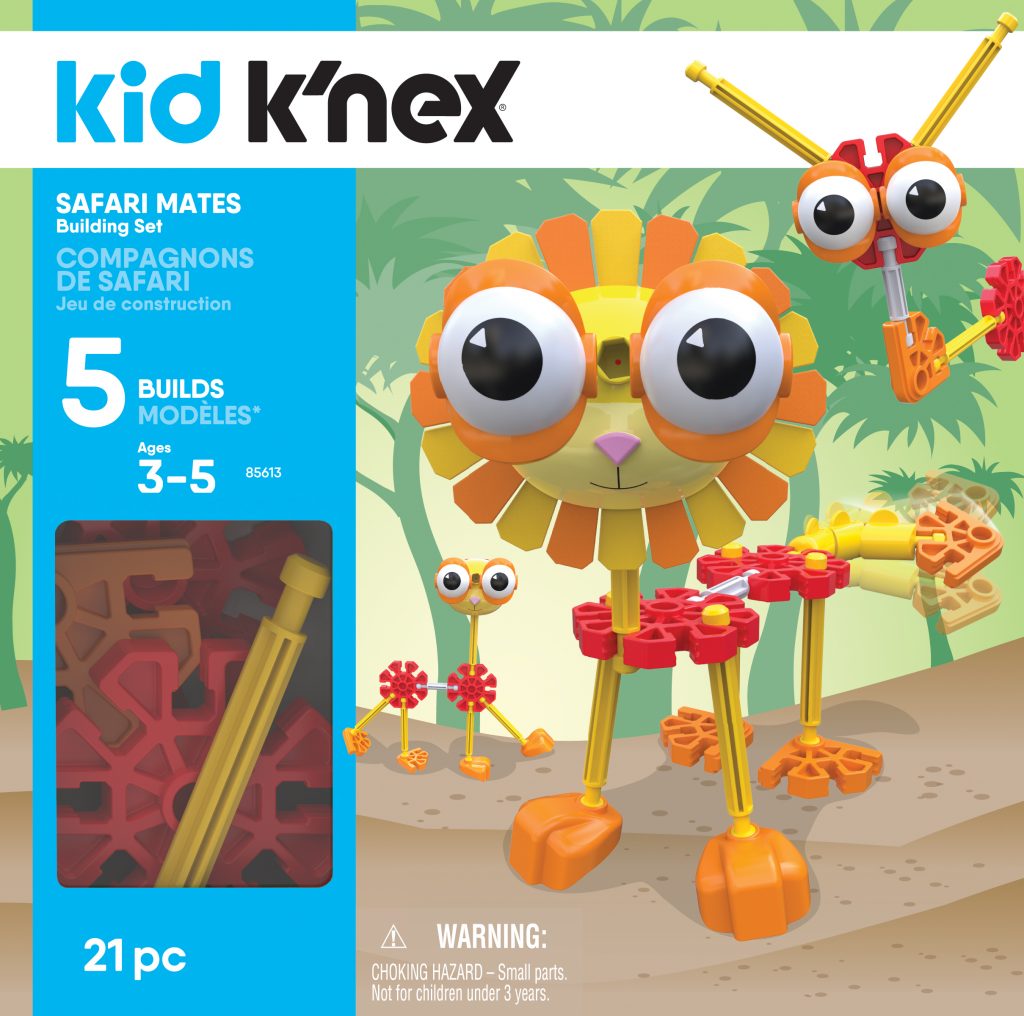 You've heard what we have to say, but what does top parental blogger Sarah at Let Them Be Small think of the Safari Mates Building Set: "I have to say, I am hugely impressed with Kid K'Nex. It's captivated the imagination of the boys in particular, and it's nice to find something they can play with together. I like the creative element of it and the soft bendable pieces means that there are lots of possibilities to build all manner of things with this."
Kid K'Nex Zoo Friends Building Set – RRP £19.99
If the zoo is more your scene, look no further than this vibrant Kid K'Nex construction toy for boys and girls aged over 3. Little ones will love to make their favourite zoo animals (think big cats, monkeys, lizards and birds) and create new ones. With 30 amazing building ideas and 55 colourful parts and pieces that are easy to fit together and pull apart, their imagination is sure to run WILD! Plus, this one comes with special character parts like eyes, horns and feet to really bring the animals to life.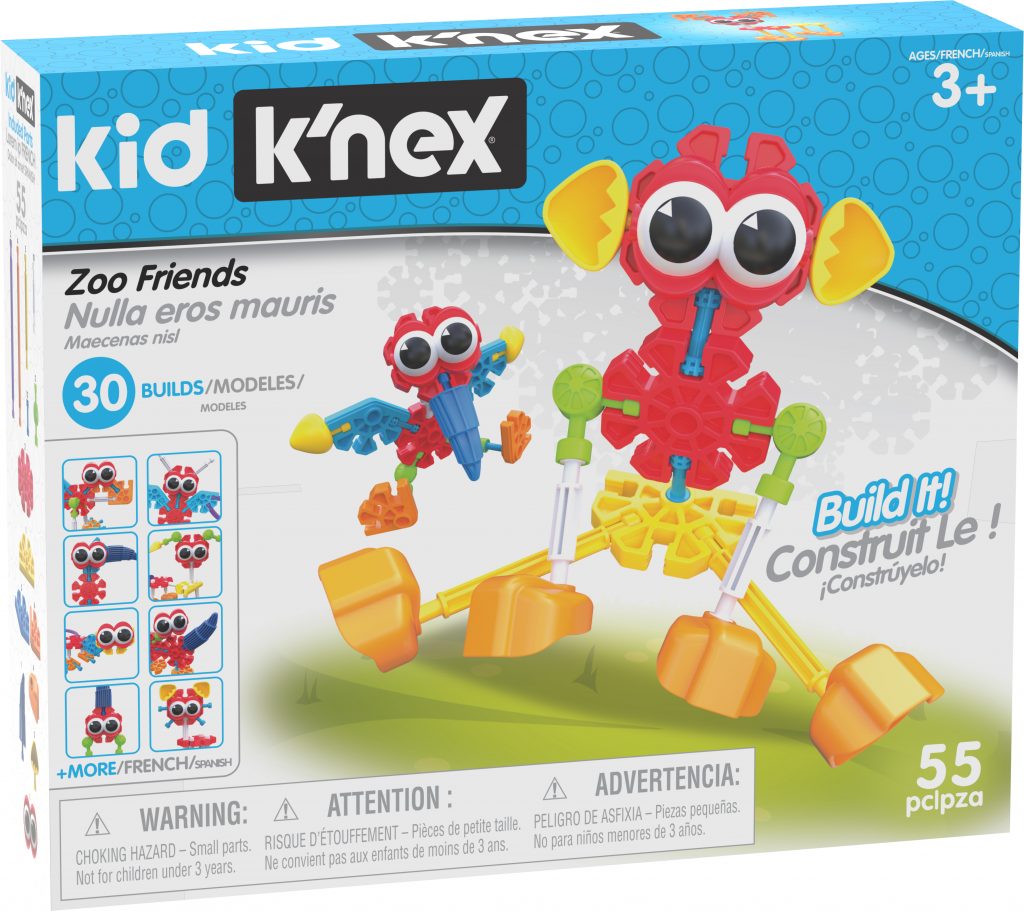 Kid K'Nex Budding Builders Building Set – Tub – RRP £34.99
There's no telling what your child will create with the Budding Builders Set! Budding builders can choose from 100 colourful parts and pieces and 50 amazing building ideas! Similar to the other Kid K'Nex sets, this one comes with special pieces including colourful eyes, curly tails, flappy ears, big feet, bendable joints and spinning propellers that your child can use to create a whimsical interpretation of their favourite animal! Allow your builders to craft basic-looking figures on their own, and guide them in constructing complex structures that will ignite their curiosity!  What's more, this set comes in a sturdy, reusable plastic tub that allows for convenient storage of the pieces, so you can take the toy on family outings without the hassle of packing.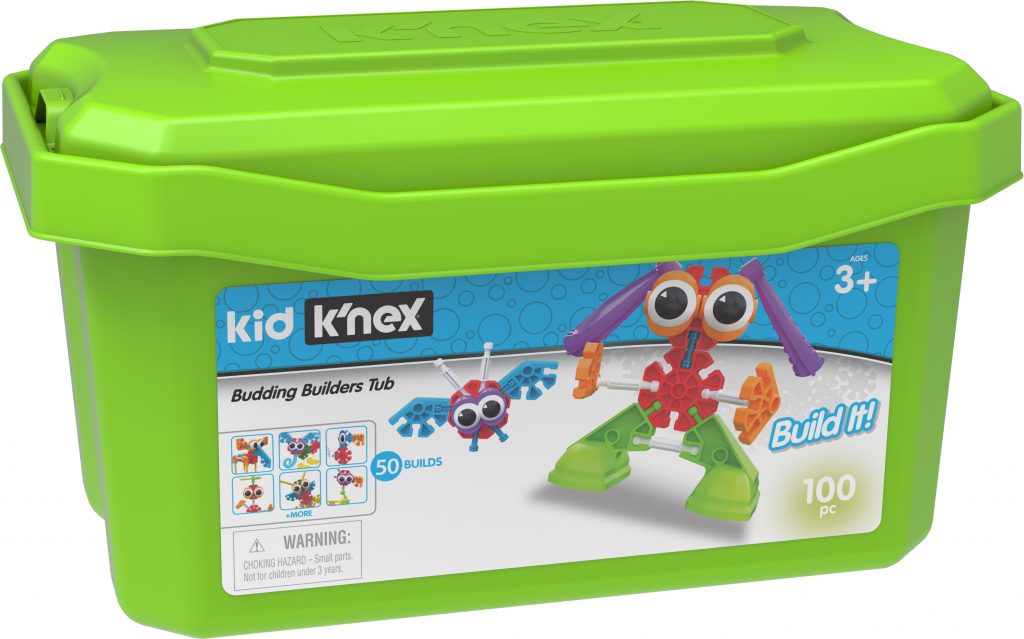 Holly at Holly Made Life gives us her take on the Budding Builders Tub: "The Budding Builders Set has 100 pieces and offers suggestions for 50 models to make! It's a great base set to start with as it offers lots of variety and really lets little ones see what's possible to build… The big green box is a great for storage too, making it easy to keep all the construction pieces together."
Kid K'Nex Dino Dudes Building Sets – RRP £34.99
Roar! Stomp! Chomp!  Do you have a creative pre-schooler who loves dinosaurs?  With the Kid K'Nex Dino Dudes Building Set, they can make 30 fun and different dinosaur buddies! This roarsome building set contains 100 large parts and pieces of a premium quality, and includes special character parts like eyes, wings, shells, spikes, and tails! Budding engineers will love to see the different characters come to life as they use their imagination to come up with new ideas.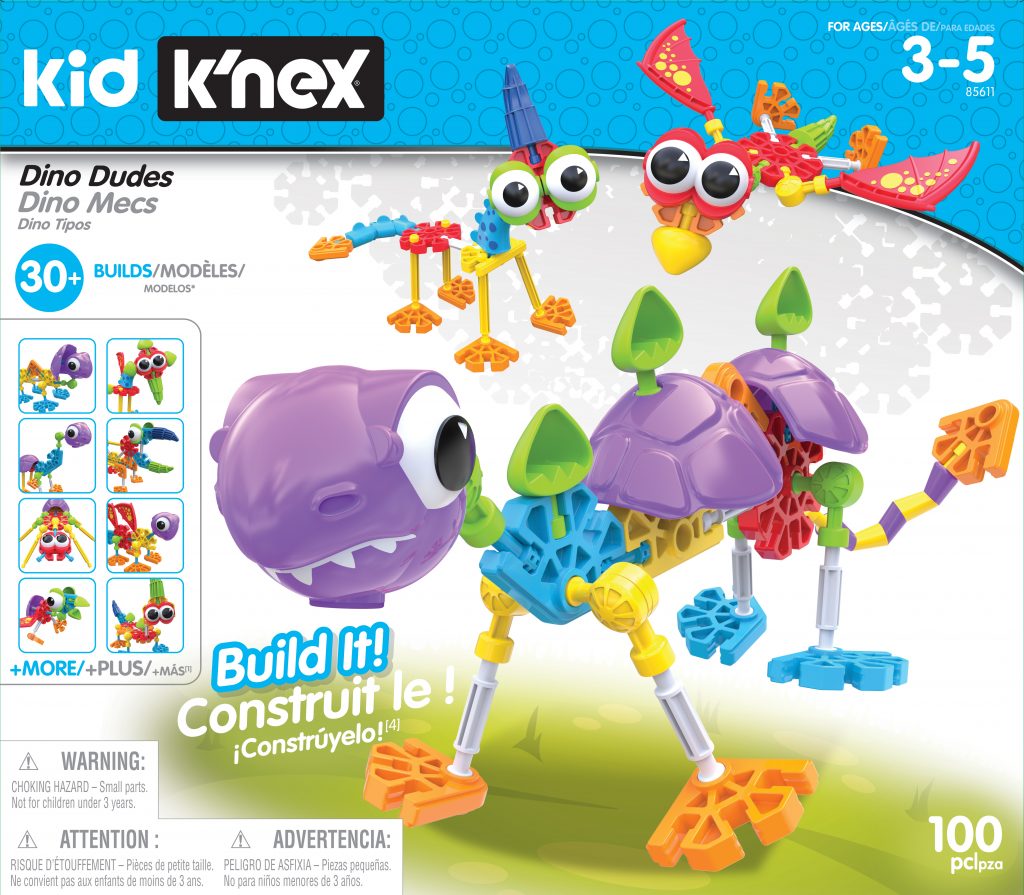 Which set do you think your little one would like most? Let us know by commenting down below!
You can also pick up Kid K'Nex sets from Amazon, John Lewis and all good independent toy retailers.