With the award-winning Numberblocks, learning has never been so much fun for young children!
Numberblocks is the hit TV show that's helping millions of young children learn to count and discover the magic of maths. Packed with clever ideas, songs, games, puzzles and fun, Numberblocks is on a mission to give every child a solid foundation in maths and to spark a life-long love of learning. With every Numberblocks adventure, children learn to master new maths skills, with friends who can always count on each other!
This popular CBeebies show is really inspirational… and thanks to Trends UK's brilliant learning toys, children can continue the fun off-screen. And this year there are TWO NEW toys to discover in the electronic learning range! Keep reading to find out more …
Numberblocks – Clip & Learn Number Fun 
Available from Amazon (RRP £24.99)
Children aged 3 and over will learn maths skills, as they are introduced to numbers 1 to 10 and 11 to 20. There are 12 fun activities contained in the 4 interactive sheets, which help teach number recognition, number order, counting skills, adding and subtracting, counting in 2s (odds and evens), greater than and less than… and more. Award-winning characters + big adventures + singalong songs = it's the best way to get children excited about everything numbers can do!
Sheet 1 – Meet the 'Numberblocks 1 to10', 'Numberblocks Adventure' and 'Blast Off'.
Sheet 2 – 'Number Magic Addition 1 to 10', 'Number Bonds to 10' and 'Blockzilla'.
Sheet 3 – 'Meet the Numberblocks 11 to 20', 'Number Magic Addition 11 to 20' and 'Ten and a Friend',
Sheet 4 – 'Numberblobs', 'Odd Blocks' and 'Even tops'.
Numberblocks – Mini Tablet
Available from Amazon (RRP £12.99)
This is the perfect toy to take out and about. It helps children aged 3 years and over to count from 1 to 10 and to explore adding with support and encouragement. It features 4 different interactive Numberblocks games to help develop maths skills:
Meet the Numberblocks 1 to 10: Listen to a Numberblock song, as they get introduced to each number.
Numberblocks Adventure: A number sequence game.
Number Magic Addition: A simple numbers addition game, adding 1 to any number.
Meet Blockzilla: Help to find big numbers.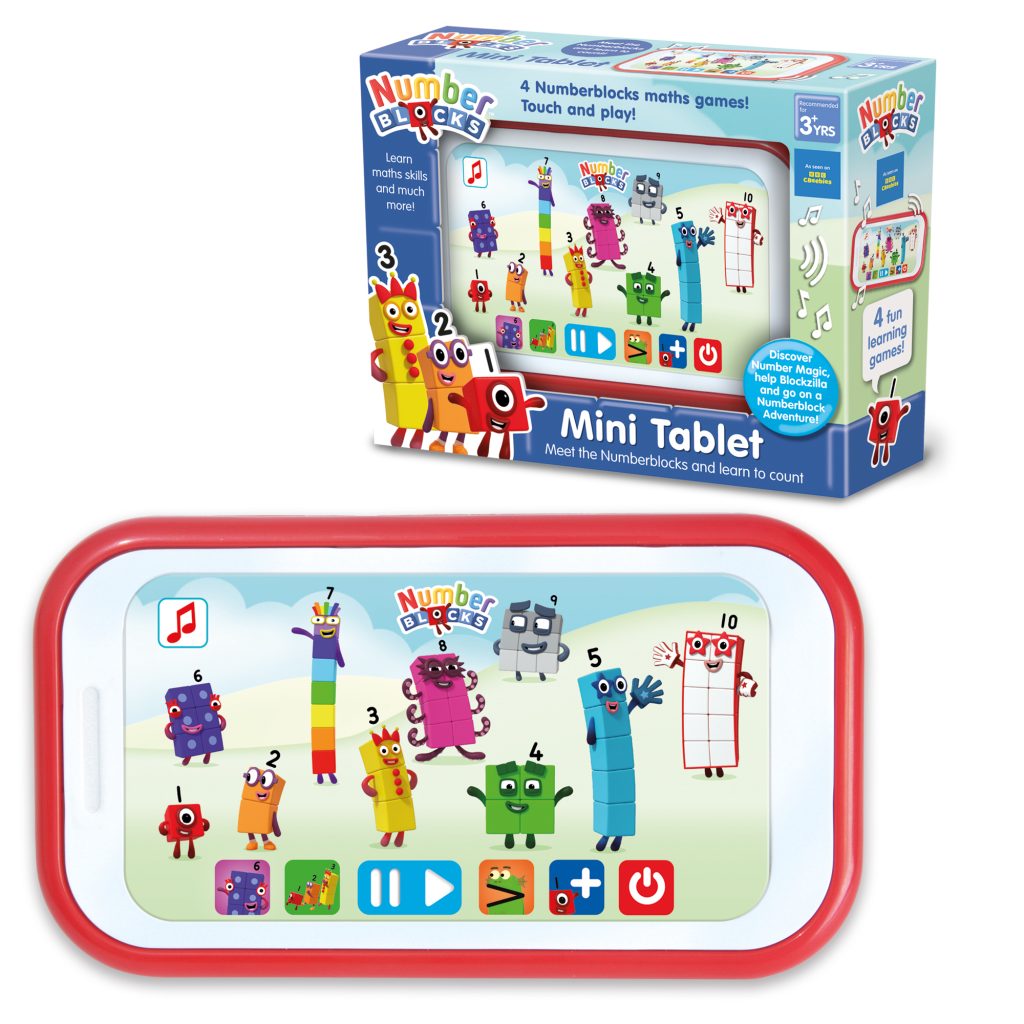 Numberblocks – Number Fun
Available from Amazon (RRP £24.99)
Join the Numberblocks with eight fun activities:
1. Meet the Numberblocks (1 to 10) – Insert a Numberblock to find out some fun number facts.
2. Let's play hide and seek! – Find the correct Numberblock and insert it into the cube!
3. Numberblocks Adventure – Can you help us count, put the Numberblocks in the cube in the correct order?
4. Which Numberblock is Missing – A Numberblock has gone to play with Big Tum! Do you know which one?
5. Number Magic – Add 1 to any Numberblock to make a number 
6. Number Magic, One less – Take 1 block away from any Numberblock up to 10. Which Numberblock is left?
7. Blast Off – Help Numberblock 10 blast off by counting backwards from 10 to 1
8. Let's meet Blockzilla: Which Numberblocks are bigger or smaller?