Ricky Zoom is the latest smash hit animated show for pre-schoolers to come from the makers of PJ Masks. As well as full throttle, high-speed adventures, the series focuses on the importance of family, friendships, growing up, and community.
With its unique movie-style, its adorable characters, and the creative, fun-learning story lines, it's easy to see why Ricky Zoom is proving so popular among pre-schoolers and their parents. The show demonstrates how Ricky and his Buddies are loved and supported by their family and community who teach them valuable life lessons along the way. That's why, at UKMums.tv, we're looking forward to spending Christmas with the Zooms! But which are our favourite family-focussed episodes? Keep reading to find out!
Ricky's Rescue Coaching Badge 
In this adorable episode, Ricky and his Bike Buddies help Blip (a delivery bike who's rather accident prone) practise breaking his Dad's pizza delivery record. Ricky sets up fake deliveries, but instead of helping Blip, Ricky keeps taking over the deliveries. Ricky realises that Blip needs to learn from his own mistakes if he's going to break the record of the most pizzas delivered in one day.
Ricky's Role Model
In this zoomtastic episode, Ricky and his Bike Buddies are asked to choose their heroes as part of a school project. Ricky chooses Steel Awesome (a professional stunt bike) and rides around looking for someone to rescue. Soon Hank (Ricky's dad) helps Ricky in a real rescue of Officer Bunker, whose breaks aren't working. Ricky changes his role model from Steel Awesome to his real hero – his dad.
Scootio Changes Lanes
This episode sees Scootio attempt to show her parents how responsible she can be. Tasked with the job of 'paint crew leader' on the school track, Scootio chooses Ricky, Loop, and DJ for her paint crew team. But when the Bike Buddies mistakenly cover everything in criss-crossed lines, Scootio must keep a cool head to bring everything back into order. Our favourite bit about this episode is how proud Scootio's mum and dad are when she takes back control of the situation!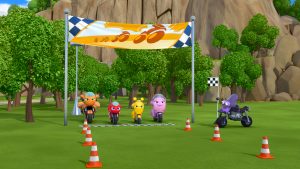 Family Sports Day
What's not to love about a family sports day themed episode?! In this episode, Helen Zoom and Whoopie Whizzbang (Scootio's mum) become very competitive in a sports day race. Mrs. Bikely (Ricky's teacher) tells Ricky and Scootio that Whoopie and Helen were always competitive when they were at school, except for one special time. Ricky and Scootio find a school trophy that their mothers won together. They show it to Whoopie and Helen and the pair remember that races aren't all about winning.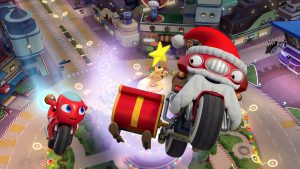 SantaCycle Down
It should be no surprise that we absolutely LOVE this Christmas themed episode – so much so that we can't wait to watch it again over the holidays! In this festive episode, Ricky and his Buddies meet SantaCycle who has crash-landed in Wheelford on Christmas Eve. SantaCycle tells them they need to capture the magic of Christmas to get him back into the sky. When Ricky selflessly gives his Christmas present to SantaCycle,  a twin rocket booster, Christmas magic soon fills the sky. Ricky races to capture the Christmas Magic and it's not long before SantCycle a is flying through the sky on his way to deliver presents to lots of little bikes.
So where can you watch Ricky Zoom?
You can watch the latest episodes on Nick Jr.  And, as well as the fun onscreen, Nick Jr.'s website has a really cute Ricky Zoom homepage which is definitely worth checking out. There's plenty of fun games, videos, and activities to keep your little Zooms entertained!
You can also get up to speed with Ricky Zoom on Milkshake! where you can watch Ricky Zoom every weekday at 7.40am.
And there's also a fantastic Ricky Zoom Official Channel on YouTube where you can join Ricky and his Bike Buddies for more adventures online, with lots of clips, full length episodes, toy play stories, songs, colouring videos and more.
What are you waiting for? Why not settle down for some wheely good action and watch the first episode here now: