We love pancakes here at UKMums.TV and don't just wait until Shrove Tuesday to cook them! Depending on the toppings, your pancake can either make for a savoury breakfast or a sweet dessert. Not only are they quick and easy to make with just a few cupboard staples, but they are so filling. Anything goes with pancakes, but here are just a few of our favourite toppings for you to try out.
Cloudberry Sea Salted Caramel Spread – £6.95
As recommended by Ellie at Ellie's Kitchen UK, this luxuriously thick spread is buttery, not too sweet and has just the right amount of salt to lift the flavour. Spread a thin layer of the sea salted caramel on your pancakes for an indulgent breakfast.
Ice cream
Pancakes are tasty enough as they are, but with the addition of a few scoops of ice cream on top, you can't go wrong. Ice cream is a favourite in our household and with so many different flavours available from raspberry ripple to rum and raisin, the possibilities are endless!  We just love the hot and cold food combo!
Munchy Seeds Honey Seeds and fresh berries
Sometimes you want to keep it healthy, and for those times honey seeds with fresh berries, a drizzle of maple syrup and natural yoghurt is the way forward. Honey seeds by Munchy Seeds are packed with protein, iron, fibre and vitamins, plus they're gluten-free and vegetarian. Click here to get the full recipe courtesy of Munchy Seeds.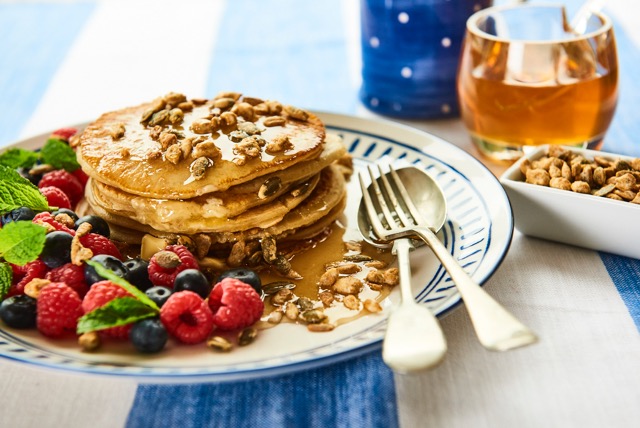 Chocolate spread
Pancakes smothered in chocolate spread are a chocoholic's dream and make for a naughty dessert! Add banana slices with cream for even more decadence! Or, if you prefer your pancakes with a bit of a crunch, why not add some finely chopped hazelnuts?
Strawberries and cream
Thinly slice fresh strawberries and layer on top of your pancake. Then add fresh, whipped or squirty cream – dare we suggest that this could also be one of your "five a day"?!  For those who prefer a more tart flavour, why not use fresh raspberries instead?
Lemon and sugar
As if we wouldn't include the classic combo that you've all been waiting for! Simply half a lemon and squeeze it over your pancakes, then add a sprinkling of sugar.
What's your favourite pancake topping? Let us know over on Facebook and Twitter @UKMumsTV.