In light of the news about the ever-increasing seriousness of Coronavirus, we've teamed up with Milton, the leading expert in sterilising, to give four lucky readers the chance to win a Milton Hygiene bundle.
Milton has revealed its guidelines to beating the life threatening Coronavirus. Milton has been trusted by hospitals for over 70 years and is the go to brand for sterilising baby products.
Milton's 2-stage approach designed to stop the Coronavirus transmission:
Step 1 – Wash your hands often and well throughout the day and always before eating
Hand hygiene is one of the most important measures to prevent and control the disease from spreading. Milton's Antibacterial Hand Gel is plant based and kills Coronavirus, Flu virus, Norovirus and Rotavirus. The gel is effective on bacteria, mycobacteria, fungi and viruses from 30 seconds. To be effective on the new strand of Coronavirus, hands must be rubbed constantly inside out and between fingers for a minimum of 30 seconds. It is 100% plant based and the active ingredient is produced from beetroot, certified to be GMO free. The Hand Gel is fragrance and colour free, reducing the risk of an allergic skin reaction. It is hypoallergenic and tested dermatologically making it ideal for multiple daily use on both big and little hands.
Step 2- Keep surfaces clean and germ free
Use either the Milton Sterilising Fluid or the Milton Sterilising Tablets to create a home cleaning solution that is effective on the Coronavirus. Clinically proven to kill 99.9% of germs (bacteria, fungi and viruses), your home will be protected from harmful germs. Both products are easy to use and made up with regular tap water.
Each bundle includes:
1 x Milton Antibacterial Hand Gel
1 x Antibacterial Surface Spray
1 x Antibacterial Surface Wipes
1 x Baby Bottle Cleaner
1x Milton Sterilising Fluid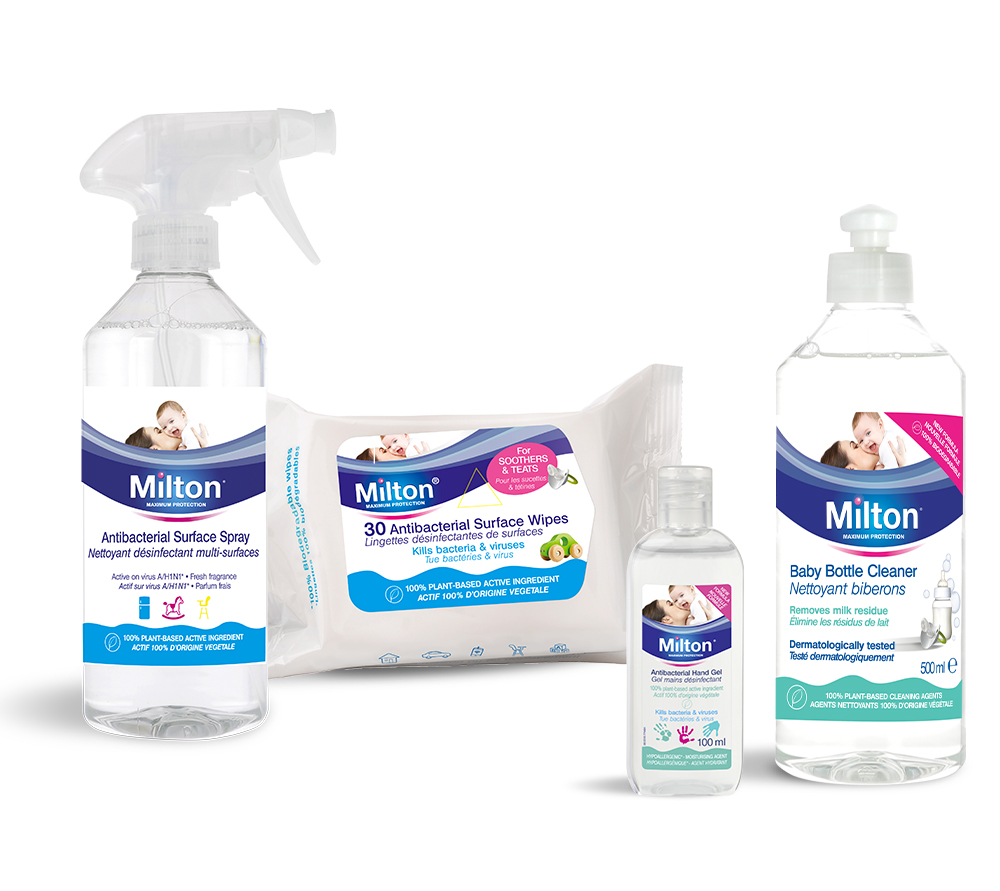 To enter, simply answer the question below and leave your details before the closing date of Monday 17th February 2020 at 3pm.
This competition is also listed on Loquax and Competitions-Time.
Competition Closed