This week, we've teamed up with Playmobil to offer one lucky reader the chance to win the full Duck on Call range, worth £169.99.
About Duck On Call
Duck on Call is the fantastic new children's series, launching on YouTube, which is all about a cheeky little rascal called Ducklas and his exciting, fairytale-like adventures in Playmoville – the unique city where children are the greatest.
But Ducklas is no ordinary child! In fact, he's no longer really a human… Due to his bad behaviour, Ducklas was transformed into a duck by the mysterious Mr. Hans. And, ever since, Ducklas has been trying to regain his human form through a truly selfless good deed. But this is not that easy…
Nonetheless, Ducklas continues to try, joining his rescue hero friends, Freddy Fire, Polly Police and Mikey Medic, as they embark on thrilling fire service, police, and rescue missions.
Love the sound of Duck on Call? We think you'd be quackers to miss it!
Introducing the Duck on Call toy collection
And now, kids can re-enact their favourite Duck on Call scenes and create new imaginative stories for the rescue squad, with the Duck on Call toy collection from Playmobil.
With this fab new range, children can playfully practice their social skills and hand/eye coordination, whilst having fun. And parents can rest assured that the individual components of the sets are packaged in recycled plastic to help save the environment.
There are so many fun toys to discover in the Duck On Call collection, and one lucky reader could win them all!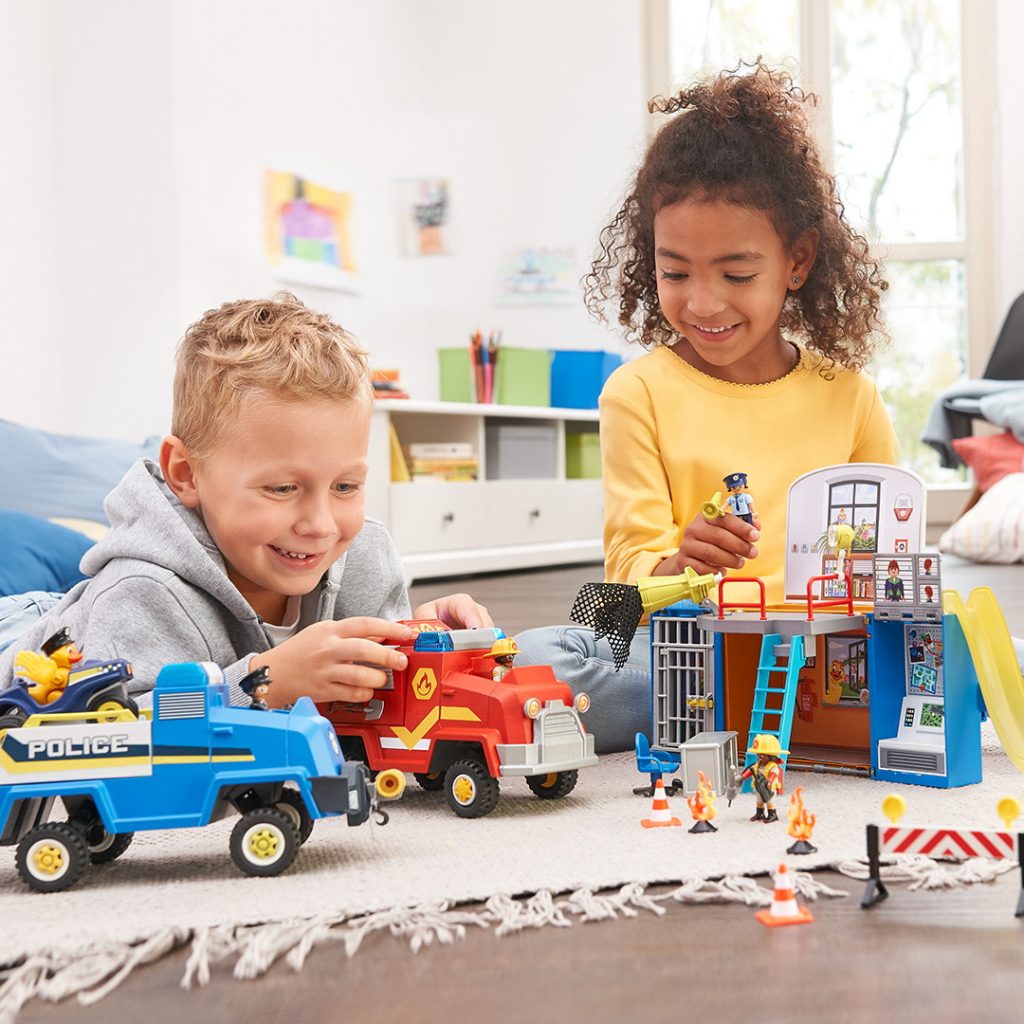 With the Playmobil 70830 Duck on Call Mobile Operations Centre, the Duck on Call team is always ready for action, even on-the-go, thanks to its mobile operations centre in a fold-out case.
Children will love helping Freddy and Ducklas put out fires with the Playmobil 70914 Duck on Call Fire Brigade Emergency Vehicle. Kids can join them as they get behind the wheel of the fire truck, using the water arrows to quickly bring any fire under control.
Kids can join Polly as she gives chase in her police car, with the incredible Playmobil 70915 Duck on Call Police Emergency Vehicle. Crooks don't stand a chance!
Mikey Medic can be a bit shy, but when people are injured, he rushes to help without hesitation. And now kids can keep him company, and speed along with him in his emergency vehicle, with the Playmobil 70916 Duck on Call Ambulance Emergency Vehicle.
Alarm for Freddy and the team! Kids will have great fun with the Playmobil 70917 Duck on Call Fire Rescue Action: Cat Rescue. A cat needs to be rescued from a tree, but that's no problem for the cool fireman.
Uh oh, a thief has stollen Agent Grandma's donuts… Quick, join Polly Police as she goes in search of the thief, with the Playmobil 70918 Duck on Call Police Action: Police Chase set.
Meanwhile, the Playmobil 70919 Duck on Call Ambulance Action: Help the Racing Driver playset sees things heating up on the racetrack! Oh no, Robbie has an accident with his race car. Luckily, Mikey Medic is immediately on hand with his doctor's bag.

Get your hands on the Playmobil Duck on Call range…
Playmobil's Duck on Call range is available via Playmobil's website: https://www.playmobil.co.uk/onlineshop/products/duck-on-call  
Alternatively, for your chance to win the full Duck on Call collection, correctly answer the question below before the closing date of Monday 11th April at 15:30. There will be just one winner!
This competition is also listed on The Prize Finder, Loquax, Competitions-Time and LikeWow.
Competition Closed