We sent the adorable, all-singing and all-dancing Peppa Pig Shopping Centre Playset to three of our top Mums to see what they think. Have a read of the blog snippets below to see how they got on!
Review One – Peppa's Shopping Centre Playset – Rachel Bustin
Rachel Bustin, of the family lifestyle blog by the same name, reviewed the Shopping Centre Playset. See what she thought here: "The girls are huge Peppa Pig fans, so I had to curb their excitement to actually get a look in at Peppa's Shopping Centre Playset! It's been a huge hit! Hours of fun exploring the different features…
"The girl's favourite feature is the working lift. Peppa loves to ride in the lift up to the second floor. You press the button to send her up, then push it back down to ground level. It's lots of fun!
"Now this next feature we are going to look at is the working microphone and sounds. Kids will love it! Parents/carers maybe not so much!! It's loud, and sounds exactly like a tanoy in a shopping centre, yes it's got the Bing Bong!" Read the full review here.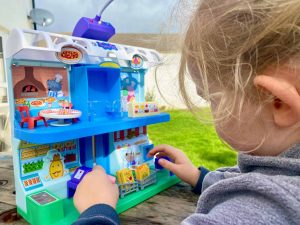 Review Two – Peppa's Shopping Centre Playset – Katykicker
Katy from Katykicker also took a look at Peppa's Shopping Centre Playset. Here's what she thought: "This is great fun! Lots to keep little ones entertained, and I love that you can swap the backgrounds in the shops on the top floor, and just make it all a little more fun. The lift is really cool and Daisy loves the tannoy the most. Making little announcements on this is great fun and I must admit I've enjoyed playing with this playset quite a bit too!" Read the full review here.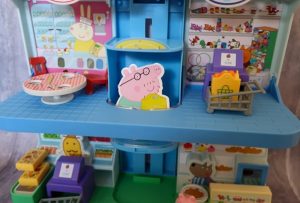 Mums and their kids really do know best! Love the look of this? You can shop the entire Peppa Pig toy range here