As always at UK Mums, we want to know what real mums think of the best toys on the market. Check out what these mums thought to the range of Thomas & Friends electronic toys from Trends UK we've featured in our takeover this week…
Make, Do & Push – "H-Bear (and Busby) adore the Learn with Thomas Alphaphonics toy and it has been a huge hit so far. I love how educational it is, and with a little boy who is desperate to learn his phonics so he can keep up with his sister, he has relished every moment playing. It's also colourful and sturdy, and has survived a number of drops on the floor.
"The Learn with Thomas Alphaphonics toy retails at £19.99 and is available to buy from a number of retailers. It would make a lovely present for any Thomas-loving preschooler."
Coffee Cake Kids – "It's (The Thomas Alphaphonics) suitable for children aged 3 and over and encourages them to explore the alphabet, early words and spellings with 7 different games which aid early letter and number recognition, communication skills, listening and understanding, memory and concentration skills. Benjamin loves it!"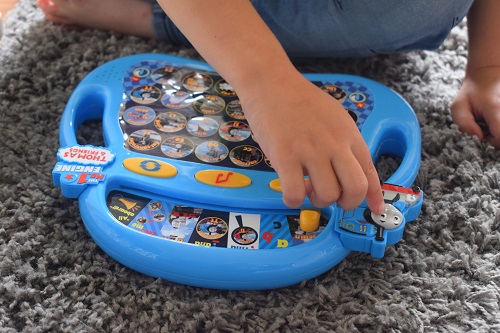 Don't forget, still to come in the takeover – Twitter Frenzy, free Thomas & Friends downloads for your little ones and much more! Keep in touch with us on Twitter and Facebook so you don't miss out.