We sent a handful of lucky Vampirina fans a selection of the gorgeous new and existing toys from the range to see what they thought.
Here's what they had to say!
Keep Up With the Jones Family  – "There are so many sweet touches to the playset – a secret reveal telescoping bedroom tower with magically growing portraits [like in the Haunted Mansion at WDW] a bed which transforms back into a bookcase, magically rising food in the kitchen, and a very funky record player that moves and shakes when Vampirina dances near it.  There's even a 360° spinning TV in the living room to add to the ghoultastic set"
Chic Geek Diary  – The Bootastic Backpack set is perfect for all Vampirina fans. There's 8 pieces included in the set; the backpack itself, a light and sound pendant, a pair of sunglasses, bat wing hair clips, keyring and 2 sheets of stickers. Noah's best friend took a real shine to the backpack and wanted to wear it right away, teamed with the pendent and sunglasses of course! We had a bit of trouble getting the clips to stay in so she decided to keep them nice and safe within the bag. The Bootastic Backpack is suitable from 3 years old age and retails at £24.99.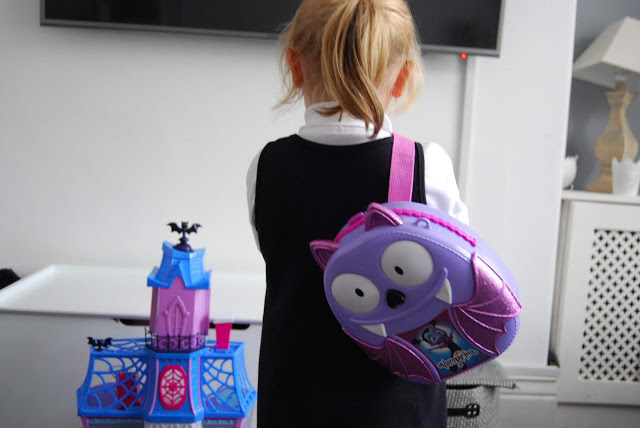 The Vampirina Toy collection is available to buy in all good toy stores including Smyths, The Entertainer and on Amazon. You can also catch episodes of Vampirina, weekdays at 5.30pm, on Disney Junior.