As you know, UKMums.TV loves the new Nick Jr. show, Ricky Zoom which raced onto our screens in early October – but don't just take our word for it… as our mums at home do too!
It's fair to say that the show has been a wheely big success with the pre-schoolers, but here's just a few snap shots of what our mums really thought!
Rachel Bustin – "All the bikes in Ricky Zoom have different personalities. One of the aims of Ricky Zoom creator Alexander Bar is to get us, the audience to see the characters first then the bikes. Each character is different and easily relatable. One of the themes of the series is celebrating differences which is fantastic for kids to learn. Our favourite character from the show is Scootio, as she is the clever one who gets them out of many sticky situations. Ricky Zoom is a bright fun show with a great catchy theme song. It's perfect for ages 3-5 years – preschool to learn about social situations and how to be independent, think for themselves as well as working together in a team. It's a fantastic all-rounder show and a firm weekend favourite.
Read the full review here.
The Mummy Bubble – "Ricky Zoom is full of energy and enthusiasm, just like them, and he's also learning to stand on his own two wheels! Each episode uses action-packed scenes featuring stunts and brave feats by the little bikes, all alongside valuable moral lessons and support from the big bikes of the town. The bright colours and vibrant townscape are perfect for appealing to three to five-year-olds. Both my girls loved the backflips, jumps and wheelies the Bike Buddies performed. For me, it was the friendships between the Bike Buddies that was the best thing. It showed the little bikes coming together to solve problems and learn new things."
Read the full review here.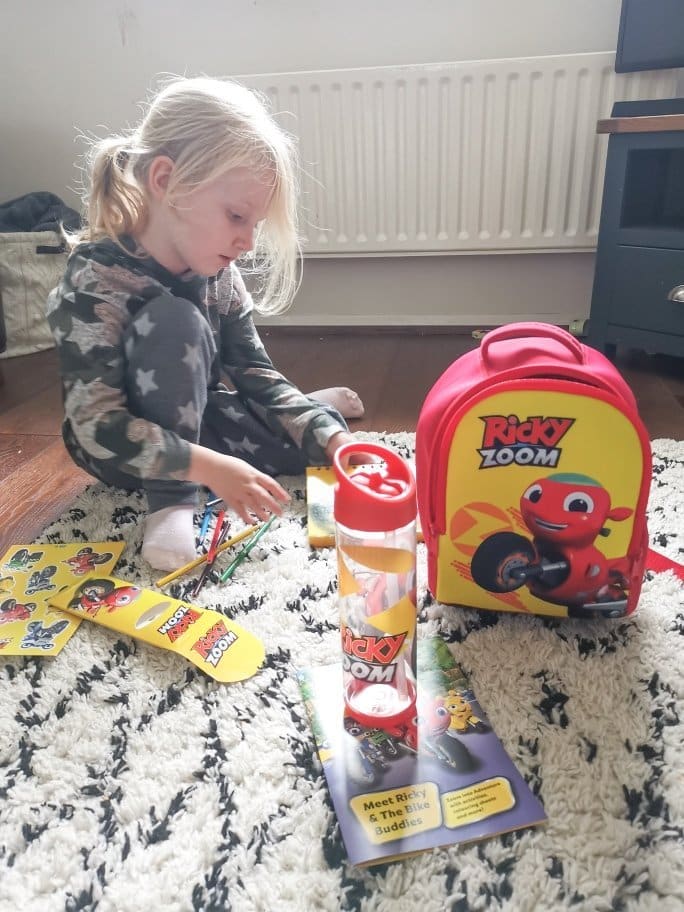 Chic Geek Diary – "We've watched quite a few episodes together and I can confirm that it's one not to be missed. From the catchy theme tune, through to the loveable characters, there's something for every child to enjoy when watching Ricky Zoom. Its main message is to encourage children to stand on their own two feet and to feel confident. It has many great themes and messages running throughout – as a parent it receives a huge thumbs up from me. Watch episodes of Ricky Zoom every Saturday and Sunday on Nick Jnr."
Read the full review here.
Why not follow the Ricky Zoom takeover every day for the next two weeks on UKMums.TV. Enter our competition here or download some cool activity sheets here and join our Twitter frenzy on Thursday 14th November.
Most importantly don't forget to watch with the little ones, and share the Ricky Zoom experience with them! You can catch episodes of Ricky Zoom on Saturdays and Sundays at 9am on Nick Jr.