WHEN it comes to deciding what toys are right for your child we know that recommendations from other mums are invaluable. Check out what these mums thought of the range of Peppa Pig Learning toys from Trends UK…
Keep up with the Jones Family – "Peppa Pig Laugh and Learn Alphaphonics is for little Peppa fans aged 3 and over. It's a fun toy for learning all about phonics and spelling in connection with the show.  Each letter on the toy is represented by something they've seen on the show already – although we were sad that Mrs. Duck wasn't on there, or any of the newer characters which the boys love.
"There are 7 different activities to do which are accessed by the top switch on the toy …  Five of the slots feature activities with questions on letters, words and phonics, one is a memory game and the other is a noisy fun thing.  I wish I could tell you more but Hero keeps running off with it."
Chick Geek Diary – "The money box is made from brightly coloured plastic and shaped just like Peppa Pig. It comes with 10 interactive plastic coins which display different characters, colours, and numbers. They are quite large, just the right size for little hands to grab.
"Ava adores the Count With Peppa Interactive Money Box, I'd go as far as saying it's her new favourite toy! She spends so much time placing the different coins into the money box and then fishes them back out again. She also enjoys singing and dancing to the three songs that it plays. The three songs are hits from the TV show; The Rainbow Song, The Counting Song and Head, Shoulders, Knee's and Toes.
"All fun aside, this is going to be a great resource to use over the next couple of years when it comes to teaching Ava her colours and numbers."

Tantrums to Smiles – "The Laugh and Learn laptop is great for helping children with early number and colour recognition as well as hand eye coordination and vocabulary skills in pronouncing certain words and colours. The bright colours and recognisable characters make it great fun for kids and make it perfect for pre-schoolers to learn whilst having fun."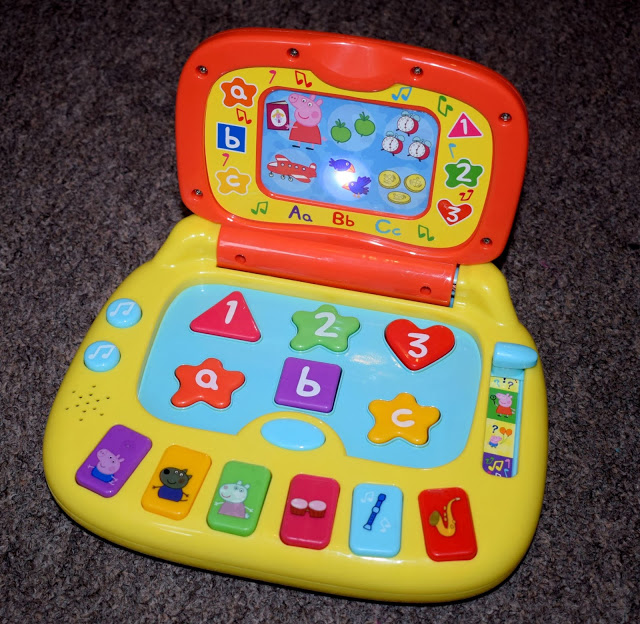 Don't forget, still to come in the takeover – chances to win some of these great Electronic learning toys, get involved with our Twitter Frenzy and get free downloads of Peppa Pig activities for your little ones! Keep in touch with us on Twitter and Facebook so you don't miss out.