At UKMums.tv we love a bit of rough and tumble… and toys that are tough enough to withstand the test of time! And that's why we're delighted to be joined by Basic Fun! this week, the makers of Tonka toys, for the #TonkaToysUK takeover!
As part of this brilliant takeover, we sent a selection of lucky families some fab Tonka toys in exchange for some honest toy reviews (get ready to spot some familiar faces!). It's safe to say that these brilliant construction toy vehicles went down a storm, but here's just a few snapshots of what our parents and their families really thought!
Oddhogg
Family lifestyle blogger Oddhogg and her boys were delighted at the prospect of putting the Tonka toys through their paces. Check out their cute Instagram video below:
View this post on Instagram
Nathan Massey
Nathan Massey and his little boy Fred had the best time with Tonka – watch their cool Instagram video below:
View this post on Instagram
The Littlest Darlings
Mummy blogger Nicole from The Littlest Darlings received the Tonka Steel Classics Toughest Mighty Dump Truck and the Mighty Dump Truck. Here's what her and her kids thought:
"When we were sent these two metal Tonka trucks to try, Lucas and Rufus were instantly drawn to the box and the "WOW" sounds echoed around the porch. They couldn't be unboxed quick enough and instantly the boys had them in the front garden, filling them with bits of grass, mud and dead daffodil leaves."
Read the full review here.
Mummy and Archie
Mummy and Archie had the best time in the garden with their Tonka toys!
View this post on Instagram
The Coastal Mummy
Rebecca, the mummy blogger from The Coastal Mummy and her daughter Elsa received a couple of Tonka Tough vehicles to take to the beach. Here's what they thought:
"The main test for us was if it was easy for the kids to play in the sand with them [the Tonka toys]. Most toys get sand stuck in the wheels or it ruins them as the sand gets inside. Tonka toys are completely made for this. Elsa was able to play without having to worry at all about sand or even sea water. The Tonkas chunky size makes it easy for more than one child to play at a time too."
Read the full review here.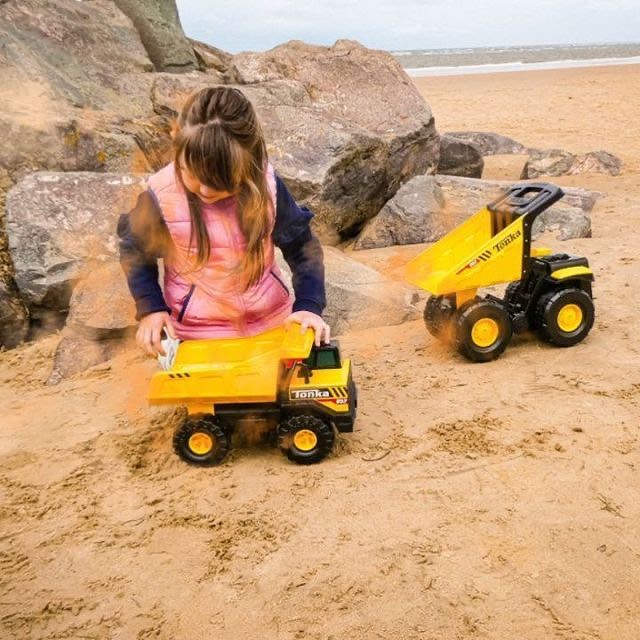 You can buy Tonka from John Lewis, Amazon, House Of Fraser, The Entertainer, Very and all good independent toy shops
For more #TonkaToysUK takeover fun, head back to the main hub page by clicking here.
*Main image credit: We Made This Life