As mums we lead busy lives and are constantly juggling the kids, work, having a social life and the need to cook wholesome meals for our family. With this in mind, we here at UKMums.tv really value kitchen appliances that will help to cut down the amount of time and effort that we spend in the kitchen. So, when Hotpoint asked us if we wanted to review their Supreme Chef Microwave Oven we jumped at the chance.
While the Supreme Chef Microwave Oven has an eye-watering price tag of £329.99 (RRP), it is one very clever and swish microwave oven, as it should be for the price. Visually, it looks very sleek combining stainless steel and black glass, fitting in perfectly with any modern kitchen. While it is an expensive appliance, it has a large 33-litre capacity which is a life saver when it comes to cooking meals for the family. As it is such a BIG appliance, it does take up a lot of countertop space, but this is worth sacrificing.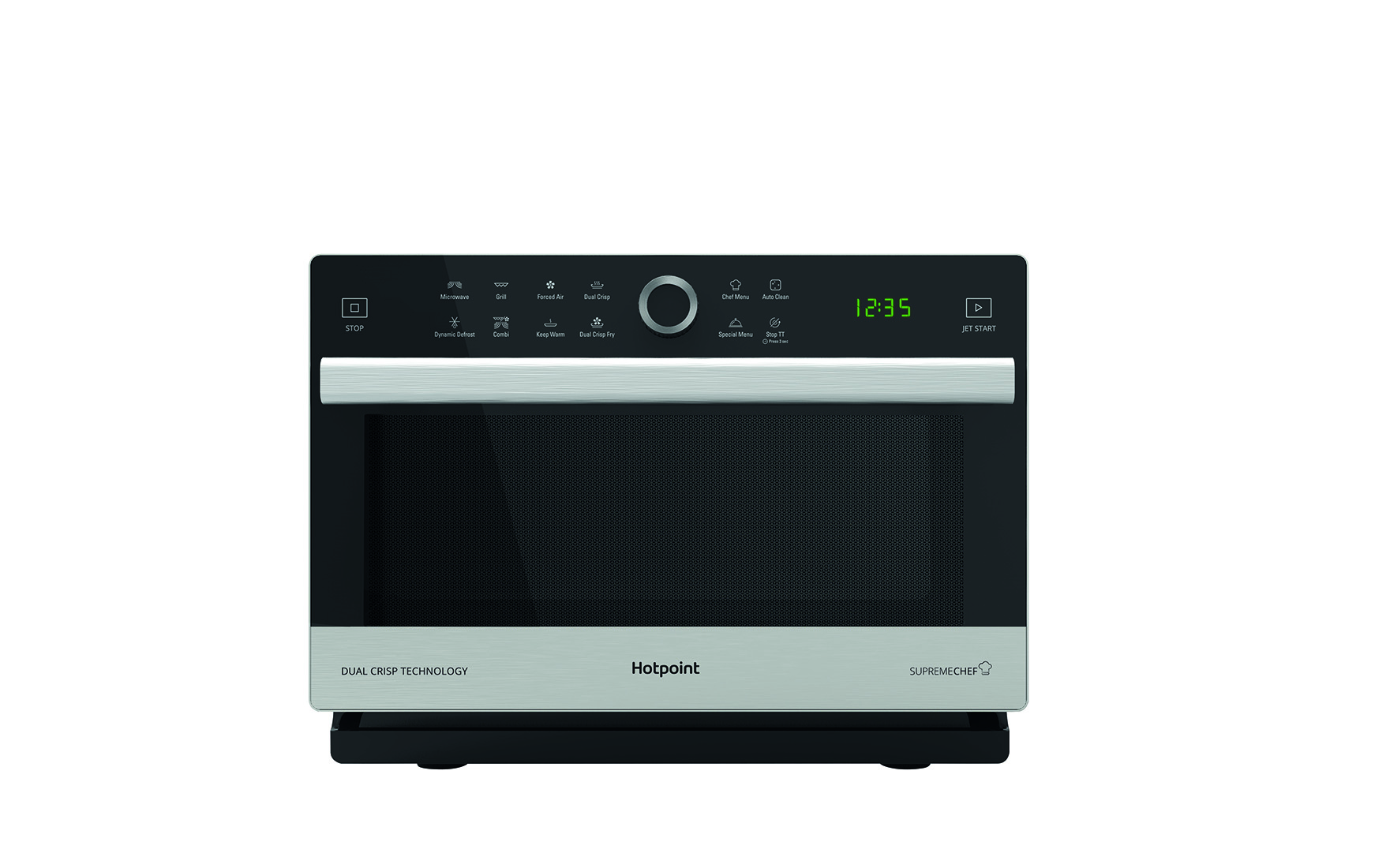 The microwave oven features touch sensitive buttons, gives you lots of different ways to cook food (multifunctional) and has a dial for ultimate customisation when cooking. For example, you can adjust the wattage to suit your cooking requirements ensuring that your food is cooked to perfection.
The microwave oven also has an impressive 'Dual Crisp' technology, this technology combines both the microwave and grill functions allowing you to cook and crisp up food at the same time. This feature is particularly good for cooking roast potatoes so that they are fluffy on the inside and crisp on the outside without the need for much oil, making them healthier for the family.
Here are all of the eight of the cooking features of the Hotpoint Supreme Chef Microwave Oven:
Microwave: We are all familiar with the classic microwave, so this feature doesn't need much of an explanation.
Grill: Unlike your bog-standard microwave this microwave oven features a grill that is great for grilling (browning) sausages and bacon for a fry-up on the weekend.
Forced Air: This feature recreates the traditional oven-baked effect using a heat element and a fan, so you can cook cakes, souffles, pastry and lots more.
Dual Crisp: For golden-brown results on both the top and bottom of the food.
Jet Defrost: A quick and easy way to defrost food.
Combi (microwave and grill): To both cook and grill (brown) food on top, making it brilliant for lasagnes and crumbles.
Combi (microwave and forced air): Great for traditionally oven-baked dishes such as jacket potatoes.
Keep Warm: This feature allows you to keep freshly cooked food warm, making it ideal for big family gatherings such as Christmas or birthdays, or if the kids are playing out a little later than expected and have missed their pizza.
Overall, this stylish microwave oven has many different functions to suit all your cooking needs. It allows you to switch up the way you cook, trying different cooking methods at the touch of a button – we particularly love its Dual Crisp technology. While it does have several great features, the price is high, and the appliance is big so it's worth considering whether you have the money and space for this microwave oven.
If you would like to find out more about Hotpoint's Supreme Chef Microwave Oven, please click here.
Disclaimer: We were sent the Hotpoint Supreme Chef Microwave Oven for the purpose of the review, but all opinions are our own.