The Stokke Tripp Trapp is one of the most coveted and well known pieces of kit, for parents of babies and small children, across the globe.
But why?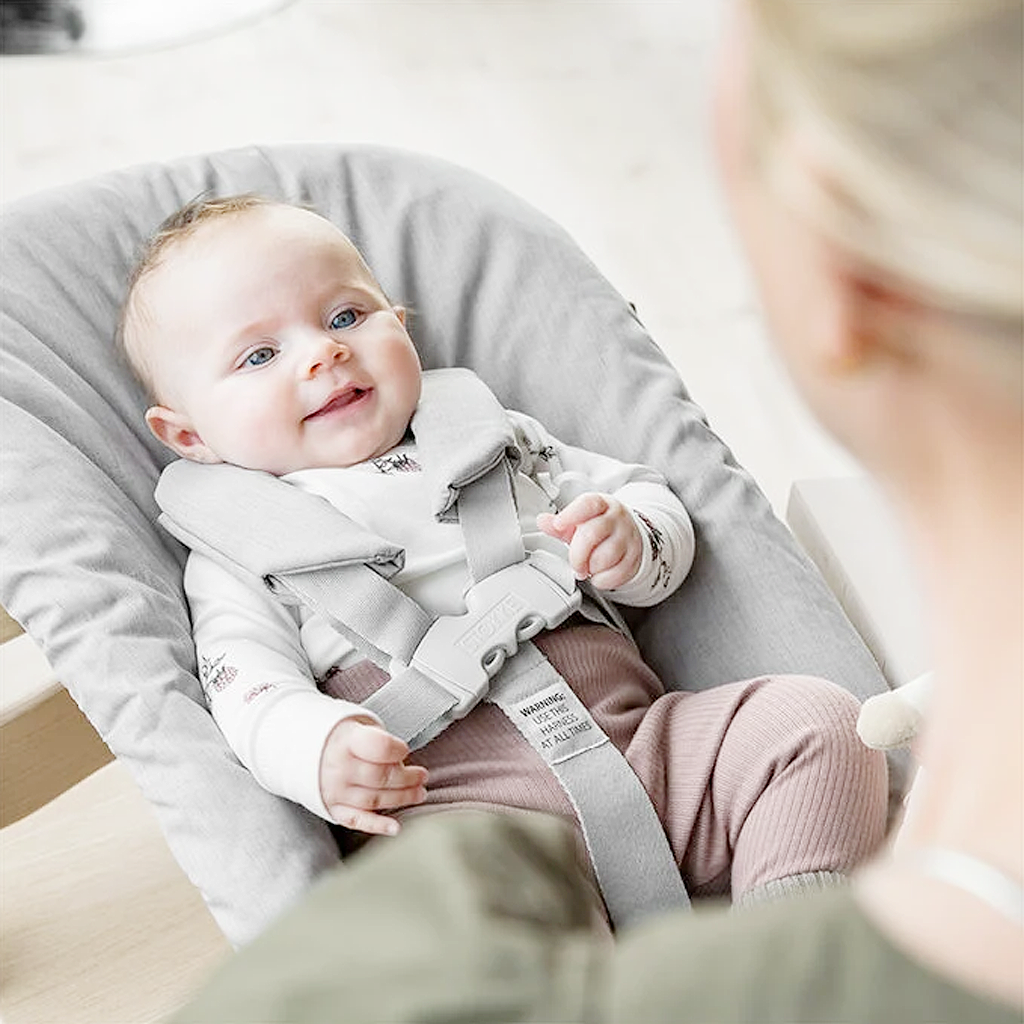 Why
Is

The Stokke High Chair So Popular?

Not only is it stylish but the Tripp Trapp is also a really cost effective buy. This ingenious chair grows with your child from newborn through to adulthood.

UK Mums TV editor Caro Davies bought two second hand Stokke Tripp Trapp's off an online marketplace, when her twins were born.

Almost 10 years later, her boys are still using them!

The initial outlay might seem costly, but the Stokke is well worth the money.

It really is a chair for life.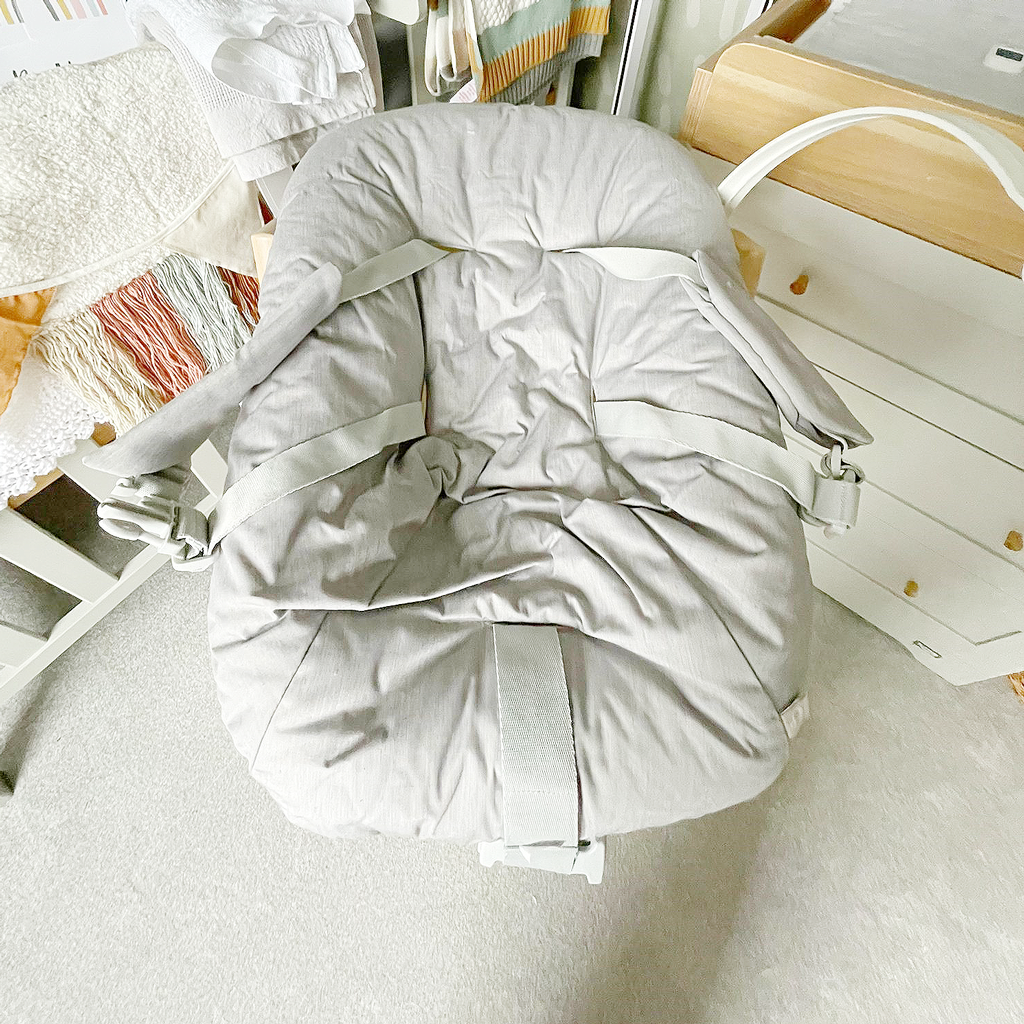 Key Features:
Made of sustainable beech wood
Finished with water-based, non-toxic paints and varnishes
5-point safety harness
Ergonomically designed to promote correct posture
Newborn carrier doubles as rocker (Sold separately)
Extended 7 year manufacturer warranty
Free from bisphenol and phthalates
Certified by JPMA
Brings your baby to the dining table and closer to the family
Depth – and height – adjustable seat and footplate
Classic Scandinavian design by Peter Opsvik
Available in a variety of colors for your baby boy or girl
Wide range of optional accessories for comfort & personalisation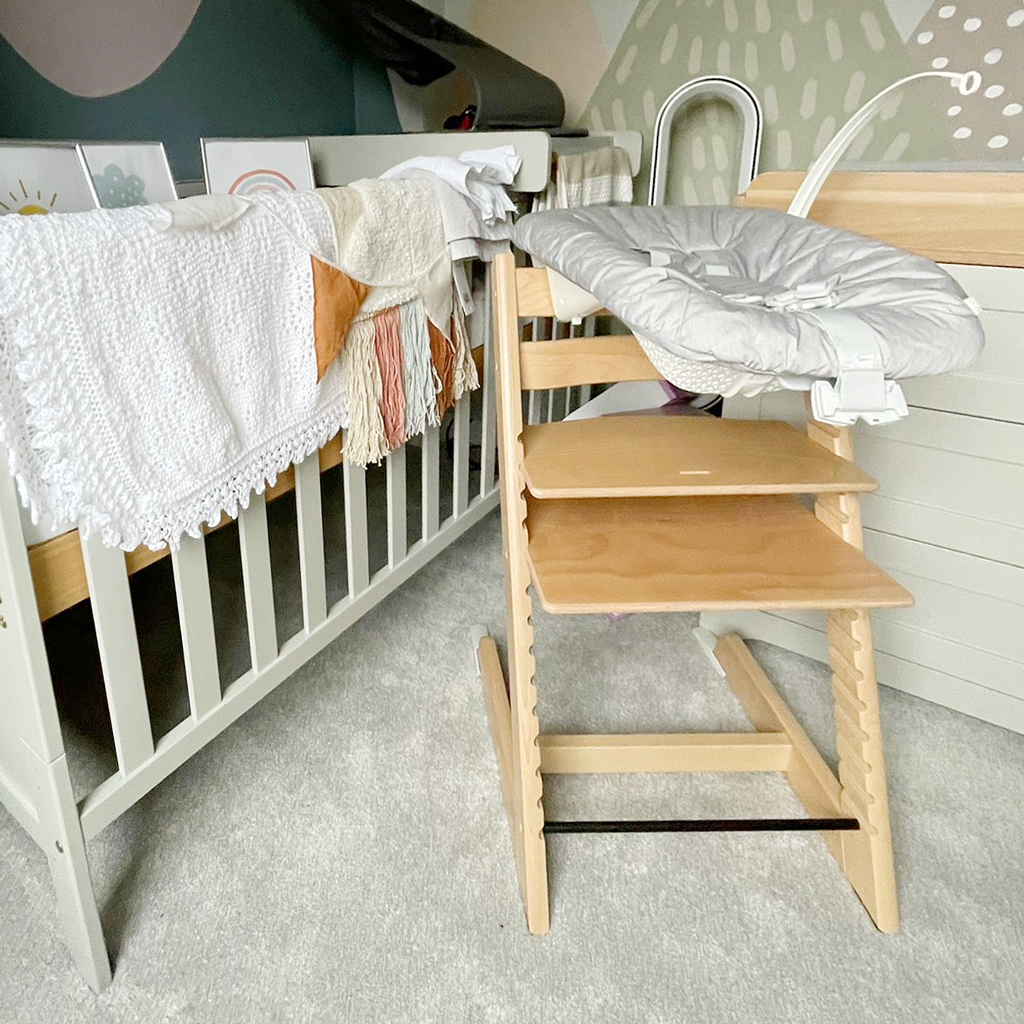 The Stokke Tripp Trapp Review
We entrusted one of our brilliant tester panel to put the Stokke Trippe Trapp through it's paces. It's been tested over a number of months, to ensure we can create a really thorough Stokke Tripp Trapp review.
Here's what she thought…
---
A Chair For Life
There are so many highchairs on the market, how do you go about selecting the right one for you?
For us, as new parents to a baby boy, we wanted a chair that not only was good for our son, but grew with him and us over the years.
Now I'm not anti-plastic but we love the wooden aesthetic and the variety of colours of the Tripp Trapp. Not to mention the many accessories you can choose from, that adapt to your child as they grow; taking them from birth to teens and beyond.
Stokke Tripp Trapp is Stylish
Stokke is renowned for it's cool, functional and ergonomic Scandinavian designs. Plus the best interest of children is at the heart of the company's philosophy.
Particularly focussing on the importance that babies need to have a sense of connection with their loves ones to feel safe and secure.
I have always loved the look of the Tripp Trapps. But, as my friends have gone on to have their own families, they have all raved about the highchairs. Particularly their practicality, stylish look and functionality.
The Stokke Tripp Trapp looks so effortlessly cool and fits in with any home – whatever your style may be!
The Tripp Trapp Is Easy To Assemble
The Tripp Trapp is very easy put together. So much so, that I did it whilst pregnant, sitting on the floor of our nursery!
It is all constructed using the included Allen key. There are really easy to follow instructions (with lots of big pictures which really help!).
Our First Impressions of the Tripp Trapp
Our first impression was to take a quick seat, before moving on to add on the newborn set (suitable from birth to six months). This is an added extra but definitely worth it.
It clips onto the chair, and there are red-green indicators so you know when you've fitted it correctly.
Our Tripp Trapp is the neutral wooden colour and the newborn set comes in a pale grey – but you can purchase more textile sets/covers to fit in with your style.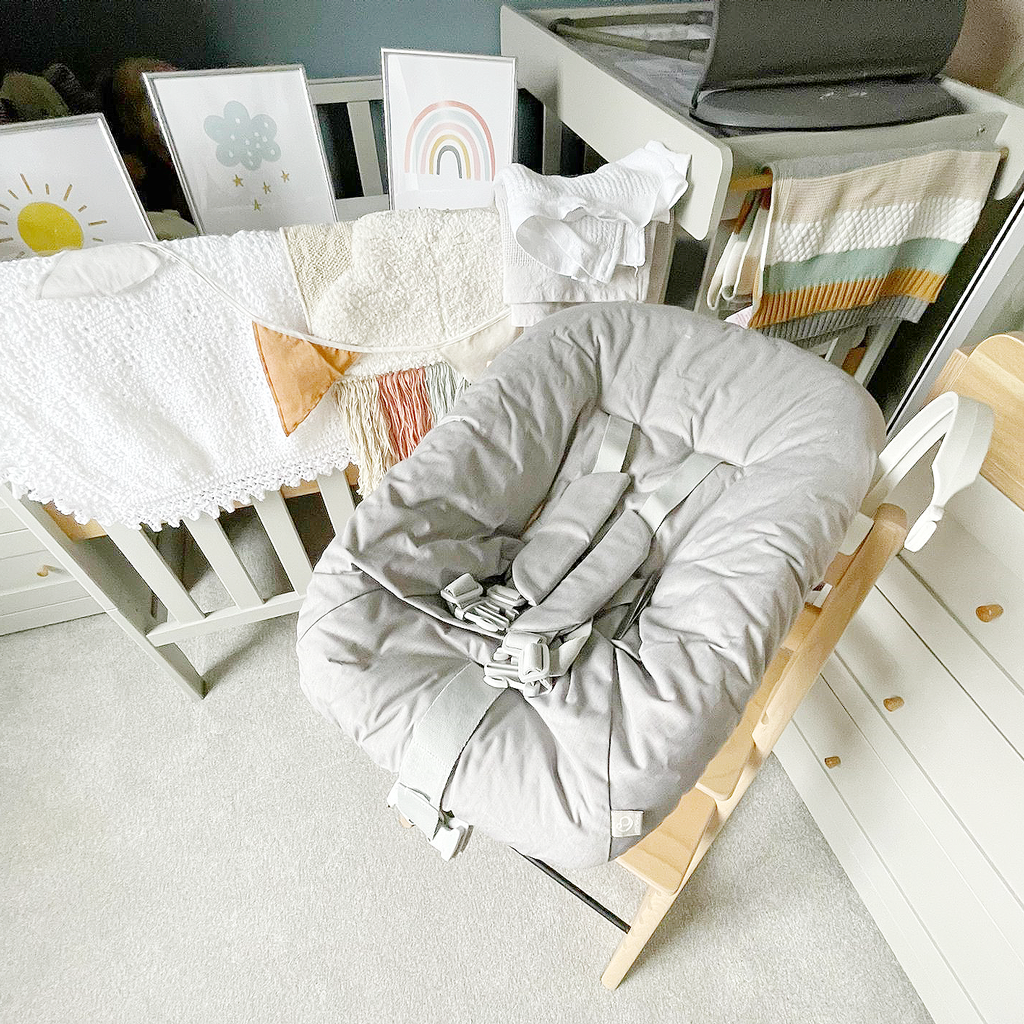 We use our Tripp Trapp mainly in the kitchen/dining area, which is where we find ourselves more and more.
One negative I will say, is that the whole highchair is fair heavy… so once it's in an area, it's not easy to move around from room to room. Especially if you're recovering from a C-Section.
However, we placed it in an area we knew would benefit both him and us.
We love the fact our baby son could sit with us at mealtimes and was at eye level and he was always within reach.
Stokke Tripp Trapp is Versatile
I love that the Stokke Tripp Trapp is such a versatile piece of furniture.
The colours, fabrics and the ability for it to grow with him was such as a winner for us.
However, it is an investment. It costs £159 just for the basic chair and then you purchase more to add to this. So, after 6 months, we will need the chair and harness and so on.
So, it's not for everyone's budget.
BUT for a piece of furniture that fits in with your home, stands the test of time and comfortable sit your little one, I would recommend it to parents who are looking for amazing quality and design and willing to pay the price tag.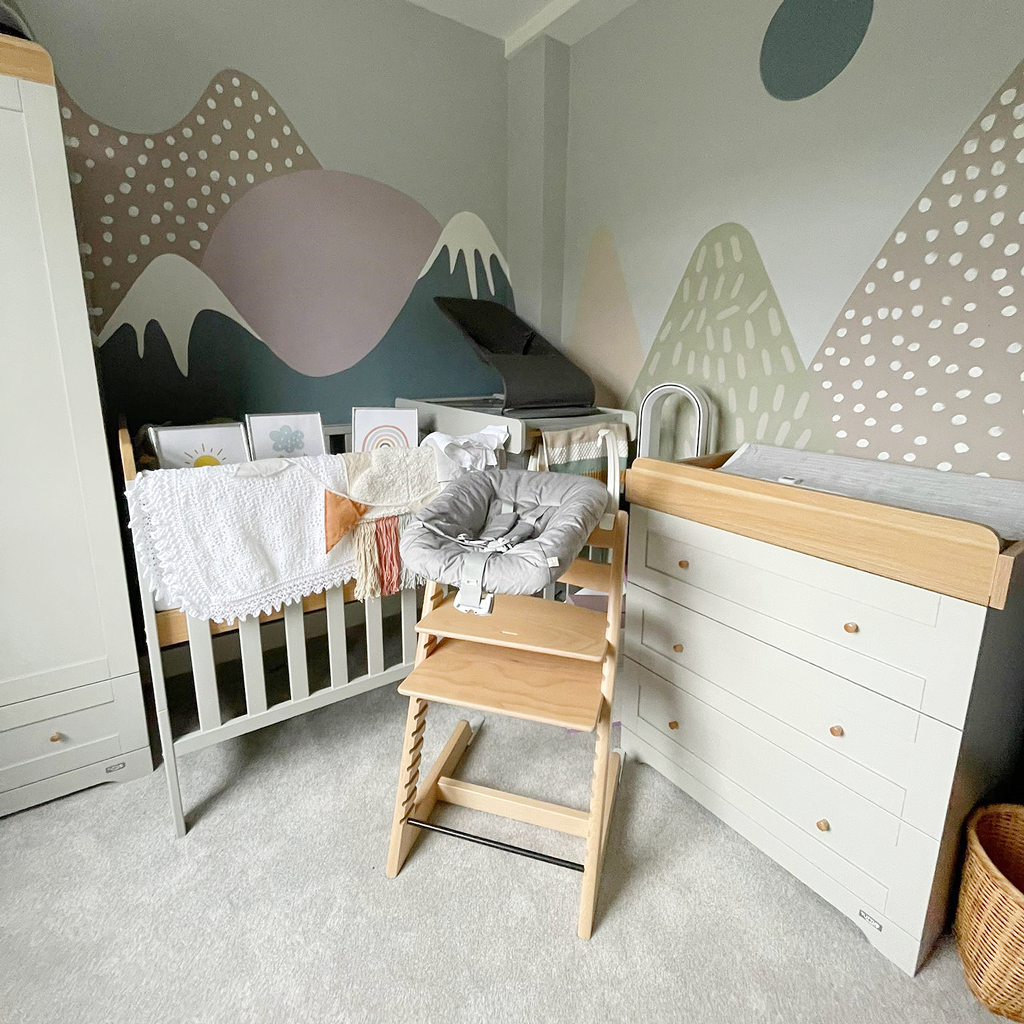 *Please note that whilst this Stokke Tripp Trapp was provided free in exchange for our honest review of the product, all opinions are our own!