#gifted We all want smoother, softer and ageless skin and as we get older, we are always on the lookout for the next best thing to up our skincare game. Fortunately, innovative skincare brand BeGlow has introduced a new sonic device known as TIA. Keep reading to see what we thought of the latest skincare gadget…
We all like to take our makeup off in different ways, with some using their hands and others using those nasty single-use plastics, but now it's time to make way for the eco-friendly BeGlow TIA.
The BeGlow TIA is an all-in-one sonic skincare system that cleanses, lifts and tones to leave you with your healthiest and best-looking skin yet. But before we get on to telling you how it actually works, let's start with the unboxing. Inside you will find:
– the BeGlow TIA
– a USB charging cable
– a cute pouch for travelling and storing
– the user manual
– an authenticity card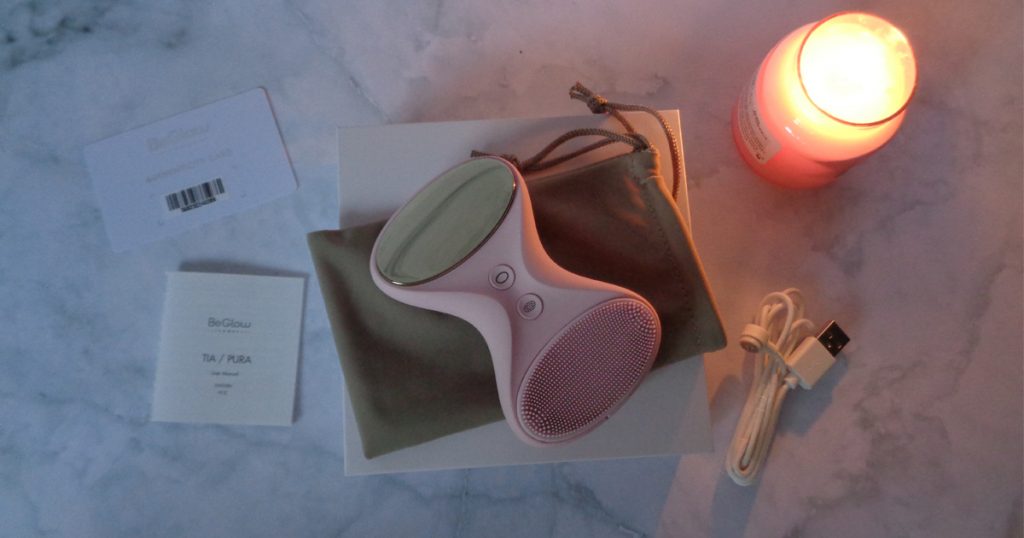 Featuring a Smart SkinSense™ Pulsation Technology, the BeGlow TIA uses gentle yet powerful pulsations to remove even the smallest residues of makeup that you will have missed with your hands. Therefore, this ultra-modern and lightweight gadget helps to prevent skin aging and your pores getting clogged up.
The pulsations start when the cleansing brush touches your face, offering a variety of pulsations to fit individual skin types. The pulsation can smartly adjust from 4500 times per minute to 8500 times per minute, according to your skin care needs. The BeGlow TIA is actually gentle enough to use on a daily basis as part of your morning and evening routine.
TIA also comes with an anti-ageing titanium applicator, this can be used cool and calm the skin, improve circulation and aid in product absorption.
BeGlow TIA also has a third function: dual pulse technology. Using the ergonomically shaped device on the reverse, you place and hold the device against the muscles in the face for toning and lifting.
Directions for use
Cleansing – Cleansing is so important in any skincare routine and can actually help you to maintain that summer glow even in autumn. To make the most of this function, apply your favourite cleansing product and TIA will enhance its effect. Press control button 1 to start the SkinSense™ cleansing. Adjust the pulsation according to your needs. Press control button 1 again to enter the standard cleansing mode.
Firming and Toning – Activate the titanium plate with control button 2 and press the surface to the skin. The applicator has a unique pulsation, which helps improve blood circulation, reduce the visibility of pores and enhances the absorption of skin care products.
DualPulse Contouring – Press and hold control buttons 1 and 2 for 3 seconds to start the lifting mode, targeting areas that require sculpting. This literally feels like a spa treatment at home!
In addition, the BeGlow TIA is 100% waterproof and comes with a silicone brush head that can be removed for easy cleaning. You will need to replace the silicone brush head after a year of use for £15, so switching to this more sophisticated skincare regime could save you money in the long run.
£199 isn't cheap for the BeGlow TIA, but it does have a number of benefits as outlined above. If you're due a bonus, or are a skincare enthusiast, the BeGlow TIA is worth a try! Like what you see? You can buy your very own BeGlow TIA from Look Fantastic!
Disclaimer: We were kindly sent the BeGlow TIA to try out but all opinions here are our own.