#AD – Degusta Box sent us the May Degusta Box to try out but all opinions here are our own. 
When the Degusta Box arrived at the office, it was like all of our Christmases came at once. The team began to huddle around our editor's desk and started oohing and ahhing at the contents of the Degusta Box. For those of you who are reading this with a puzzled look on your face,  Degusta Box is a food subscription box which is delivered straight to your doorstep on a monthly basis and contains up to 15 surprise and full size goodies, many of which are new to the market.
Luckily, and much to our tester's delight, the Degusta Box arrived on a Friday and contained a cheeky bottle of prosecco as well as a range of sweet treats, savoury snacks and drinks – the ultimate set up for the weekend! But when our tester got the Degusta Box home it was a totally different story as her kids showed no mercy when they called dibs on the Milkybar Mix Ups and Midget Gems.
Our tester received the May box and was really impressed with the amount of choice and relatively healthy products. The May box had a theme of 'brunch and afternoon tea' and included:
Milkybar Mix Ups
Daelmans Duo Stroopwafels
Hellmann's Vegan Mayo
SPLENDA Sweet Minis
Oteas Black Tea and & Apricot
Koko Dairy Free Super Milk
SHØRE Seaweed puffs
La Gioiosa Prosecco Brut DOC Treviso – Not a big drinker? There is an option for you to choose whether you would like a box that might contain alcohol or a box which definitely doesn't contain alcohol.
Firefly Drinks Lemon, Lime & Ginger
Free From Fellows Vegan Midget Gems
Fruity Beauties Snack Bar
Indie Bay Spelt Pretzel Bites with Rock Salt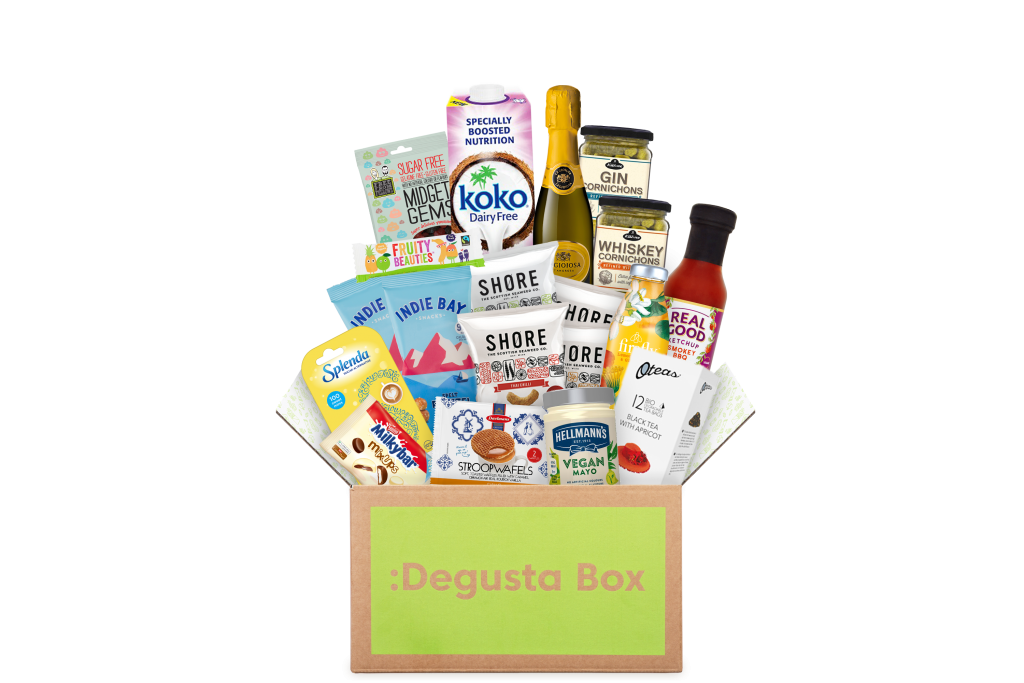 The Indie Bay Spelt Pretzel Bites with Rock Salt and the Fruity Beauties Snack Bar are just perfect for packed lunches, while the Oteas Black Tea & Apricot and Daelmans Duo Stroopwafels make for a tasty brunch.
It was also great to see a mix of big brands nestled in with smaller brands like SHØRE, Oteas and Daelmans. Our tester was not familiar with these brands so took the liberty of googling each one to find out more about them.
The box costs £12.99 per month including postage and packaging and the food inside will retail individually at more than that, in fact the May box came in at around £23! The team at Degusta Box are kindly giving you £5 off your first box and a free bonus item when you buy through THIS link and use the code UKMUMS at checkout.
Each Degusta Box comes carefully packaged and contains a sheet detailing each product, what it costs and where you can buy it from. It also comes with a selection of recipes that you can try out with the products included.
The idea is that the box can be shared with family and friends, so nothing goes to waste and it's a chance for you to try things that you wouldn't necessarily buy out of habit during your weekly food shop.
If you're a foodie mum, are looking to shake up the family's packed lunches or simply love a good surprise then a Degusta Box is definitely worth it. We can totally see why children get so excited by surprise toys and blind bags! Degusta Box introduces you to some fantastic new brands and broadens your scope for snacks!
Remember to buy your Degusta Box via THIS link to receive your first box for £7.99 and a bag of Candy Kittens Wild Strawberry! Offer ends on 30th June, so be quick!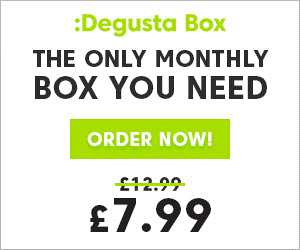 Have you ever tried a Degusta Box before? Let us if you have and what you thought by commenting below.