#gifted Headed to London for a very special birthday, I [Sarah] was delighted when the team at Aim Content Marketing invited me to review the Dezign Suite at Roomzzz Aparthotels in Stratford, London. After a long day of sight-seeing, afternoon tea and lots of shopping in nearby Westfield Stratford City, I couldn't wait to arrive at the Roomzzz Aparthotels and relax in my room.
My partner and I arrived at Roomzzz Aparthotels just after the check-in time of 3pm where we were greeted by a lovely receptionist who was smartly dressed, polite and attentive which is always a must. To the right of the reception is an Essentialzzz shop, to the left is a seating / work area and straight ahead is a gym.
After receiving our fob, we were so excited to check out the Dezign Suite having fallen in love with it on Roomzzz Aparthotels virtual tour. The Dezign Suite is big, bold and modern which is reflective of the city itself, featuring a kitchenette, dishwasher, king size bed, a heated bathroom floor, power shower and a de-mist mirror. Fast free wifi is also available, as is a great workspace and stunning views from the rooftop balcony, making it the ideal choice for couples or those on business. The Dezign Suite was very clean and uses a clever feature wall to divide up the sleeping and living areas and a little quirkiness.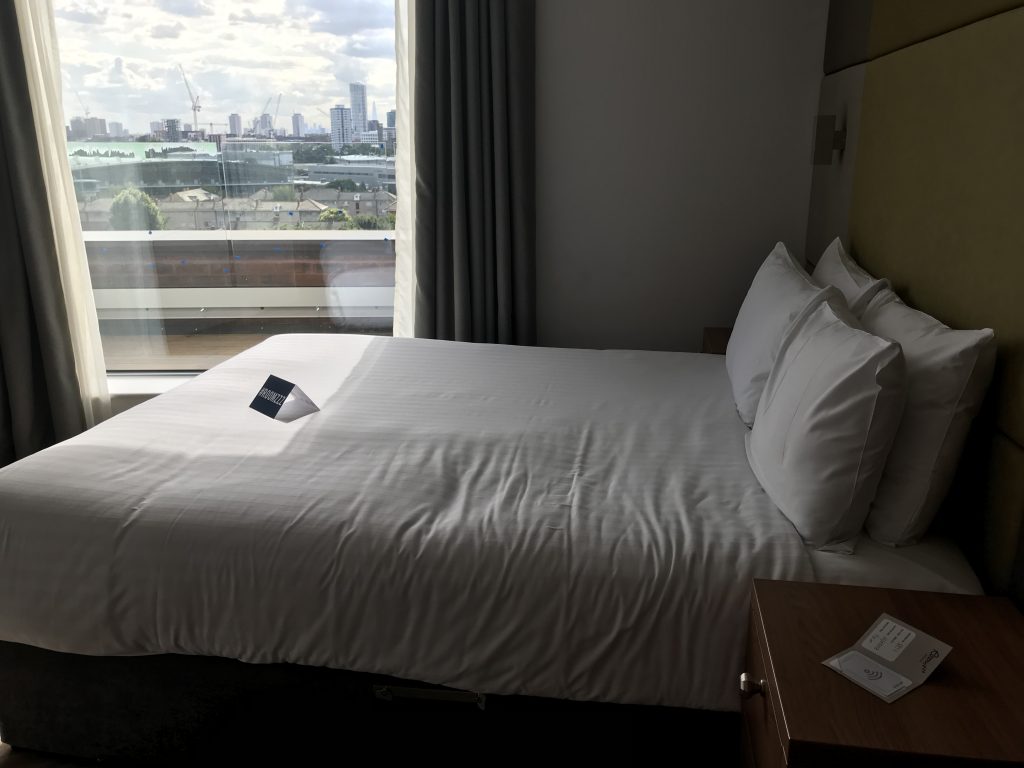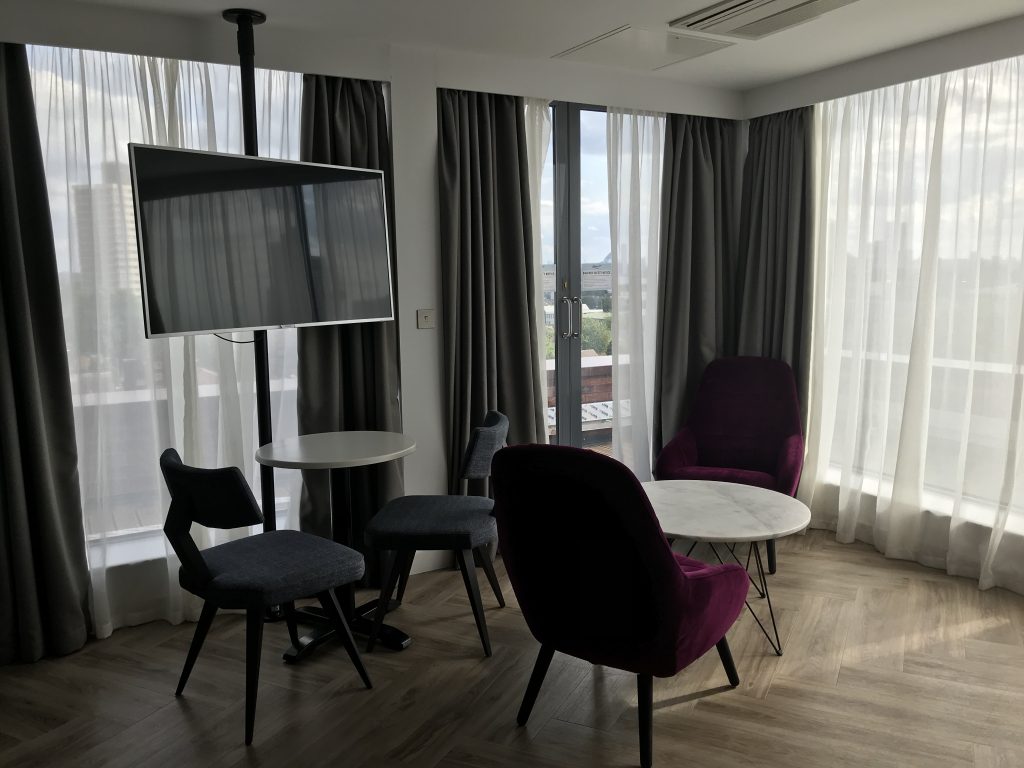 Roomzzz Aparthotels also offer a Mon – Fri laundry service and a complimentary 'Grab & Go' breakfast which is available between 6.30am and 10.30am. It includes hot drinks, fruit juice, baked pastries, porridge sachets and a selection of fruit which you can take back up into your room.
For an aparthotel that features a stunning kitchenette filled with everything you could possibly need to cook up a storm (i.e. crockery, cutlery, glassware, pans and utensils), we were a little disappointed with what the Essentialzzz shop had to offer, especially when you are encouraged to make your own meals. Sure, there were frozen pizzas, pasta and microwave rice (stereotypical student food when we visited), but we really wanted to make the most out of the kitchenette / treat ourselves so nipped out to the shops to get some food in. All in all, there could have been some more creative and healthier food options for families staying there too.


Unfortunately, the balcony was undergoing maintenance when we arrived, so we couldn't use it, but we still managed to enjoy the views as the sun set from inside with a glass of wine.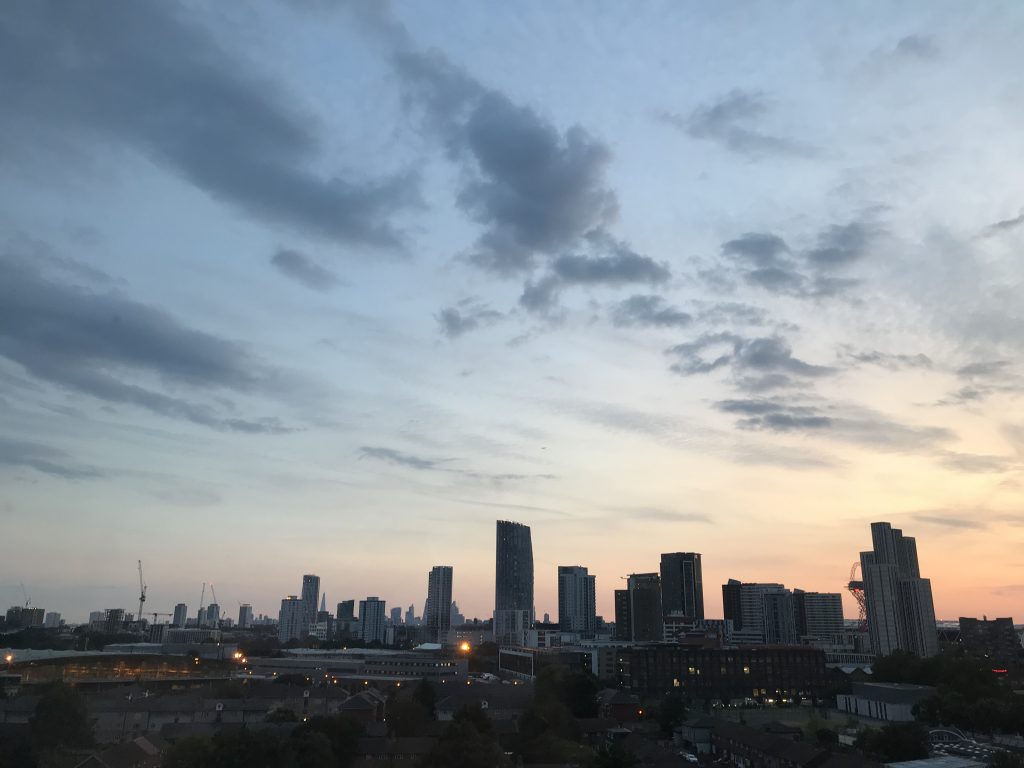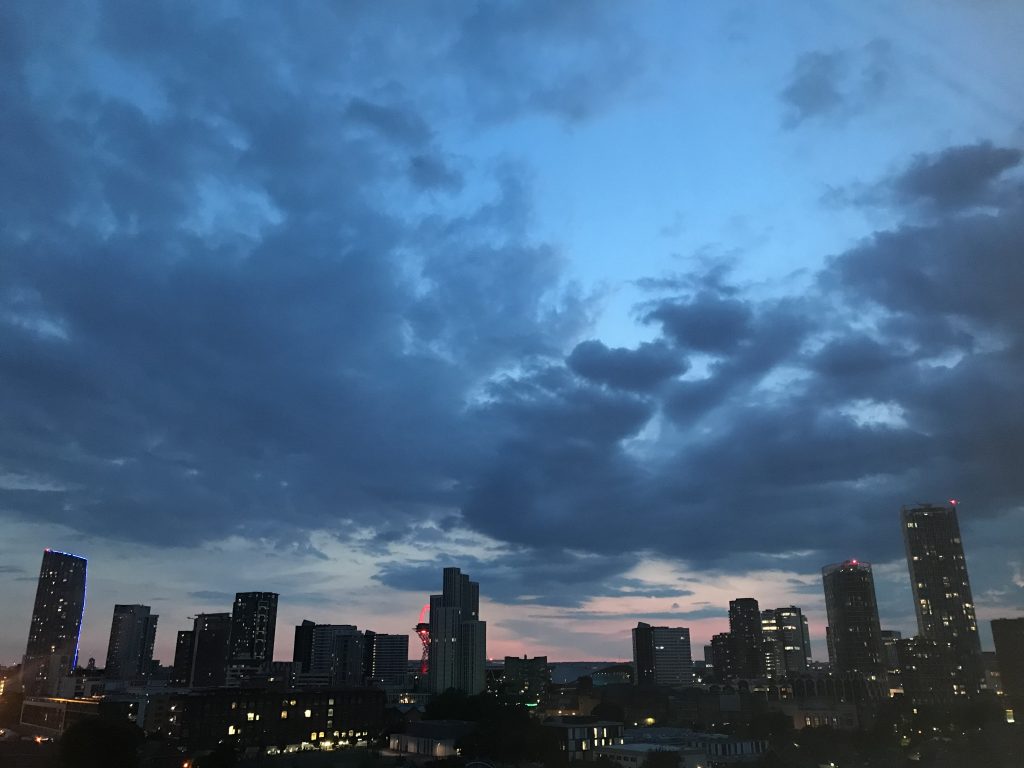 As we were on the eight floor, visiting in the height of summer, the room was quite stuffy and we couldn't open the balcony doors, fortunately air con came the rescue to cool us down!
For families
The Liberty Suite is a great choice for families and offers the same amazing features as the Dezign Suite. The only difference is that it can sleep up to six people and therefore is a little more spacious. Roomzzz Aparthotels cater for the littlest of guests too, because comfortable beds aren't just for adults! If your little nipper needs 40 winks, then grab a cosy cot from the lovely receptionists.
If you're after a romantic staycation and need somewhere to stay or are looking for family-friendly accommodation in a great central location for London Stratford (within walking distance of Stratford International train and tube station) pop Roomzzz London Stratford to the top of your list!
Details
Address: Roomzzz London Stratford, 66 West Ham Lane, E15 4PT
There are plenty of other Roomzzz Aparthotels dotted around the UK including Chester City, Leeds, Leeds City West, Leeds Headingley, Manchester City, Manchester Corn Exchange, Newcastle City and Nottingham City.
Prices: There are no set rates as it depends on the dates you are looking to attend. For prices please refer to the booking widget on the homepage here.
Have you ever stayed in a Roomzzz Aparthotel? Let us know what you thought by commenting below!
Disclaimer: We were asked to review Roomzzz Aparthotels Dezign Suite but all opinions here are our own.