[Gifted] The team at Kiddies Kingdom sent the Maclaren Techno XT Stroller to us here at UKMums.TV free of charge.
"Word's simply cannot explain how delighted I was to hear of the opportunity to be gifted a super popular and award-winning Maclaren Pushchair – specifically the Techno XT model.
Perfectly timed actually!…
I'm a mum of a very cheeky two year old boy, Harrison Alfred, who has always been a 98th percentile sized baby/toddler, weighing a hefty 9lb 7oz at birth! Tall like his daddy, but to the detriment of our forever diminishing wallets, given the amount of newly sized clothes we've had to buy – thank you growth spirts!!
Subsequently, finding a pushchair that holds comfortably a two-year-old, not quite there with walking long distances – as expected, with a love for daytime naps…BUT is the size of a four-year-old has proved quite the challenge so far!
So, the immediate draw for me with the Techno XT is that it specifies being suitable from birth to 5 years! Hurrah!! Additionally, the Techno XT comes with a unique sovereign lifetime warranty which lasts as long as you have a need for the pushchair, covering all your children.
Features of the Techno XT;
This is a lightweight pushchair at 7.1kg considering the weight/age it will hold up to. Perhaps not the lightest weight on the market, however quite easy to open and close into its trademark umbrella folded position – which I can manage in all of five seconds, one handed, whilst desperately holding onto Harrison's hand, pulling me in the direction of the park! The stroller has a lock clip on one side for ease of carrying, although a lock on both sides might have been more secure, as it does feel a little awkward like it might pop open.
Another great plus point for me was the recline options. There are several pushchairs out there which fully recline to allow your child to nap pretty much horizontally, however surprisingly I've found the seated upright positions are never fully upright. The Techno XT is sturdy and safe, with a 5-point harness, and allows Harrison to see all of what's going on when out and about in a seated upright position, so he feels a little more independent, and free.
The Techno XT is easy to push, and manoeuvre. Great for public transport and if you get the chance, a spot of shopping, due to its slim design. No danger of taking out the mannequin or rail of clothing with this buggy!
I like that it has two extendable handles for us taller mums, however, would love these to extend towards me, as well as upwards giving a little more step room as I am walking. I also live in Saddleworth so not the smoothest of terrain, and over cracks in the pavement, up and down curbs on an angle, the ride can get a little shakier from the small tires.

Additional Points to Note;
The pushchair has a, clever see-through UV sun shield, great for a protected view, with a brilliantly sized hood designed to allow for a peaceful nap, safe from the sun.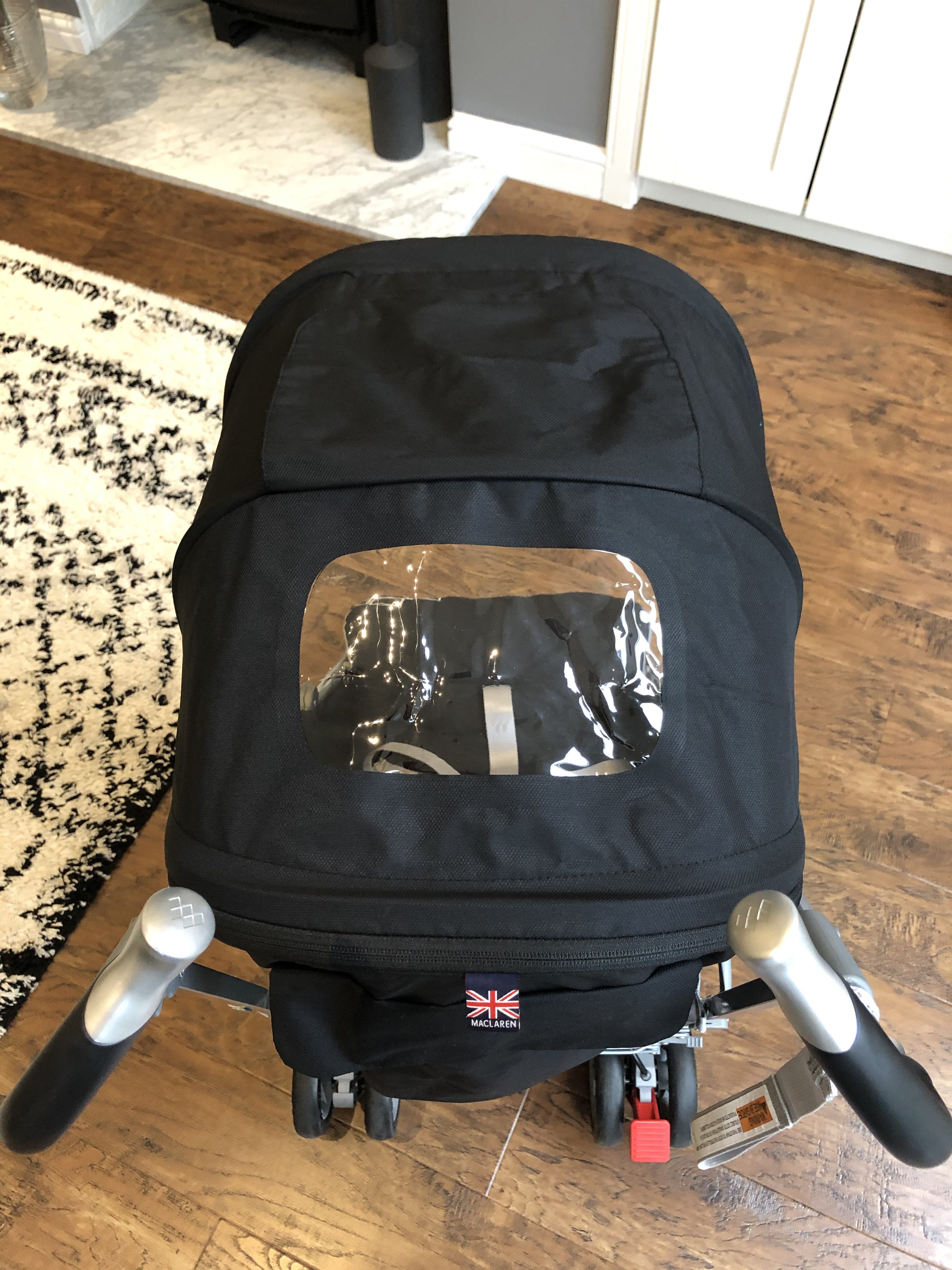 View through viewing window
Additionally, a rain cover so compact it can travel with you, yet roomy enough for Harrison to still feel in charge of his own space.
Maclaren sell the Techno XT as a pushchair which can be used from birth, inclusive of a head support, shoulder straps, head and food barrier for extra safety of slipping around, and 5-point harness, however I would prefer to use from around one year old. There's nothing better than looking at your baby rear facing in those first months, which would prove difficult in this front facing pushchair.
The basket size is a little smaller than what I am used to, but as Harrison is a little older, the need for lugging those 'can't live without' baby essentials has slowly reduced. Just be careful when loading up the shopping, it's a definite no no for hanging on this lightweight pushchair!
Verdict;
Harrison and I truly love this pushchair. Its fabulous for its ease of use, sense of security, comfort and most importantly upright to recline positions, holding up to an average 5-year-old (4 in Harrison's case!). The design is simple yet modern and does what its designed to do.
Did I mention how thrilled I am to see it takes up half the boot space of our previously lovely but bulky pram!"
You can shop the Maclaren Techno XT Stroller and more via the Kiddies Kingdom website.