This week, we sat down for a virtual coffee with the award-winning children's author Christopher Edge.
We asked him about how he came to be best-selling author, about his proudest achievements and what makes for a great children's book and more.
Plus, we get the low-down on his inspirations, his latest book Escape Room and what's in the pipeline.
So grab a coffee, and have a read… you won't be left disappointed!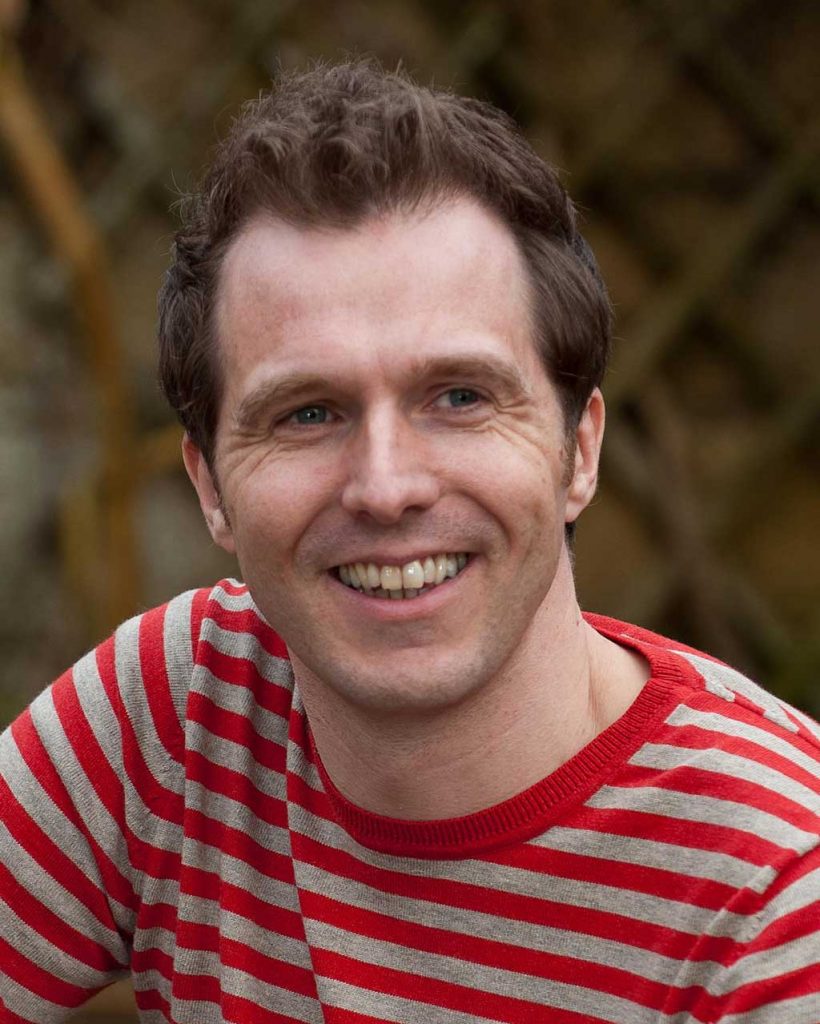 A Little Potted History on Author Christopher Edge
For those of you who are yet to discover your books, tell us, who is Christopher Edge?
Christopher Edge is an author of children's fiction who is strangely unaccustomed to writing about himself in the third person.
When did you start dreaming up stories and when did you realise that your passion could also become your career?
When I was growing up, I was the incredible book-eating boy; devouring the books I found on the shelves of my local library and dreaming up my own stories.
I never knew there was a job you could do called being an author.
After a short-lived teaching career, I got a job at an educational publisher where I found myself reading lots of children's fiction by brilliant authors like Frank Cottrell Boyce and Philip Reeve and this inspired me to start writing my own stories.
Of all the awards that you have won and the recognition that you have received for your work, what are you most proud of, and why?
I was really proud to win the STEAM Children's Book Award for my novel The Infinite Lives of Maisie Day. This was an award for children's books that highlight the importance of science, technology, engineering, arts and maths, so it was wonderful to be recognised for this as I really hope my stories inspire young readers to look at the world with curiosity and wonder. I think science and stories both try to do the same thing, exploring the big questions about life, the universe and everything!
What are the ingredients of any good children's book?
Nowadays books are in competition with lots of different forms of entertainment, but the ingredients of a good children's book are still the same, it's a fearless story with a thread of adventure that keeps young readers turning the pages to find out what happens next. And the best children's book are those stories that readers can return to again and again, finding new things every time.
On Writing
Where do you find the inspiration for your stories?
From books about quantum physics to songs by David Bowie, I've found inspiration for my stories in so many different places. For example, in the case of a book I wrote called The Jamie Drake Equation, it was inspired by the excitement I saw in my own children after they came back from school having learnt about Tim Peake on the International Space Station. And later as I was watching the ISS fly past at night I wondered: 'How would a child feel if that was their Dad up there?' Something just needs to hook my imagination and make me think there's a story there to tell.
How do you develop your stories from the seed of an idea to the fully fledged story?
When I get the spark of an idea for a story, I usually have a clear picture in my mind of the opening scene and also the climax of the story too. These two moments trace the emotional arc of the story and I then have to discover the scenes that connect these, planning the twists and turns of the story. That's what writing is for me – making connections.
What advice would you give to any budding author?
Read lots!
Every writer is a reader and if you fill yourself up with stories, you'll start to find your own stories start tumbling out.
We know you've written inspirational guides to creative writing for children and teenagers and that you lead an online course on writing children's fiction for writers and artists. Why is this work so important to you?
I went to an ordinary comprehensive school in Manchester and it wasn't the kind of school where authors popped in to chat about their latest books and reveal the secrets of the writing life, so it's really important to me to demystify what being an author means. I'm fascinated by the process of writing – a fascination born from the belief that other authors have found the secret of making writing easy that I'm missing! – so I love bringing together all the advice that I've found and insights into my own process to help others develop as writers too.
You also offer teaching notes for some of your books online. What were your objectives for creating these notes? i.e. What are you hoping to achieve with these resources?
It's a real honour to see my stories used in the classroom and I hope these resources help teachers and pupils explore some of the ideas and inspirations behind these. I put lots of research into my books, from quantum physics in The Many Worlds of Albie Bright to chess-playing automatons and Mayan tombs in Escape Room, so these resources are designed to help children explore some of the big ideas in the stories, but also use these as inspiration to create their own stories too.

On Escape Room
Tell us about your latest book Escape Room.
Escape Room is a story about finding the Answer and saving the world. It follows Ami as she enters The Escape, the ultimate escape room, but as the Host locks Ami and her teammates inside the first room, they quickly realise that this is no ordinary game. An escape room is like a locked-room mystery, but in The Escape there is more than one room for Ami and her teammates to reckon with. From a cavernous library of dust to an ancient Mayan tomb, a deserted shopping mall stalked by strange creatures to the command module of a spaceship heading to Mars, the perils of The Escape seem endless. The reader follows Ami on her thrilling journey through The Escape as she tries to find the Answer before it's too late.
What is it about Escape Room that you hope appeals to children?
What I love about escape games is the way they completely immerse you in another reality and I wanted to give the readers of Escape Room the same immersive experience, taking them on a fast-paced, puzzle-solving adventure. The best escape games give players a trail of clues to solve and I wanted the puzzles and mysteries that Ami finds inside The Escape to give the reader clues about the story too. I hope it's a book that excites and inspires them in equal measure.
Are you working on anything else at the moment? If so, what do your fans have to look forward to in the coming months/year?
I'm currently writing a new book, but I can't say too much about it yet. The one thing I can share with you is it's a quest with a twist!
Anything further that you would like to add?
If you'd like to take a peek inside The Escape, you can play this virtual escape room that ties in with the book: https://www.welcome-to-the-escape.com/
Good luck!