Summer's in full swing, and the perfect time for dining alfresco. We bring you the must have BBQ tools and accessories for 2022; to ensure cooking on the barbecue is a breeze!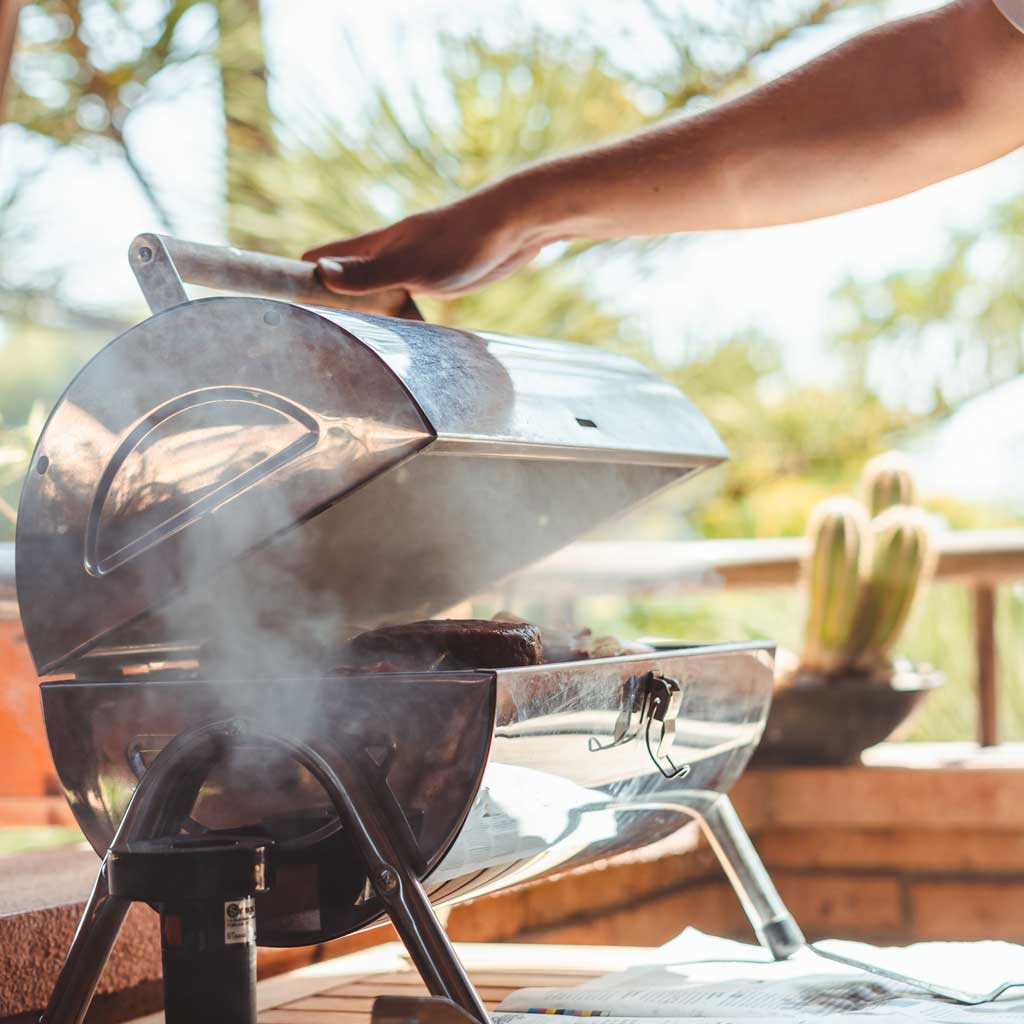 Why Do I Need Special BBQ Tools? Will Kitchen Utensils Not Do?
In short, no!
Regular kitchen utensils aren't robust enough to withstand the searing heat of a barbecue. Plus the majority of them aren't long enough to ensure you're a safe distance from the heat.
Dedicated BBQ accessories have been designed with long handles; in heat resistant, stay cool materials.
What Tools Are Essential For My BBQ Kitbag?
Companies — like BBQ giant Weber — offer starter kits. Some are fairly pricey though.
An inexpensive — but great quality — option is the Norfolk Grills BBQ Starter Kit as it contains essential tools that every BBQ fanatic will need:
Hot plate liner
Digital thermometer
Knife
Skewers
Spatula
Cleaning brush
Plus we love the Sizzle Buddy —an all-in-one barbecue cleaning solution, combining tools to clean every part of your barbecue however big or small.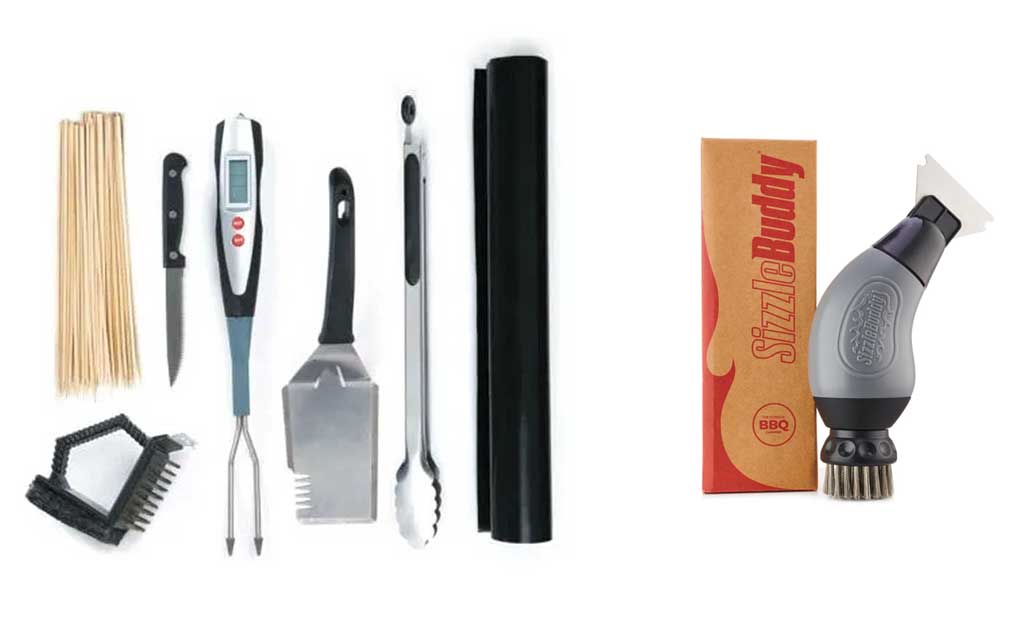 Of course, this is only a list of basics! The list of BBQ items that are available to buy, these days, is extensive.
Once you've decided that BBQing is for life (not just for the occasional weekend!) you can treat yourself to a more comprehensive selection. Silicon basting brushes, steel tongs and even heat resistant gloves are all really useful tools for any keen pitmaster.
What is a Pitmaster?
The term 'pitmaster' is thought to originate from America, but no-one can be sure the first time it was used. It's a term widely used for someone who operates a barbecue pit – but these days is used to describe a professional or skilled barbecuer.
How Do you Clean BBQ Equipment?
You can use the Sizzle Buddy — as listed above — or even clean BBQ grills by putting them into the dishwasher and running a hot cycle.
Alternatively, fill a bath with grease-busting washing up liquid and leave to soak for a couple of hours.
You should be able to clean off any stubborn residue with a BBQ bristle brush.
The Edit: BBQ Tools & Accessories 2022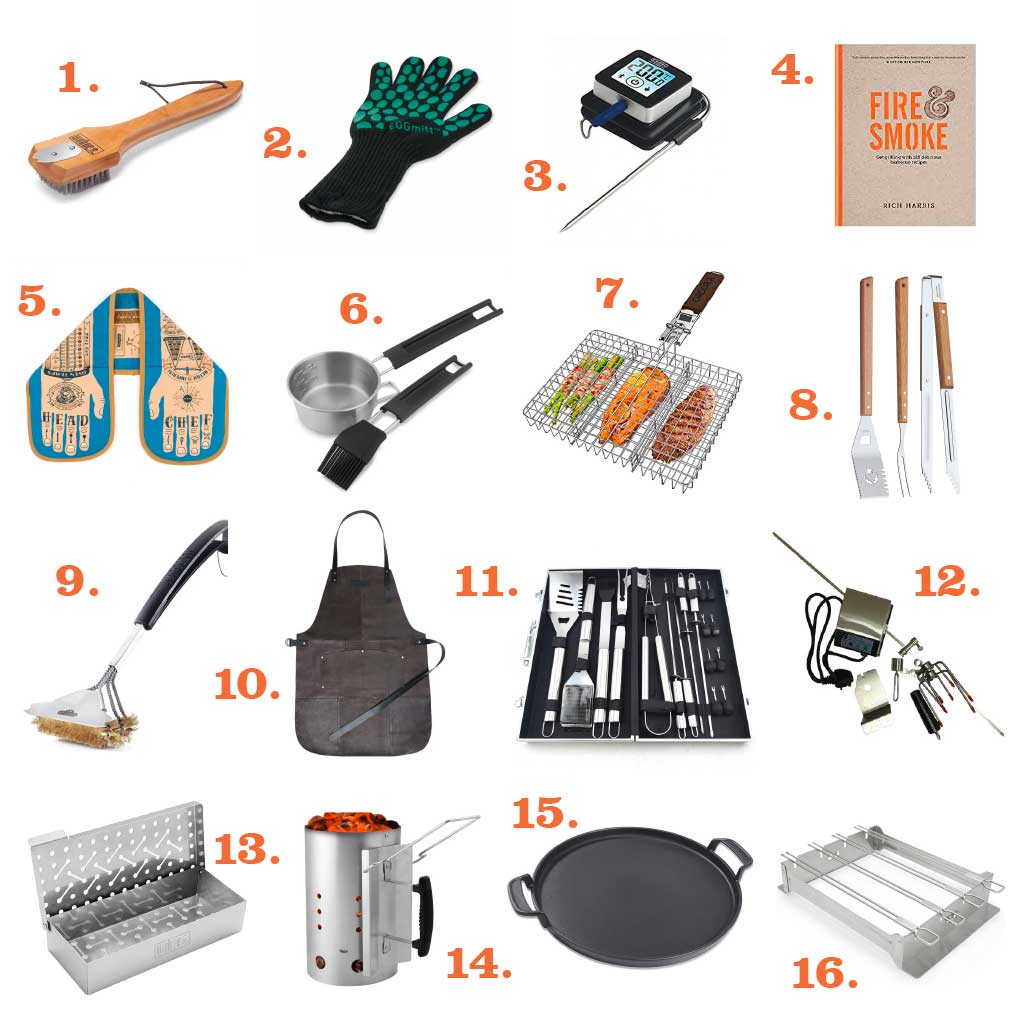 1. Weber Grill Brush — RRP £6.39 | 2. Heat Resistant BBQ Glove — RRP £26 | 3. Cadac I-Braai Bluetooth Thermometer — RRP £36 | 4. Fire & Smoke BBQ Cookbook — RRP £13.99 | 5. Double Oven Glove — RRP £29 | 6. Broil King Basting Set — RRP: £19.99 | 7. Portable Grill Basket — RRP: £55.49 | 8. 3 Piece BBQ Utensil Set — £RRP: £29 | 9. Napoleon Triple Row Bristle Free Brush – RRP £20.89 | 10. ProCook Premium Leather Apron — RRP: £99 | 11. Boss Grill 18 Piece BBQ Utensil Set — RRP: £34.97 | 12. Whistler Bibury 3 Rotisserie Kit — RRP: £149.99 | 13. Weber Stainless Steel BBQ Smoker Box — RRP: £32.99 | 14. Charcoal BBQ Chimney Starter — RRP: £16.99 | 15. Barbecue Round Cast Iron Grill Plate — RRP: £35.99 | 16. Broil King Narrow Kebab Rack — RRP: £28.99
Why not pop along and check out our delicious BBQ recipes — perfect for summer dining. There's a veggie option — and a meat option — both are absolutely delicious!