Breaking News:  HUE Animation Studio has been announced as the overall Winner of the Mums Choice Award for Best Creative Play Toy
Making movies is a creative, educational and fun-filled activity that every member of the family can participate in – just like playing a board game together. Creating stop motion videos with award-winning HUE Animation Studio doesn't require expensive equipment as everything's included in the kit; just combine some LEGO™, clay or your own toys, pictures or even kitchen implements with a whole heap of creative ideas and before you know it, your children will be creating and starring in their very own movies.
What is stop motion animation and how does it work?
Stop Motion Animation is a technique that brings static objects to life on screen. This is done by moving the object very slightly in between taking each photo. When all the frames are played in sequence the object appears to move. It's a technique used by Aardman in all the Wallace & Gromit and Shaun the Sheep movies.
Why is stop motion animation a favourite creative play activity for all the family?
Stop motion animation is a gender-neutral activity equally enjoyed by both boys and girls and it's great for spending time together as a family. Any actors amongst you will love getting into character for the voiceovers and the whole family can enjoy watching the finished film again and again.
It's a skills set that grows with your child. Even the youngest of animators can have fun making and moving their characters. Older children will enjoy imagining the storyline, writing the script and recording the voice-overs, whilst the 'professionals' can excel at deciding on camera angles, positioning the characters and creating or importing sound effects. Kids catch on very quickly and can become competent animators in no time at all. They'll soon be producing their own films and moving onto the more advanced features of the software such as using chroma key, adding credits and changing backgrounds. As with any skill, practice makes perfect and each new production will improve on the last.
A key topic in education now is the value of play in the learning process. Whilst planning, executing, and presenting their animations, children are gaining the 21st century skills of creativity, collaboration, and critical thinking without even knowing it. SEN teachers have also found that stop motion animation is a great way to encourage creativity and independence. Stop motion animation is now being used right across the curriculum in STEAM subjects like Maths and Science where children can illustrate their understanding of a particular topic by creating a movie or animated presentation.
Stop motion animation can be used for both home and school projects. It offers a winning combination of technology and creativity that we know children love. Movies can be shared with friends, teachers and family on YouTube or Creatubbles, a safe global community for young artists and animators.
The award-winning HUE Animation Studio has been designed by teachers for children aged 8-13. The kit includes a colourful HUE HD USB camera, HUE Animation software and a 60-page activity book full of tips and ideas for how to make your very own stop motion films. Simply plug the camera into your laptop, install the software and you're ready to roll!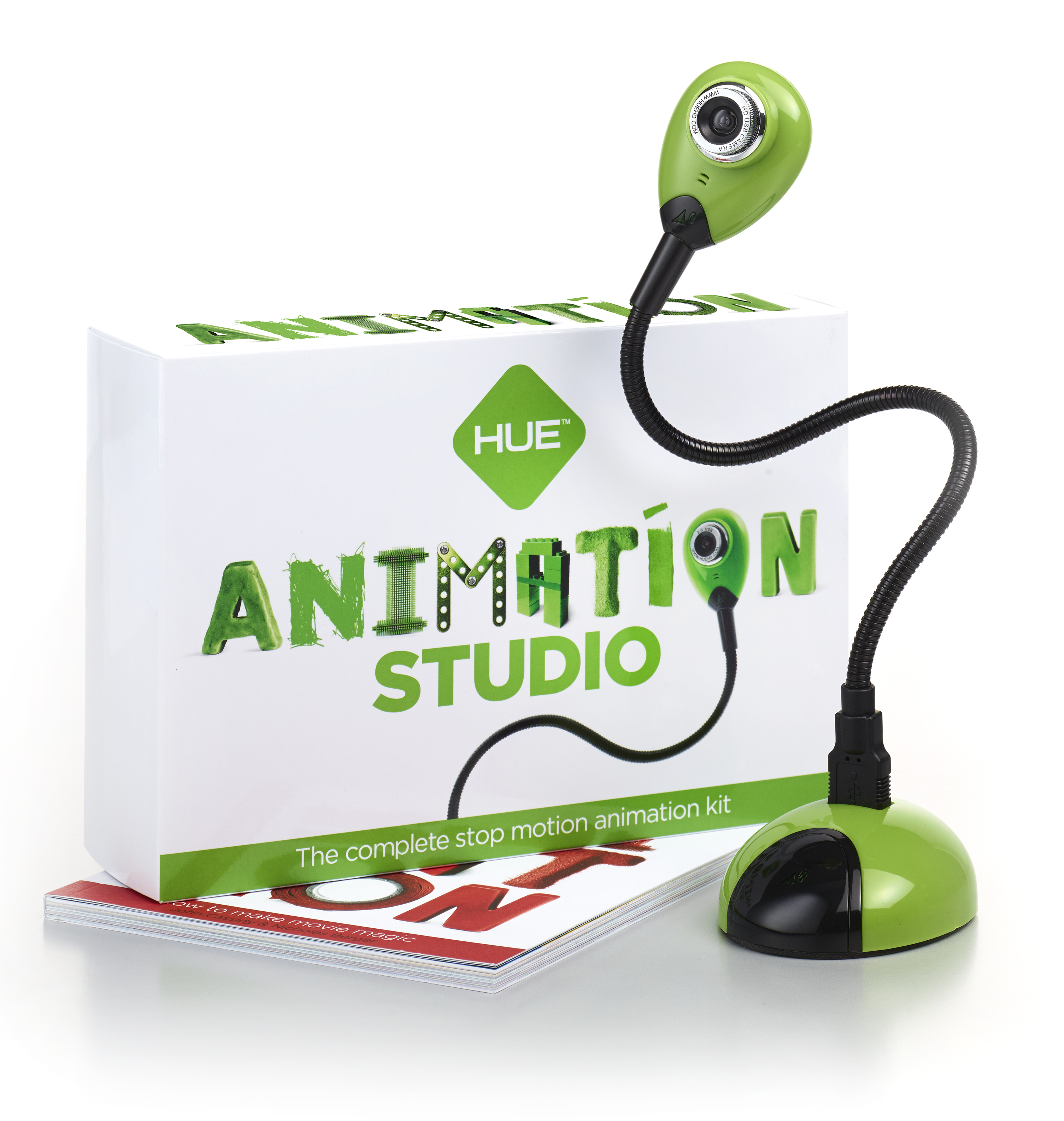 So when the weather turns cold and rainy outside, there's plenty to keep the kids entertained this Christmas!
If you want to try your hand at making your very own mini movie, you can buy your very own HUE Animation Studio here and here – for a limited time only we are offering our readers a 10% discount on orders made up until 31/12/2018. Use the code UKMUMS10 – valid on all colours of the HUE Animation Studio (red, blue and green).
Note: HUE Animation Studio requires the use of a computer with either Windows or MacOS.
For more information, please click here.
Sponsored post by Meriel Winwood, HUE.
You can win your very own HUE Animation Studio here.