It's Dino Ranch takeover week on UKMums.TV, and by now you'll probably know all about Dino Ranch – the fun-filled series for preschoolers, which is set in a fantastical "pre-westoric" world, where dinosaurs still roam.
Not just hugely entertaining to watch, Dino Ranch also deals with a number of important themes, which makes it a smash hit with both children and parents alike.
At its core, the show deals with four key themes: "nurturing and friendship", "teamwork and personal growth", "family and community" and "outdoor fun".
Linked to these themes, one thing that really touched us about the show was the fact that the Cassidy family is formed of Ma, Pa and their adopted children, Jon, Min and Miguel. What better way to teach children that families come in all shapes and sizes, than with this series that celebrates differences.
After all, children will at some stage be exposed to different family dynamics – be it at preschool, in school, or elsewhere. Some children have a mummy and daddy, others two mummies or just one daddy, whilst other children will have step parents, grandparents, adoptive or foster parents who raise them. Teaching children that all of these can be perfect families, filled with love, is key!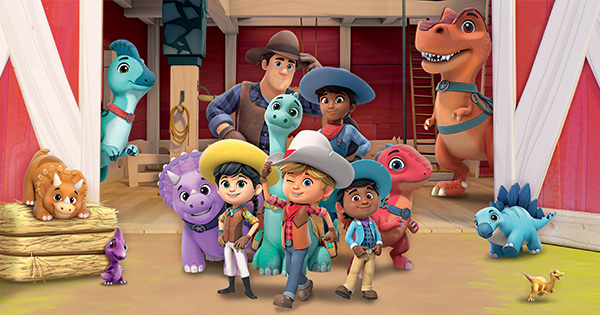 Talking about his hopes for Dino Ranch, the show's creator, and Industrial Brothers co-founder and creative director, Matt Fernandes said: "Our characters are not only a diverse team but a diverse family. Dino Ranch has strong themes around the importance of family teamwork and how everyone has a role to play in solving a problem. In our show the Cassidys, much like their Dinos, are diverse and reflect that family members can look unique and can come in different shapes, sizes or even come from different places. I think it's important now more than ever to show that not all families have to look the same."
But how can you help teach your children that not all families look the same?
Whilst you don't necessarily need an appropriate occasion/ book/ series to open up a discussion about family differences, it can certainly offer a good starting point to begin a topical conversation, so be sure to:
Encourage your children to join clubs to allow them to spend time with new children

Provide opportunities for them to spend time with families that have a different set-up to your own

Pick storybooks that represent different types of family dynamics

Use toys and role play to teach children that families come in all shapes and sizes

Tune into Dino Ranch on Tiny Pop!
Beyond this, it's important to encourage your children to be curious and ask questions, whilst role-modelling and rewarding good behaviours including kindness, nurturing, compassion and acceptance. To continue the Dino Ranch takeover fun, head to the takeover hub page.