It's TapTap® Smart Fidget takeover week on UKMums.TV, as we're joined by toymaker Character Options.
This fortnight it's ALL about this year's must-have miniature gamer – TapTap® Smart Fidget!
So grab a brew – it's time to put both your fingers and brain cells to work.
Fingers at the ready…. TapTap® Smart Fidget has landed!
Get ready to occupy restless fingers with TapTap® Smart Fidget (RRP £9.99) – the must-have, palm-sized fidget toy.
TapTap® Smart Fidget is the miniature gamer that syncs play and learning to make fidgeting both beneficial and fun. It comes programmed with five high-touch, high-tech games that target memory, focus, hand/eye coordination, critical thinking, and fine motor skills.
Whether players are just tap-tap-tapping or playing to win, one thing's for sure… TapTap® Smart Fidget will keep fingers nimble and minds sharp!
This small but mighty pocket money gadget is perfect for on-the-go brain-training and fidget-style fun.
Keeping kids aged five-plus and adults alike entertained for hours on end, TapTap® Smart Fidget is the ultimate travel boredom buster for cars, trains, planes and more.
And it's the ideal tool for reregulating kids and keeping them calm and focused when they're feeling frazzled.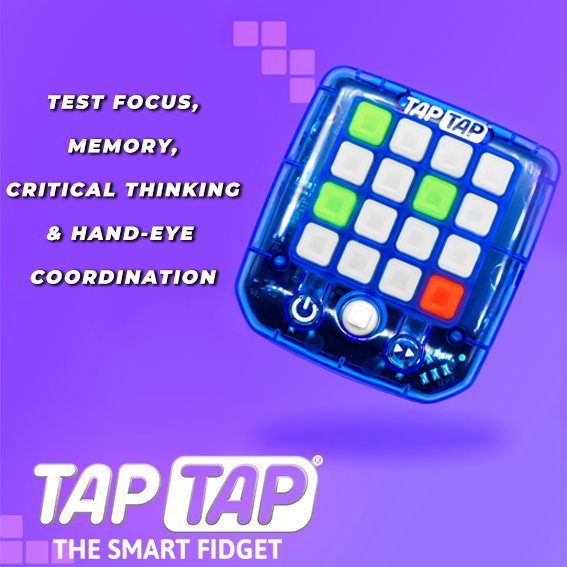 With TapTap® Smart Fidget, kids can choose from four cool colours: burning black, outrageous orange, passionate purple, and blazing blue.
Challenge yourself or play with friends… the only hard part is putting it down!
Discover 5 games to play with TapTap®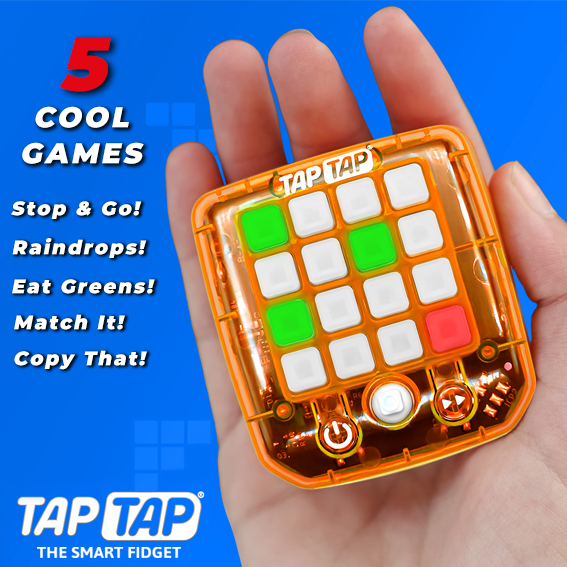 #1: Stop&Go Tap the green pixels as they appear and increase in speed but DON'T touch the red pixels to stay in the game.
#2: Raindrops Stay dry! Move the control stick left and right to stay out of the rain.
#3: Eat Greens Move the controller to "eat" the greens as they appear but stay away from purple "monsters" to stay alive and healthy!
#4: Match It! Flip the white pixels by tapping them, find the matching colour pairs.
#5: Copy That! Repeat the sequence displayed on the outer corners.
Shop the collection…
If you know someone who would LOVE TapTap® Smart Fidget, they're available now from Smyths Toys Superstores.
To continue the fun with TapTap® and Character Options, head back to the main takeover page here.