Although Christmas is done and dusted for another year, it shouldn't mean the end of the festive cocktails! Twixmas – or the period between Christmas and new year – is the perfect time to hone your mixology skills and create some delicious cocktails for New Years Eve!
We at UK Mums TV love nothing more than a festive tipple but cocktails bring another level of glamour to an occasion. So we thought we'd share a couple of our favourites.
Set The Scene
Set the scene and get yourself some beautiful glasses and stirrers for your festive cocktails… we love this set of eight drink stirrers from Robert Welch.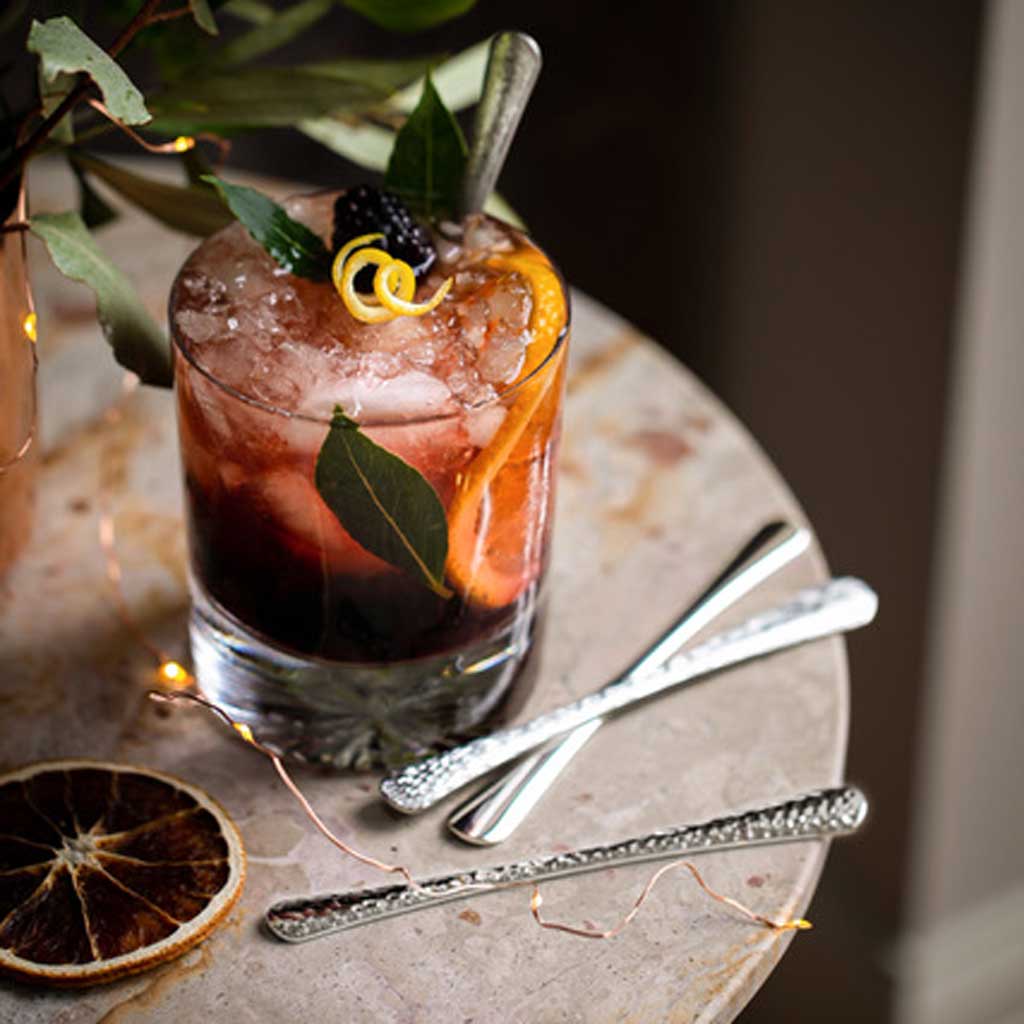 And these three beautiful designs will also bring a little bit of glamour to the table.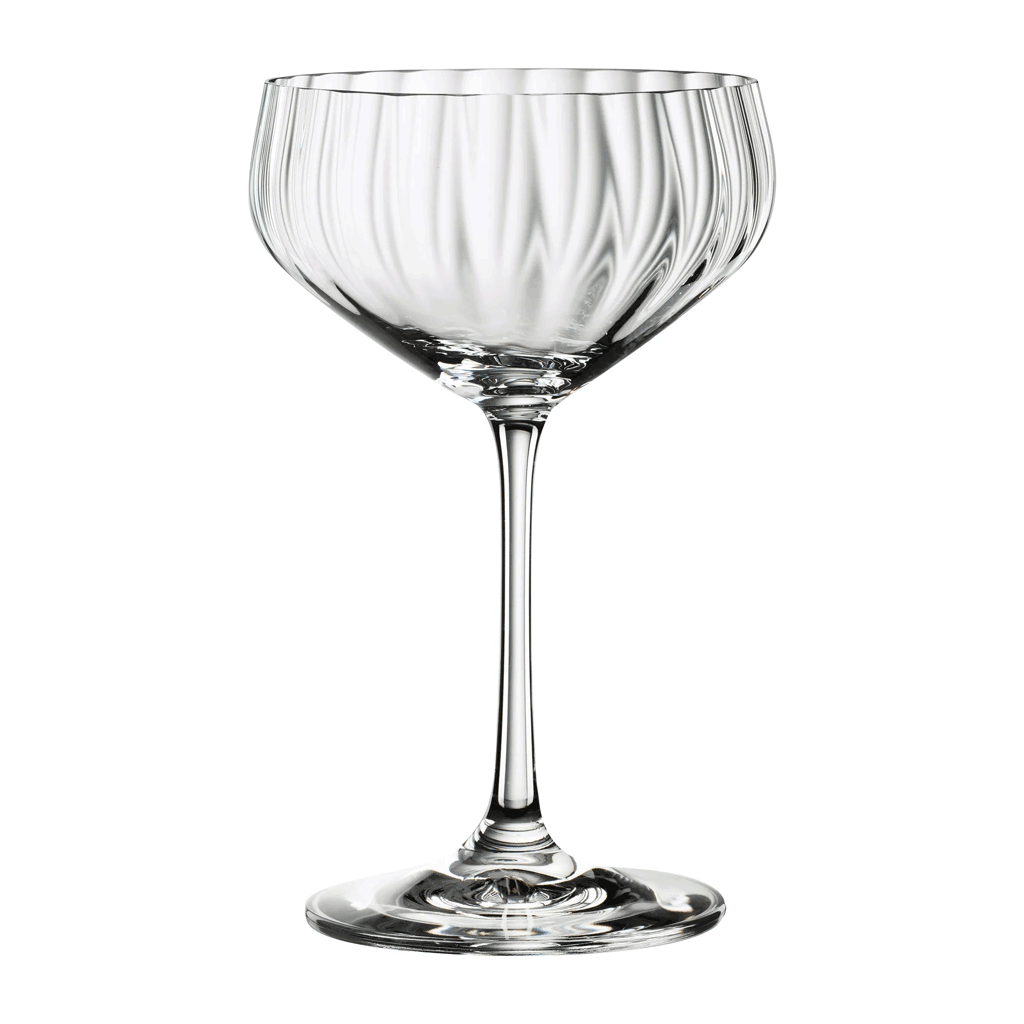 Above: from left to right —
4 Coupette Glasses – Nordic Nest
4 Spears Design Cocktail Glasses – The Vintage List
2 Mayfair Martini Glasses – Neptune
Festive Espresso Martini With Drambuie
Celebrate the season with this most glamourous of festive cocktails. A winter wonderland version of the classic Espresso Martini which uses delicious Drambuie liqueur to give it a festive twist.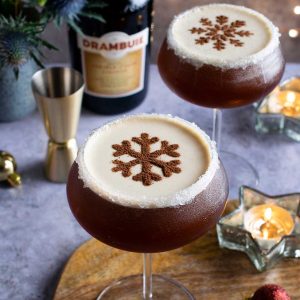 Festive Espresso Martini With Drambuie
Celebrate the season with this winter wonderland version of the classic Espresso Martini. Decorate the rim with sparkles and the foam with a festive snowflake stencil to wow your guests.
Ideally served as an after-dinner treat.
Equipment
Cocktail Shaker

(a jam jar will do if you don't have one)

Snowflake stencil
Ingredients
Ingredients:
25ml Drambuie liqueur

25ml Scotch Whisky

50ml Espresso or strong cold brew coffee, decaffeinated if preferred

Lots of ice
Decoration:
White edible cake glitter

White sugar crystal rocks, crushed

Liquid glucose, honey or golden syrup

Cocoa powder
Instructions
Method:
Pour all ingredients over ice into a cocktail shaker or equivalent (a jam jar will do), shake vigorously to create a foam before pouring into a chilled martini glass.
Martini Glass Decoration:
Mix a little of the edible cake glitter with the crushed sugar crystal rocks and place on a small plate. 

Use your finger to carefully coat the rim with the liquid glucose, honey or golden syrup, then dip the rim of the glass into the sugar.  

Once you've made the cocktail, set a snowflake stencil over the top of the glass and gently dust over the cocoa powder using a small tea strainer.

Serve immediately.
Bramble Cocktail
'The Bramble' was devised in Soho, London, by mixologist Dick Bradsell.
Bradsell worked at a bar, in 1984, called Fred's Club and wanted to create a quintessentially British cocktail. Childhood memories of going blackberry picking, on the Isle of Wight, provided the inspiration for the Bramble.
This version is for Robert Welch by Sarah Hemsley.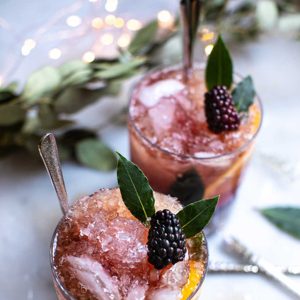 Winter Bramble Cocktail
A spin on a classic gin sour, The Bramble was reinvented in the 1980s by legendary London bar manager Dick Bradsell at Fred's Club in Soho by adding a drizzle of blackberry liqueur to the top. It left a pretty purple trail through the gin cocktail.
Ingredients
Ingredients:
50ml sloe gin

1 tbsp fresh lemon juice

1 tbsp bay & star anise syrup

½ tbsp crème de mûre or blackberry liqueur

¼ tsp ground cinnamon

1 tsp golden granulated sugar

3-4 blackberries

Crushed ice
For the bay & star anise syrup:
250ml water

250ml granulated sugar

2 star anise

5 fresh bay leaves
To serve (optional):
Orange slice,

1-2 fresh bay leaves

1-2 blackberries or red or blackcurrants

Lemon or orange twist
Instructions
Method:
First make the bay and star anise syrup. Place the sugar and water in a pan over a medium heat and stir until the sugar has dissolved. Add the bay leaves and star anise and bring slowly to the boil.

When the syrup begins to boil, reduce the heat and simmer for 5 – 10 minutes until the syrup has begun to thicken slightly.

Turn off the heat and put the pan to one side, allowing the bay leaves and star anise to continue steeping in the liquid until it has cooled.

Strain the syrup into a sterilised glass jar or bottle. This can be stored in the fridge until ready to use.

In a cup or cocktail shaker, mix the gin with the syrup. In a blender- crush some ice – enough to fill each glass.
To assemble the cocktail:
Muddle 3 blackberries with the ground cinnamon and sugar at the bottom of a small tumbler glass.

Place the orange slice and a bay leaf into the glass pressing them against the side.

Fill the glass with the crushed ice. Pour over the blended gin.

Pour over the crème de mûre.

Decorate with a twist of citrus, 1-2 blackberries and a bay leaf or two