Festivals, parties – even sporting events – some people just love dressing up. But what if dressing up isn't your thing? Have a look at our easy peasy Halloween costume ideas for some inspiration!
What Are The Top 5 Most Popular Costumes for Halloween?
In the US, anything goes and you're as likely to see as many superheroes and princesses as you are gouls and ghosties. But, historically, in the UK we're a little more traditional in our Halloween costume idea choices!
Here are our top 5:
1. Witch
2. Ghost
3. Vampire
4. Zombie
5. Black Cat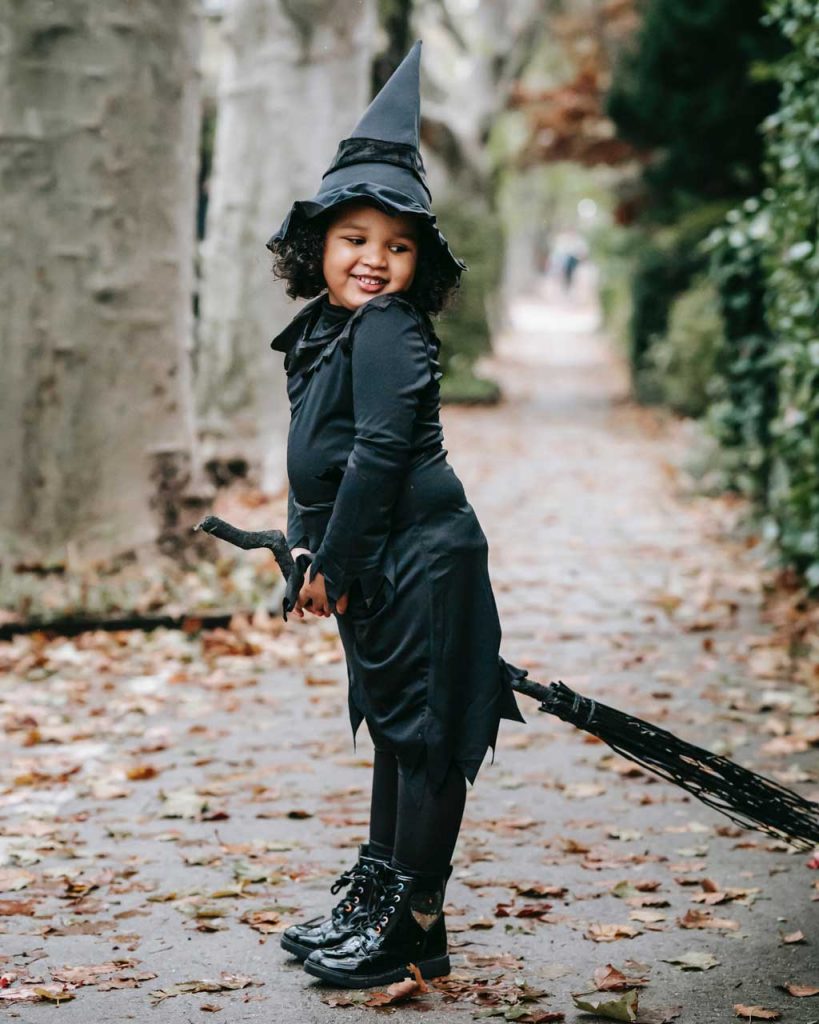 What Can I Dress up as For Halloween?
Honestly? You can dress up as anything you like.
Gone are the days of Halloween being solely the remit of witches and wizards! These days, thanks to inspiration from our friends over the pond anything goes.
From your favourite TV, film or book character to cartoon characters; Disney princesses to superheroes.
Halloween originated in the eighth century, when Pope Gregory III designated November 1 as a time to honour saints (Hallows). The evening before All Saints Day was known as All Hallows Eve; then later, Halloween.
Although Halloween has traditionally been a time to honour the dead and departed, these days the focus seems to be more about 'Trick or Treating'.
Thanks to American TV shows and movies, Halloween costume ideas have moved on from spooky attire to fancy dress in general!
How Can I Dress up for Halloween Without a Costume?
There are so many ways you can get into the Halloween spirit without going the whole hog and buying an expensive costume that you may only wear once.
1. Go chic with a simple black outfit with skeleton earrings
2. We love these last minute skeleton costumes from Red Ted Art.
3. Hold a bunch of Halloween themed balloons.
4. Paint your face with 'Day Of The Dead' style makeup. All you need for this is a touch of pale face powder and a black eyeliner for the details.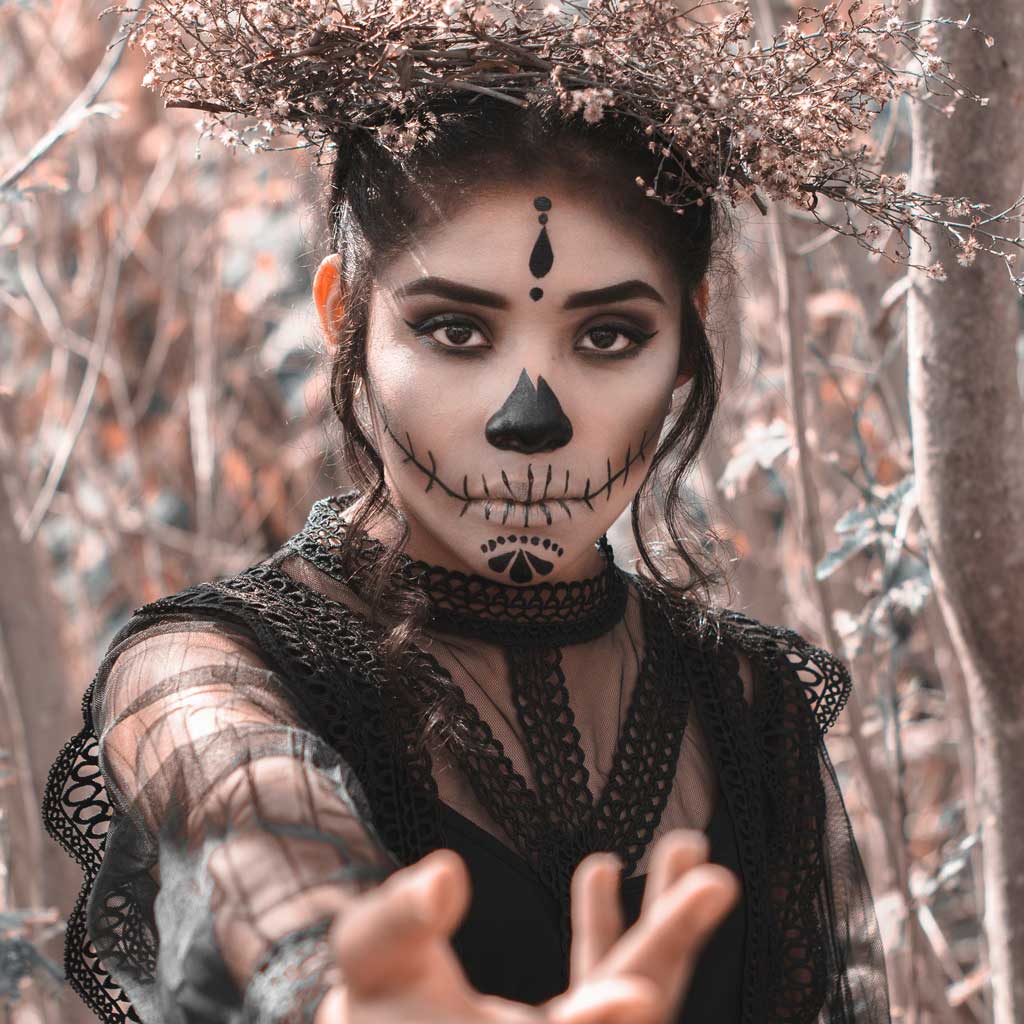 More Easy Peasy Halloween Costume Ideas
5. Another really simple idea if you don't have a costume is to make yourself a cardboard Frankenstein's monster head.
Super-simple to create; just make sure you save up all those delivery boxes!
You can make one for each family member too and go rick or treating en-masse, for maximum effect!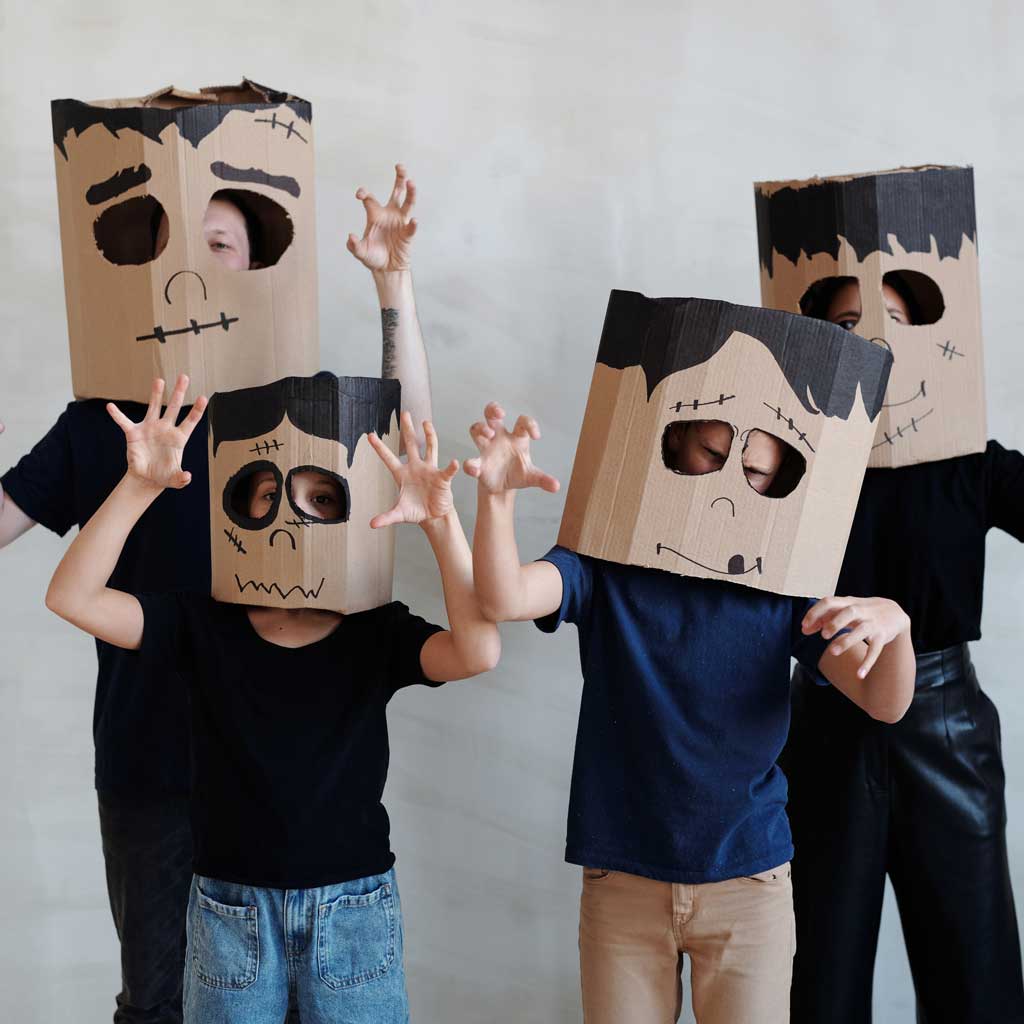 Skeleton Costume
6. Create a Room on The Broom Witch costume. This tutorial from Devon Mama is not only a great Halloween costume; but it's also perfect for World Book Day.
DIY Room on The Broom Witch Costume
More Costume Ideas for Halloween
If you're not keen on the idea of making a costume — even a simple one like the ones here — there are plenty of bought options available! We've gathered together a selection of our favourites in this post.
From skeleton to fairies to cosmic Frankenstein — we're sure you'll find a spooktacular costume!