This week, we're super-excited to be able to introduce Dino Ranch, the fun-filled, action-packed "pre-westoric" series for preschoolers, which has just started airing on Tiny Pop!
With dinosaurs, ranchers (aka cowboys!), adventure, endless fun, and storylines that are completely relatable to their preschool audience (well, except maybe the bit about dinosaurs still living among us!), this is a show that both kids and their parents are going to love! You can read more about this series here, and you can find the show on Tiny Pop, The Pop Player, Disney+ and YouTube.
Named after the working farm and dinosaur sanctuary where this show is set, Dino Ranch follows the adventures of the tight-knit Cassidy family – that's Ma, Pa and their adopted children, Jon, Min and Miguel- as well as their dinosaur friends. Get ready to meet the gang…
Jon and Blitz
Jon is bold, brash and full of swagger. At 10 he is the eldest sibling and the leader of the gang. He is a confident rider, an expert with a lasso and a natural with all dinos. Jon rides Blitz, a super-speedy velociraptor with whom he has a strong bond. When Jon was just 4-years-old he rescued a raptor egg from a pack of wild dino-scavengers. It hatched right there and then and when the new born raptor looked up at Jon, it was love at first sight for them both.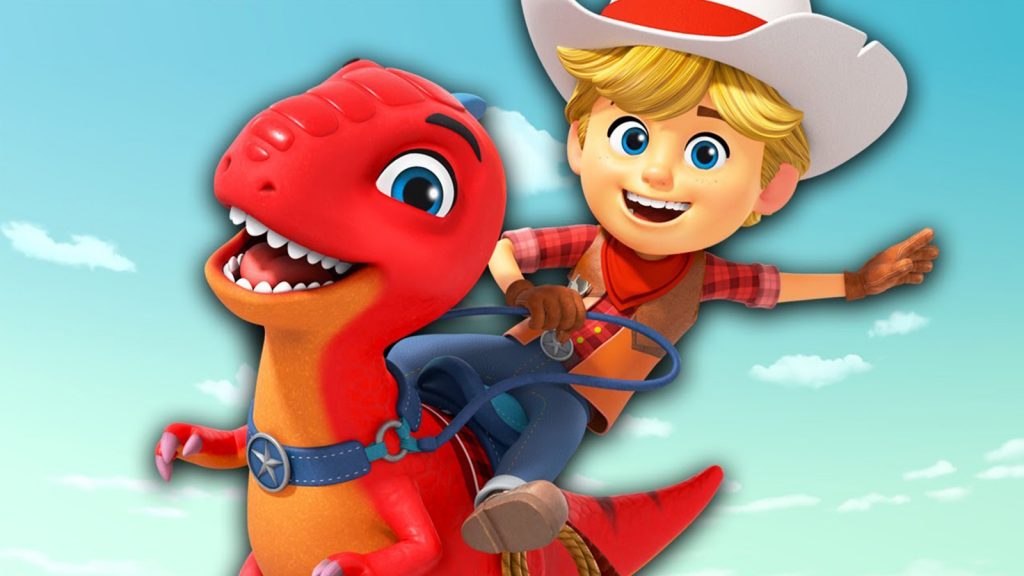 Min and Clover
Min is an 8-year-old dino-doctor in training. She always knows what to do with a dino in distress, and cares for all animals. Always upbeat and supportive, Min has a heart as big as the dinosaurs she looks after. Min rides Clover, a gentle, gangly, long-necked baby Brontosaurus who's a bit clumsy and easily distracted by the wonders of the natural world. Though quicker on his feet than his brain, he too has a natural knack for taking care of his fellow dinosaurs and is eager to learn all of the dinosaur care tricks that Min can teach him.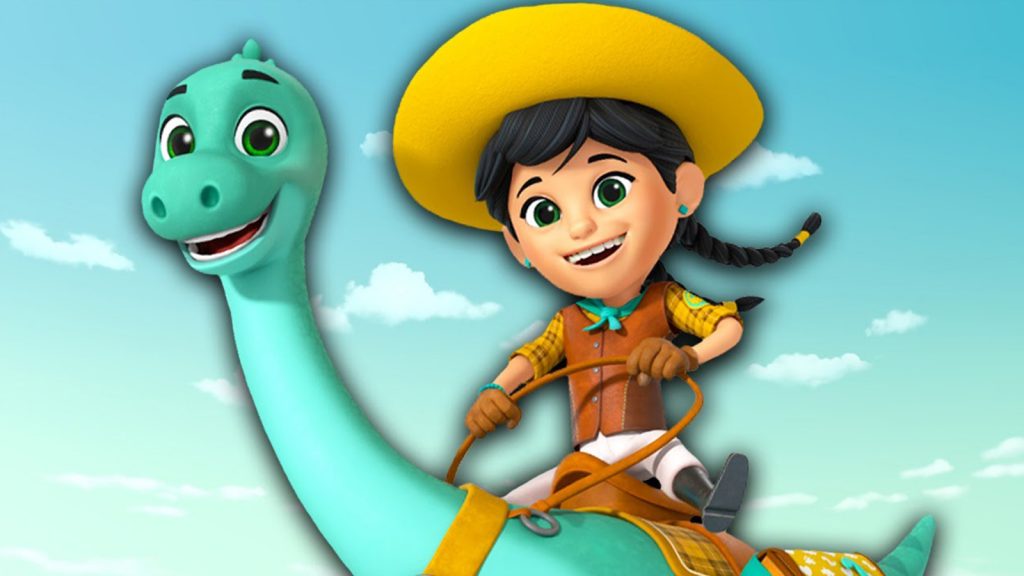 Miguel and Tango
Miguel is the creative genius of the group. He's the smallest and youngest of the three Dino Ranch siblings, but he always has BIG ideas! Born with a natural knack for knowing how things work and how to keep them working, he's wise way beyond his 6 years and he is forever imagining and hammering together dinosaur accessories to maximize efficiency around the ranch. His devoted dino friend is Tango, a young Triceratops, who couldn't be more different to him. Immensely strong – and also strong-willed – this dino tends to charge first and ask questions later.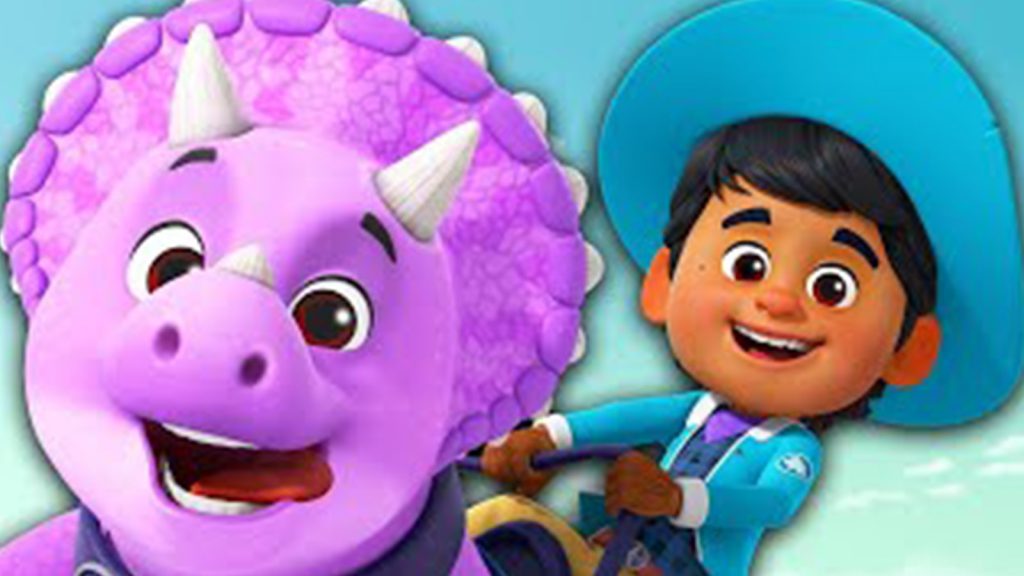 Bo and Biscuit
Bo ("Pa" to the kids) is a rancher who has spent his whole life riding the ranch and caring for dinosaurs. He is a warm and loving father, who leads with a gentle touch. A born hard worker, Bo expects the same from his junior Ranchers; that's why making sure his family unit is working together as a team is his top priority. Biscuit is Bo's fully-grown T-Rex and the alpha dinosaur on the ranch. Biscuit has been with Bo since he was a hatchling and together these two have stories of their adventures that go on for days. Calm, sturdy and as loyal as an old hound, you couldn't ride a better dinosaur or have a better friend.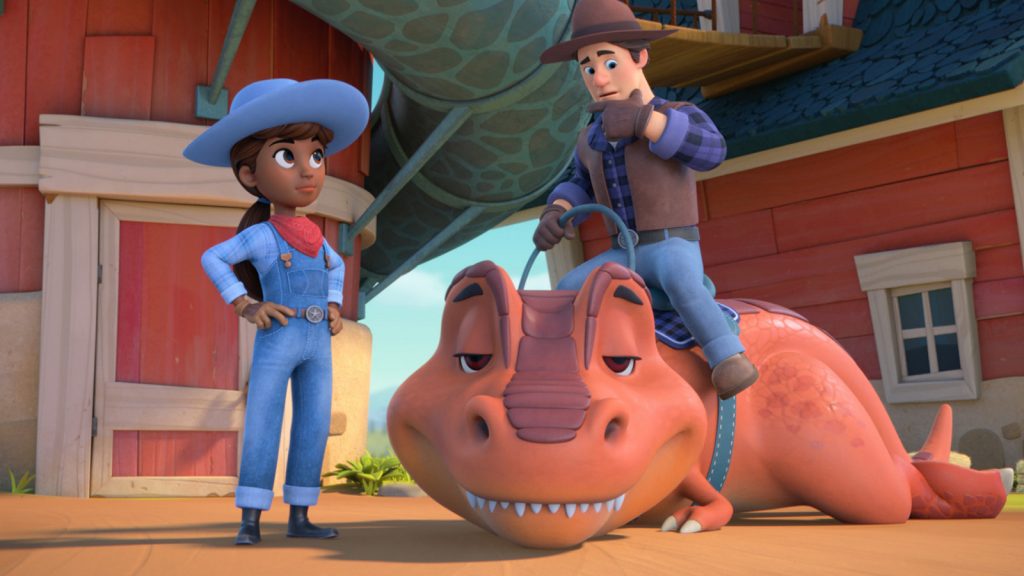 Jane and Quack
Jane ("Ma" to the kids) is the heartbeat of the ranch. She's a skilled and caring doctor and the first person to call when a dino is sick! No one knows more about what makes a dinosaur strong and healthy than Jane – and she's even better at taking care of her little Dino Ranchers. She's also a cheerful presence on the ranch, whose quick wit makes everyone laugh even when times are tough. Jane's dino partner is Quack, a loyal Parasaurolophus! A kooky, wildly eccentric parasaur, Quack is always cool in a dino-crisis, and likes to makes ambulance noises whenever a "dinomergency" arises!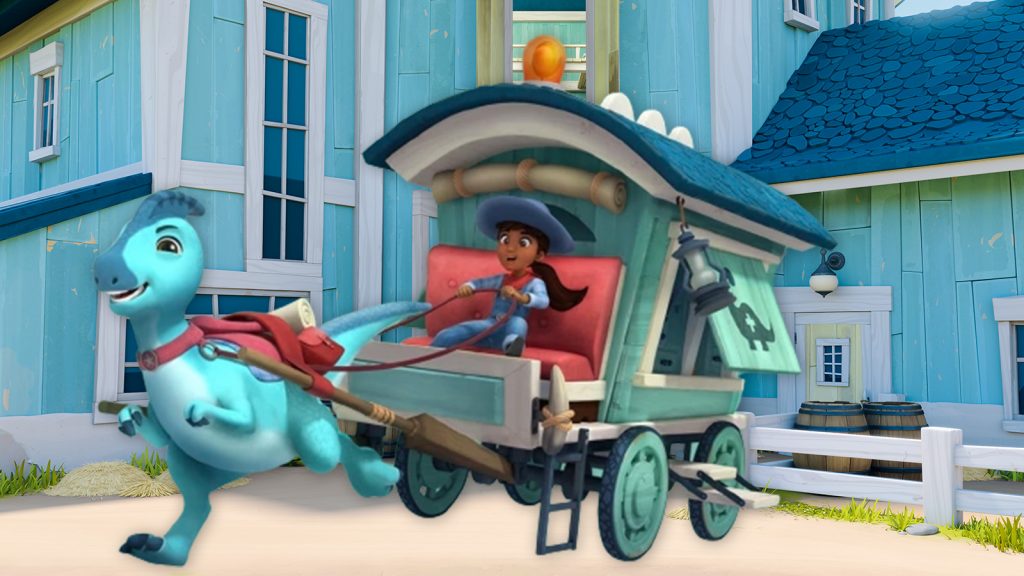 The Tinhorn Trio
It wouldn't be the wild west without a troublemaker or three! Introducing the Tinhorn Trio… the mischief making kids: Clara, Ike and Ogie. These kids like to stir up all sorts of problems for the Dino Ranchers. They ride three grouchy raptors.
Love the sound of Dino Ranch? You can find the show on Tiny Pop, The Pop Player, Disney + and YouTube.
To continue the Dino Ranch fun, head to the main takeover hub HERE.