Simba Toys UK joins us this week to encourage UKMums.TV readers to dive into the exciting world of AquaPlay!
Perfect for plenty of fun in the sun, AquaPlay remains the brand of choice with young families – and it's easy to see why! Check out the brilliant collection in our product guide here. There's plenty of great sets to keep your little ones occupied this summer!
But no one likes soggy clothes, so when summer rolls around, bringing with it a wave of warm weather and a thirst for waterplay in the garden, make sure your little ones are well-prepared, with appropriate swimwear for this fun-filled season! After all, children grow fast, and last year's swimwear may no longer fit! So, if you're in the market for new swimwear this year, check out our favourite children's swimwear lines for 2021…
Frugi Little Sunsafe Suit
Available from Frugi (RRP £25)
Suitable for little ones aged 0-4yrs, the Frugi Little Sun Safe Suit has UPF 50+ protection, which blocks around 98% of the sun's damaging rays, and can protect against sunburn. Plus the sleeves, shorts and high neckline offer extra sun protection! And what's not to love about the gorgeous designs – we especially love this cute frog and fish illustration!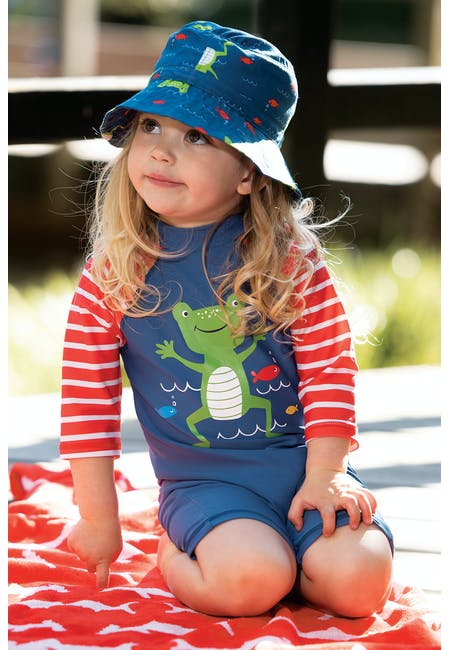 Fun Appliqué Swimsuit – Pink Spot Elephant Rainbow Design
Available from Boden (RRP from £19.00)
Our first question when we saw this sweet suit was: "Do they offer this design in adult sizes?" The answer is sadly no… unless you can squeeze into a suit for 7- to 8-year-olds! But one thing is for sure – this adorable suit is fun, cute and will definitely make you child stand out from the crowd! Our favourite bit – the 3D elephant ear – so awesome! Oh, and it has UPF 50+ sun protection – win-win!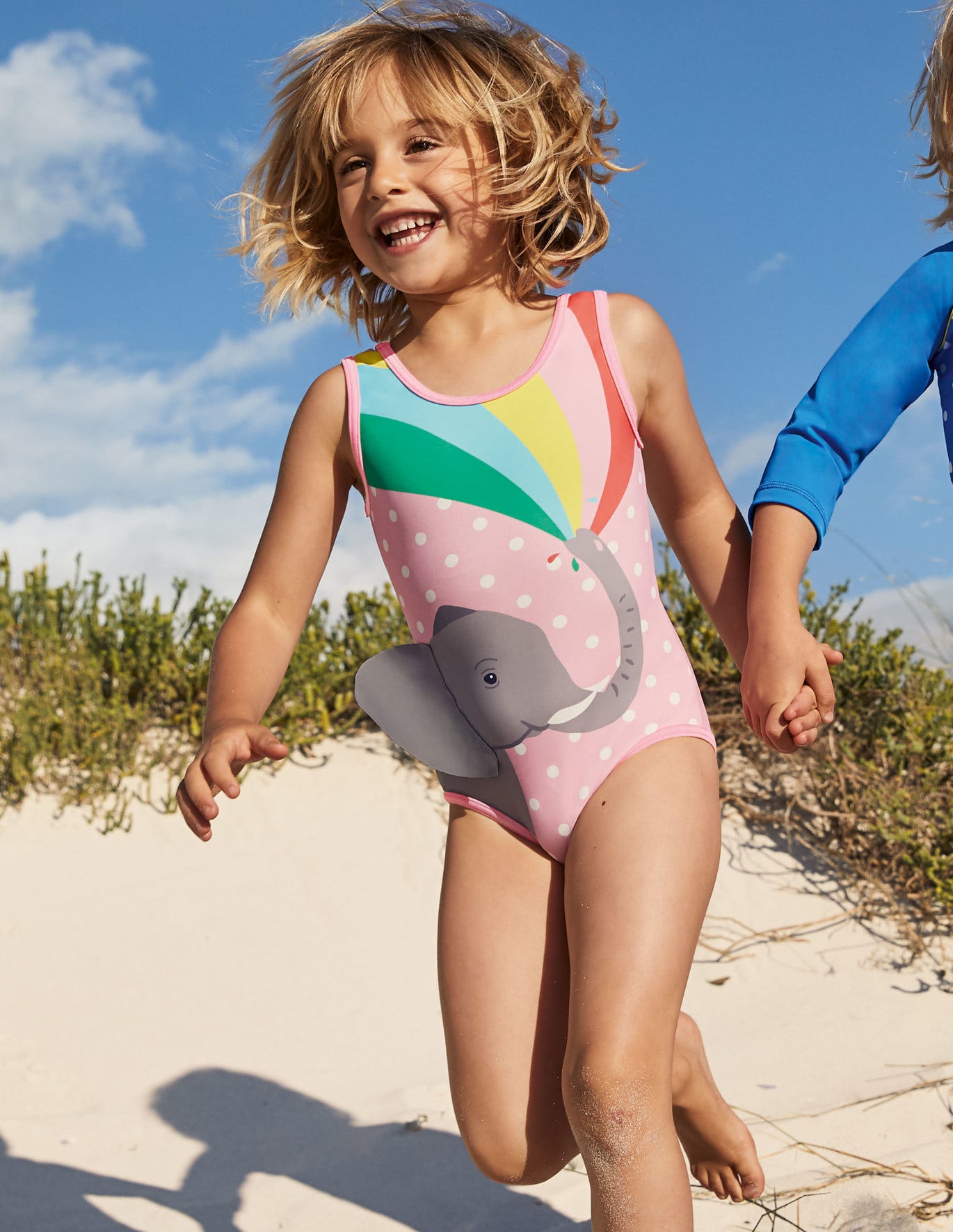 Multi Long Sleeve Sunsafe Swimsuit
Available from Next (RRP from £17)
Kids aged 3- to 16-years-old will love this vibrant suit, which benefits from a high neckline and long sleeves, as well as UPF 50+ protection. Ideal for water-based adventures, this suit looks super sporty and will be a breeze to put on and take off thanks to the zip-up design.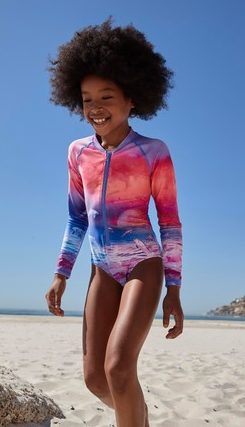 Infant Boys Sun Protection Top and Short Blue
Available from Speedo (RRP £30)
Young children will love the shark design of this comfy Sun Protection Set featuring a short-sleeve rash vest and matching shorts. Perfect for sunny holidays and days outdoors, the pull-on rash vest helps to protect your little one's tummy, arms and back and includes UV protective fabric with a UPF 40+ rating. Soft and stretchy, it's made from Endurance10 fabric which contains Creora HighClo for a fit that stays like new for longer.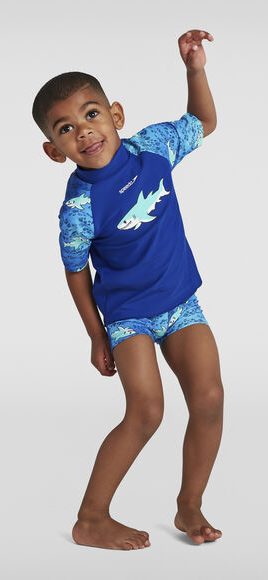 Poncho Towel
Available from H&M (RRP £17.99)
Okay, so not technically swimwear – but very useful nonetheless when the water fun is over! This adorable poncho towel comes in soft cotton terry with velour on the outside. The hood with appliqués and open sides with narrow ties makes it super convenient to sleep over your child's head. It comes in a crab, a shark and a hippopotamus design!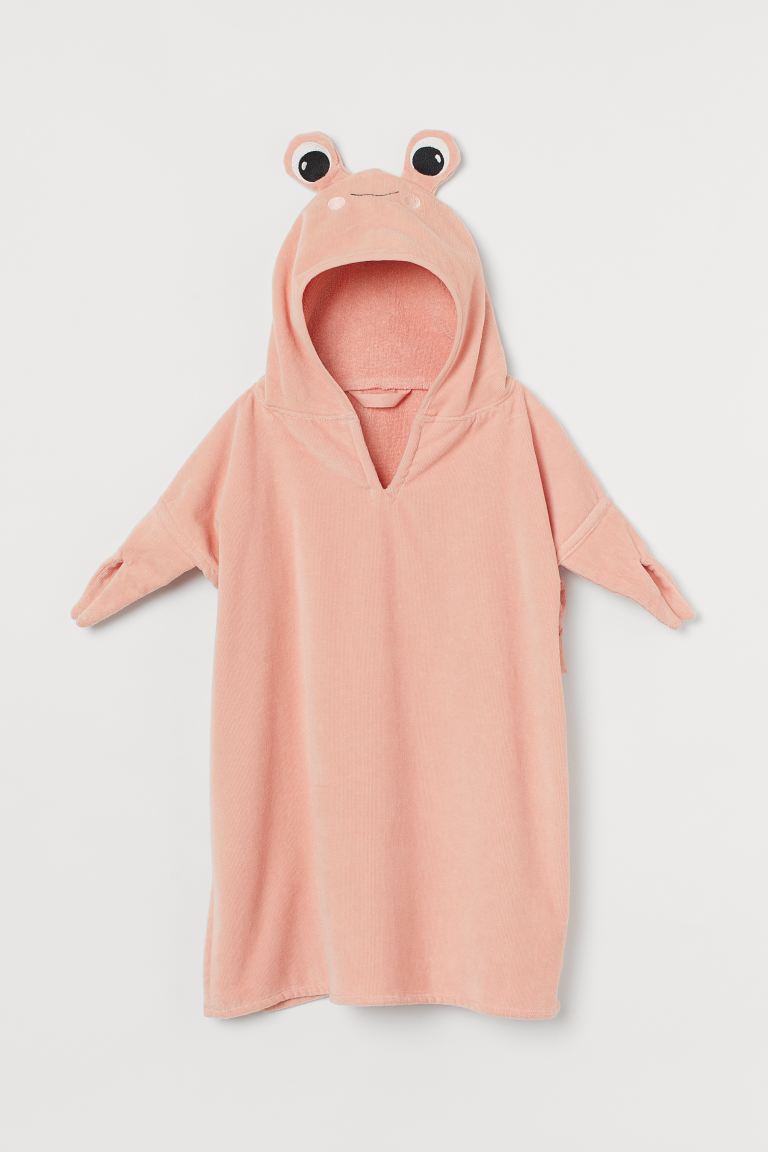 For more fun from AquaPlay, head back to the main hub page.